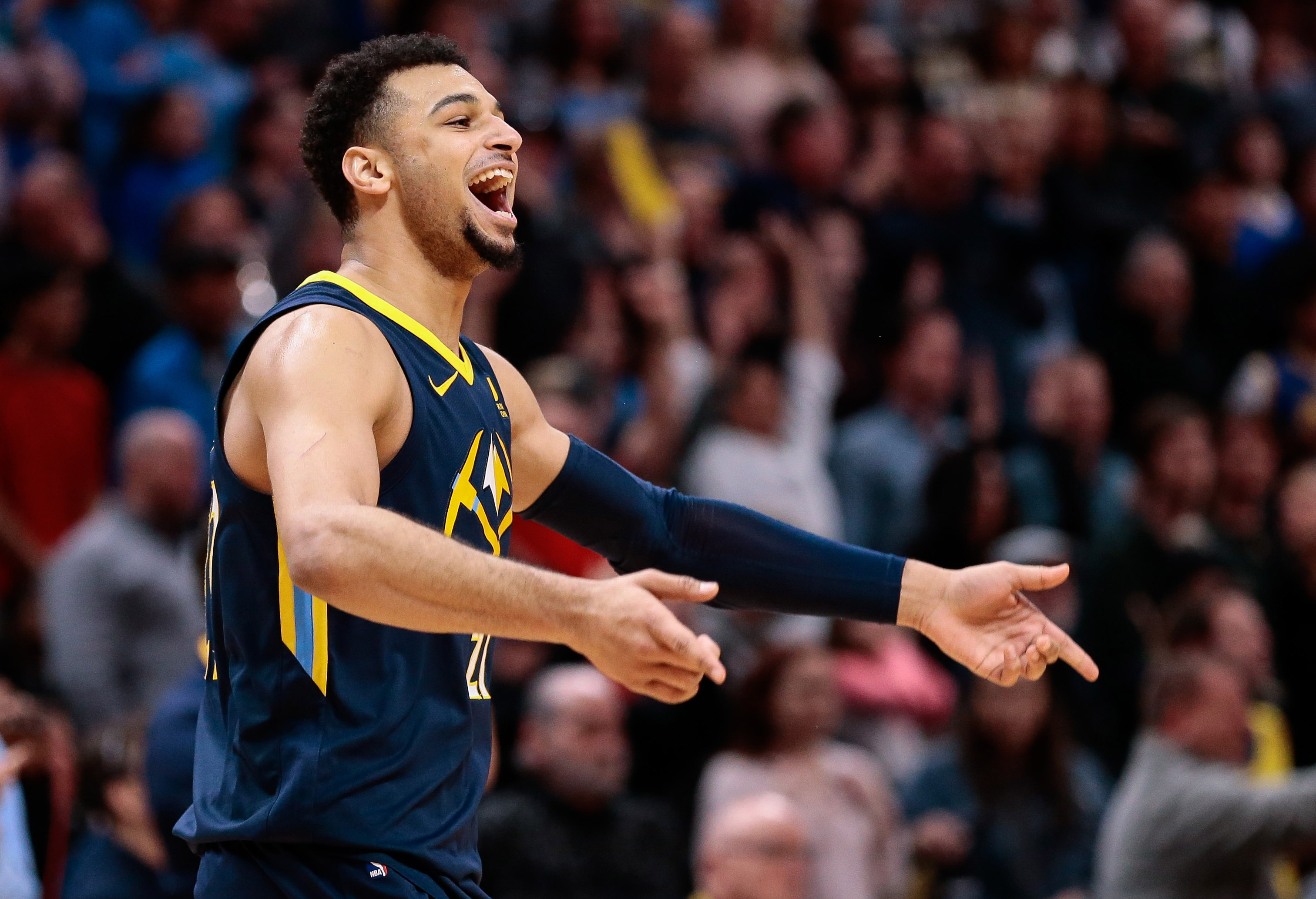 The Denver Nuggets are off to a remarkable start of the season thus far. Heading into Monday night's matchup against the Boston Celtics, Denver was 8-1 on the season and aiming for their fifth-consecutive victory.
After winning that game, the Nuggets now look ahead to the most difficult part of their schedule. The Celtics are a young Eastern Conference team that has championship aspirations and were coming off of a buzzer-beating loss to the Indiana Pacers. Boston  seemed ready to get the ball rolling in the right direction as they led by as many as 18 points early. But then Jamal Murray put together his best game of his young career and helped earn Denver a 115-107 victory and a 9-1 record.
That matches the best start in Denver Nuggets history, who also went 9-1 in 1976-77, Denver's first NBA season after the ABA merger.
In a series of events that not even the die-hard fans saw coming, Denver is now tied with the Golden State Warriors for first place in the Western conference. And with that, I give you the good, the bad and the ugly in the win over the Celtics.
The Good – Murray scores career-high
Denver started out the game slow as they have all season long, and had to fight out of a hole yet again. The defense was slow, shooters were left open and converted and the Nuggets' offense could not seem to get much going — but then Murray came alive.
Jamal Murray scores a career-high 48 PTS to improve the @nuggets' record to 9-1! #MileHighBasketball pic.twitter.com/jA9fiaHTsN

— NBA (@NBA) November 6, 2018
Murray got going on the offensive end and accounted for 14 straight points for Denver to finish off the first quarter. And that came while Denver was down big; Murray kept the Nuggets within striking distance. The guard was essentially the only source of scoring early on and remained aggressive while keeping the intensity for the entire game, finishing with a career-high 48 points.
Murray also was the Nuggets' closer, saving his best quarter for last. He closed the door on any comeback attempt and put up 17 points in the fourth quarter alone.
"It was an incredible performance," head coach Michael Malone said. "Even when they tried to turn up the pressure, he found ways to get to the rim. He hit some incredibly difficult shots, but he was in the zone [Monday]."
Murray is off to a career year. Through 10 games, he is averaging 18.9 points, 4.5 rebounds and 3.4 assists – and now has a 48-point performance against one of the top defenses in the entire NBA. He is attacking, staying aggressive and his play is a big part of the team's success, which bodes well for his confidence going forward.
The Bad – Late-game controversy
Murray had all things going for him and had already reached a new career high, but Murray wanted to reach a new milestone. Murray got the ball on the last possession of the game with the decision to stop at 48 points on the night and dribble out the clock or reach 50 points for the first time in his career. Murray took the shot and missed at the final buzzer, causing a few of the Celtics players to get angry; Marcus Morris said this to media after the game:
Marcus Morris on Jamal Murray's shot at the end of regulation. Calls the shot "unprofessional." pic.twitter.com/71Wn06q09e

— Duvalier Johnson (@DuvalierJohnson) November 6, 2018
Malone defended his young point guard, saying, "He has to learn and we talked about it, not taking that last shot." Malone then said, "But he's young. He is still learning and you never want to disrespect anybody – and I don't think it was disrespect, he was just trying to get 50 points. But our veterans talked to him, and it is something that he will learn from."
Murray says that he meant no disrespect by the gesture and was just aiming for a milestone that he was very close to.
"I didn't have a conscience," Murray said about why he took the last shot. "I think that's the reason I took that shot. Everybody knew I was going for 50. That's the problem. I didn't mean no disrespect. My emotions took over, like they did with the Lakers."
Disrespectful or not, I am sure that Boston will be circling their Mar. 18 game as the next time that they could get back at Murray and the Nuggets.
The Ugly – Craig still starting after slow start
Seriously, what is the deal with starting Torrey Craig? Will Barton is still out for a few weeks with a hip injury, and Craig has started ever since. While Denver is 8-1 in those games, Craig has not been a part of the game plan and has played less than 20 minutes in three of the five past games. He is averaging 4.0 points and 3.4 rebounds per game.
Prior to Monday's game, Malone alluded to Craig being the starting small forward going forward, but then Craig only went on to play three minutes total. Malone ended up going with Juancho Hernangomez and Malik Beasley as his small forward options on the night. The head coach thought Hernangomez provided spacing with his shooting and is a player that opposing teams have to defend, which prompted him to go with Hernangomez as a starter in the third quarter.
JUANCH-NOOOOOOOOOOOOOO pic.twitter.com/9UMu6PFcO7

— Denver Nuggets (@nuggets) November 6, 2018
Hernangomez had himself another big game and has been a consistent force for Malone and the Nuggets starters as well as on the second unit. He had eight points on the night, including going 2-4 from the three-point line. He has defended at a high level, witnessed by this sequence, where he knocked down a shot from beyond the arc on one end and had blocked Gordon Hayward on the opposite end, getting the Pepsi Center crowd on their feet.
I expect a shakeup in the starting unit and for Malone to go with Hernangomez soon, as he has showed that he can mesh with the starting unit and make an instant impact.