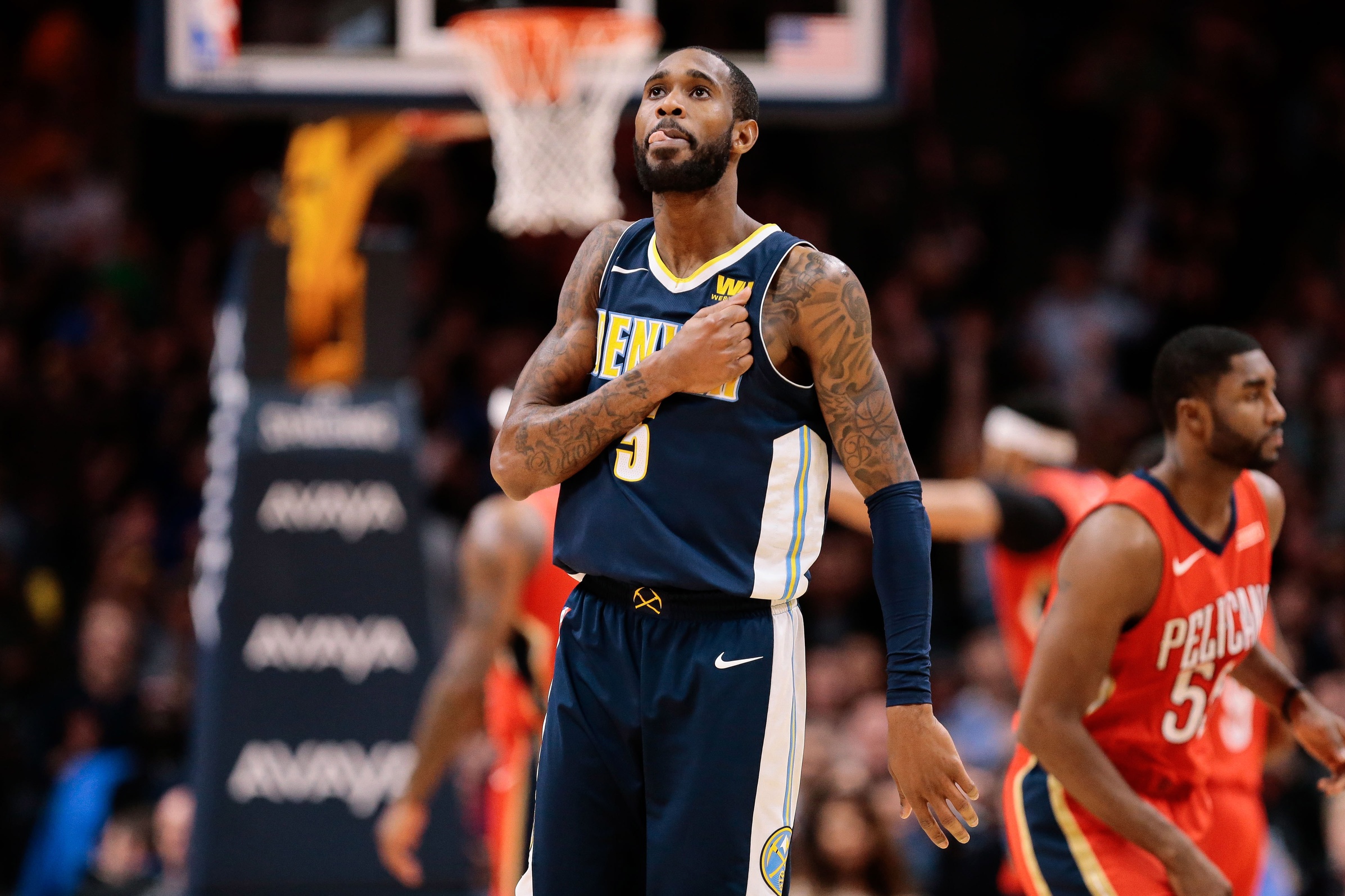 The Denver Nuggets find themselves at 16-15, good for second in the Northwest Division but seventh in the Western Conference by virtue of a tiebreaker. They're still in the thick of the playoff race as they get Nikola Jokic back into the swing of things while waiting for their defensive anchor — Paul Millsap — as he recovers from wrist surgery. They're facing some of the same issues that have held them back in recent years, but they've also had a few things to be positive about. So here is the good, the bad, the ugly.  
The Good-Torrey Craig
It looks as if the Nuggets have found another hidden gem in two-way player Torrey Craig. Craig has been tearing it up with the G-league's Sioux Falls Skyforce squad and now — due to the lack of energy off the bench; specifically on the defensive end — he has earned him the opportunity to get meaningful playing time with the Nuggets. Craig has made the best of that opportunity and has made it very well known to all who have witnessed his play; he deserves to be in the NBA.
Malone turned a few heads when he moved Craig up from the G-League and — after playing just six minutes in his first NBA game — slid him into the starting lineup. Against the Oklahoma City Thunder, he was tasked with a job that not many players around the league can do — stop Russell Westbrook. No, he didn't shut down Westbrook — nobody can — but he did prove his point of belonging on an NBA roster. He finished with 14 points, a block, and a steal while slowing down Westbrook — even if it was only for a moment. Before the Nuggets played against the Minnesota Timberwolves on Wednesday, Malone was complimentary of Craig stating.
"I believe in Torrey Craig, I know he's an NBA player," Malone said. "I've been in the league for a long time and Craig can help out every team in the NBA. That's how talented he is."
In the Nuggets' game against the Timberwolves, he started for the injured Gary Harris and played well once again. He dominated in the G-League, but he has recently been showcasing that he can score in the big leagues and that he is also a defensive-minded player that Malone can rely on if needed. He finished with 10 points, 6 rebounds, and 2 assists, but the what stood out most was Malone trusting him enough to play a career-high 37 minutes. Craig is making it a difficult situation for the Nuggets — who have been reported to love what he brings to the table but do not have an additional roster spot for him to stick with the team full time — but it is one issue that is good to have.
The Bad-Will Barton
It is evident that something is wrong with Will Barton. He missed the Nuggets' matchup against the Boston Celtics on Dec. 13th with a lower back contusion and just has not looked the same since then. Before that contest against the Celtics, Barton had six-straight games in which he scored in double digits — including a 37-point outburst against the Chicago Bulls. Since the injury, he has only hit double-digits in scoring once and has looked out of sync including having a game where he went 2-15 from the field and 0-8 from beyond the arc. In Wednesday's game against the Timberwolves, Barton finished with just six points and went 0-3 from beyond the arc, but attempted to get it going in different ways as he had four assists, five rebounds, and a steal. It is only a matter of time until he gets back to his scoring ways, especially if Harris is to miss multiple games with his elbow injury. Denver will surely need his spark off the bench to keep games close and Barton will continue to be needed to help close out games as well; specifically in the scoring column.
The Ugly-Turnovers
It seems as if the largest on-court issue for the Nuggets has been their defensive struggles, which is true being that they give up 107.3 points a game and have the sixth-worst defensive rating in the league. Unfortunately, what has been just as bad — if not worse — is their turnovers. Offensively, Denver continues to turn the ball over at an alarming rate.
Turnovers have been Denver's Achilles heel for a few years now. Prior to the Nuggets' game on Wednesday night against the Timberwolves, Denver was fifth in the league in turnovers with 15.3 a game — a sure-fire reason for their close losses — but where they have really struggled is 'lost ball turnovers' which they lead the entire league with 3.74 turnovers a game of that particular variety. In their 112-104 loss to Minnesota on Wednesday, much more of the same as they recorded 21 turnovers, including 10 by their best player in Jokic.
"I think when you have 10 turnovers, it is probably a little bit of everything," Malone said after the Nuggets' loss to the Timberwolves. "Some bad passes, some good passes that got deflected, some good passes that we just didn't finish, so it was probably a number of things."
Malone has harped about the importance of taking care of the ball and, suddenly, unforced errors are the difference between the Nuggets winning and losing basketball games. Unless the Nuggets find a way to slow their propensity to bleed possessions, they will continue to lose games that they likely should have won.
"We did an awful job of valuing the ball tonight and that had a lot to do with us losing the game," Malone said in his post-game press conference after losing to Minnesota.
Defense and taking care of the ball will have to get better if they plan on turning things around and it starts Friday against the Portland Trailblazers.