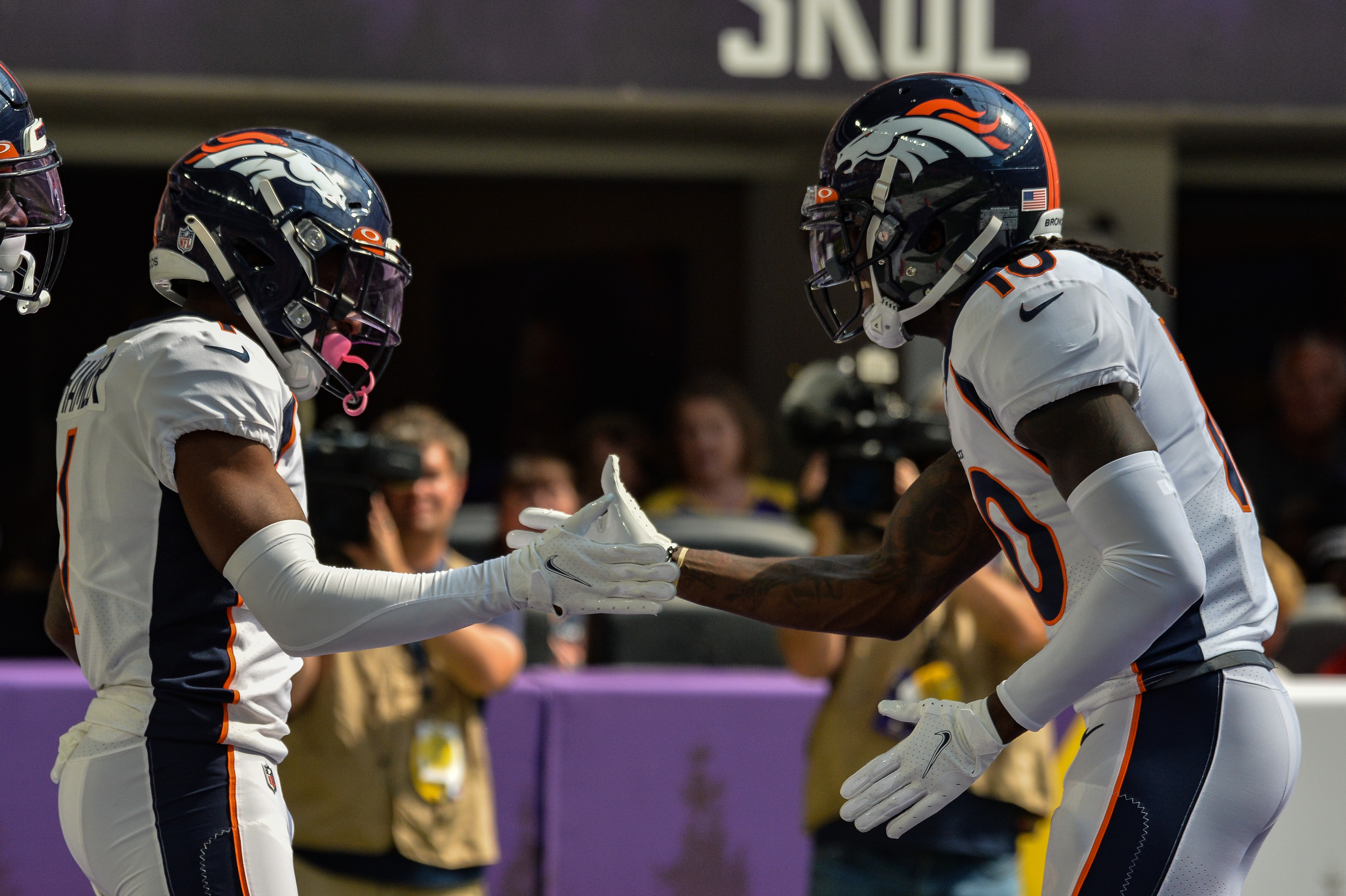 Jerry Jeudy has had a remarkable training camp. Anyone in attendance can tell you as much.
Last season was labeled 'disappointing' almost unanimously, and with good reason, yet Jeudy still managed to go over 800 yards as a rookie with one of the worst quarterback situations in football. That's not too shabby.
His talents were already elite, and now, he's looking even better than he did before in training camp.
This has earned him a lot of buzz, most recently from NFL Network insider Peter Schrager. In his list of the NFL's top 10 breakout candidates, Schrager tagged Jeudy at No. 3, ahead of players like T.J. Hockenson and Antoine Winfield Jr.
Time for @PSchrags' Top 10 Breakout Players of 2021.

We've already unveiled 10-5.

Today, we give you #4 and #3 —

4. Antoine Winfield, Jr. , S, @Buccaneers
3. Jerry Jeudy, WR, @Broncos pic.twitter.com/KG37rPdQz4

— GMFB (@gmfb) August 19, 2021
"He didn't quite have that rookie season that you're like, 'Oh! Slam dunk!' Wait for year No. 2 with Jerry Jeudy," Schrager said. "Jerry Jeudy highlights are something special"
.@jerryjeudy in space >>>

📺: @nflnetwork pic.twitter.com/cEYwvsQVkr

— Denver Broncos (@Broncos) August 14, 2021
He then launched into a breakdown of the above play, highlighting how special a player Jeudy could be in his sophomore NFL season.
"Watch Jerry Jeudy on this play, just check out the footwork, it's what he does," Schrager said with the same excitement and anticipation in his voice you might hear from a child on Christmas Day. "He routes people up, and then look, there he goes. That's what you're getting in Jerry Jeudy and I think you're going to get a lot more of it this year. Remember, last year — very weird with the rookies from last year because of COVID, because of no preseason, because of no training camp."
However, Schrager points out that even despite the odd rookie campaign, Jeudy was doing remarkably special things.
"From a receiver standpoint, to get that familiarity in a game situation might take a while, and yet Week 1, right out of the gates, the moves," Schrager said, now showing highlights from last season's opener against the Tennessee Titans. "He can take — what looks to be — a five-yard catch over the middle, and make it a 15-yard play. Jerry Jeudy has outstanding footwork. Everyone knows it, he can stop on a dime. It's the kind of stuff they compare to Julian Edelman or Chad Johnson, some of the best 'footwork guys' in NFL history."
"We talk about all these Alabama wide receivers of this year," Schrager continued. "Devonta Smith, of course, is going to make a difference, we know what he's going to be. We got Jaylen Waddle, down there in Miami. Everyone's excited. Last year, we also had Henry Ruggs, the burner. There are so many Alabama receivers, that it's hard to remember, that Jeudy was the very best of them when he was in college. And they were all together in that room, Jeudy was the guy."
Not even the question marks at quarterback are enough for Schrager to back off Jeudy's breakout season.
"I know Drew Lock is the quarterback and there are questions, that's fair," Schrager said. "I think Drew Lock is going to be better than we think. I think Jerry Jeudy is going to be a standout. They have Courtland Sutton, they have K.J. Hamler, they have Noah Fant — Jeudy's the No. 1. This is the guy. You don't draft a player in the top 15 for him not to be."
If Jeudy truly can be the No. 1 weapon in that stacked room, the Broncos will have an embarrassment of riches.