Photo: Justin Tafoya/Clarkson Creative via Denver Athletics
In 2010, Red Wings fan Carter Mazur was a hockey-playing, hockey-loving 8 year old in Jackson, Michigan, about 80 miles west of Detroit.
He was savvy enough to know that any Michigan kid with a stick in his hands wasn't supposed to like the Avalanche, but his enmity was low key, considering the most hateful days of the Detroit-Colorado rivalry were in the rear-view mirror.
He sat down to respond to: "I have a dream."
He sketched himself holding what appeared to be American flag.
Then, in what unmistakably was a youngster's scrupulously careful printing (you still can picture him leaning over the paper, his tongue out to the side as he wrote):
… That I could be in the NHL hockey playing on Detroit red wings and give money to the poure and hospitals.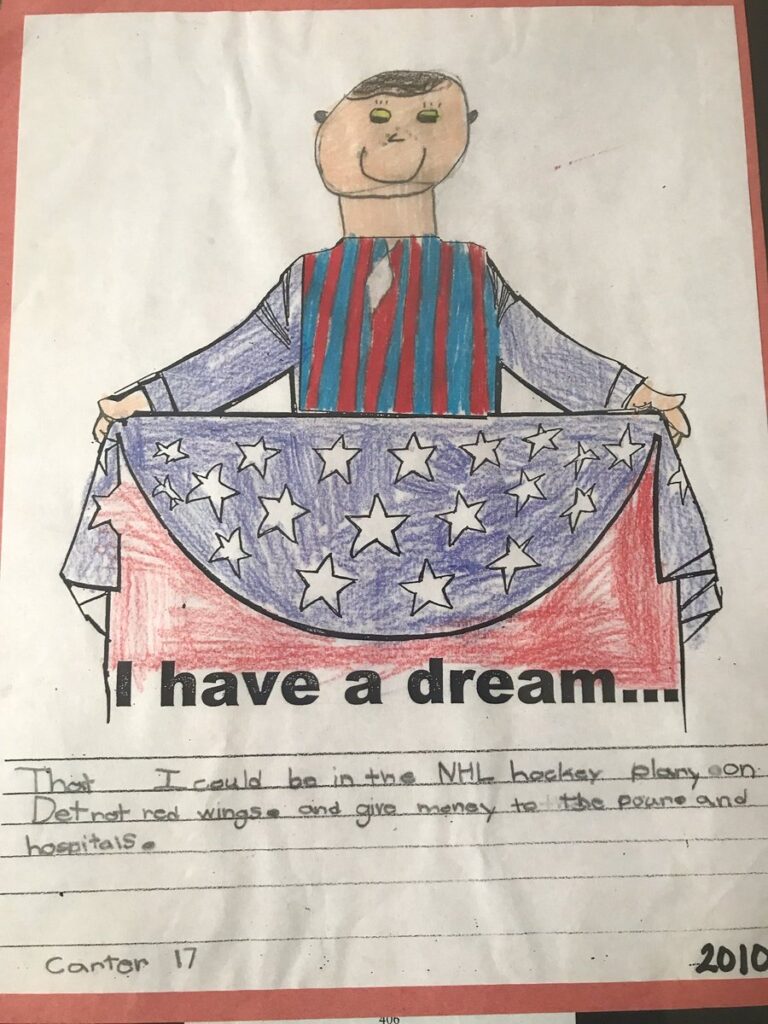 Twelve years later, I caught up with Mazur Wednesday afternoon at the University of Denver's Magness Arena. The defending NCAA champion Pioneers were about to go through their final practice before heading to Grand Forks for Friday and Saturday National Collegiate Hockey Conference games against bitter rival North Dakota.
Mazur's drawing went semi-viral in July 2021, shortly before he arrived to enroll as a freshman at DU. The Red Wings drafted him in the third round and his mother recalled his drawing and note, retrieved it, passed it along to Carter's advisor (NCAA hockey talk for "agent") and it ended up on social media.
"It blew up from there," Mazur told me.
Yes, in a league of 32 franchises, Mazur was drafted by the team of his childhood dreams. He then had a storybook freshman season at DU, with 14 goals and 24 assists for the NCAA champions. This season, he's off to a torrid start, with 10 goals in 10 games, playing on a formidable line with sophomore center Massimo Rizzo and graduate right wing Casey Dornbach, a transfer from Harvard.
Mazur, 20, didn't even mind doing all of this in the same market as the Avalanche, the 2022 Stanley Cup champions in a year the rebuilding Red Wings didn't make the playoffs.
"I didn't grow up in the rivalry ages," Mazur said. "It's fun to reminisce and watch videos about it. I love hockey, the fighting and all that."
The Avalanche saw to it that the Pioneers were acknowledged as part of the Stanley Cup celebration at Civic Center Park, as Denver informally laid claim to the "Hockeytown" label that Detroit interests trademarked.
Mazur attended the Red Wings' development camp in July.
Also in the offseason, Mazur was able to meet veteran Avalanche center Darren Helm, and that was significant because Helm was Mazur's favorite Red Wings player before he signed with Colorado in 2021. "Having him come here, that was a good spot for him," Mazur said.
Mazur's coach for part of his stay in the noted Little Caesars youth hockey program in Detroit was former Red Wings center Kris Draper, a key figure in the rivalry after the Avalanche's Claude Lemieux drove him from behind into the boards in Game 6 of the 1996 Western Conference Finals, shattering Draper's face.
"Having him tell stories about what happened and everything that went down in those years was pretty special," Mazur said of Draper.
From the Little Caesars program, Mazur went to the Tri-City Storm of the Junior A United States Hockey League. That preserved his NCAA eligibility. Earlier, he also was drafted by the Saginaw Spirit of the major junior's Ontario Hockey League, but going there would have ruled out playing NCAA hockey.  Junior A, he said, "was a no-brainer at that point. I thought that was the best place I could develop as a player and also go to college."
Mazur said he was "committed" to his backyard program, Michigan State, for four years before he instead changed his mind and signed on with DU.
"It was a hard decision," Mazur said, "I had to talk to a lot of people to get that done. I decided to come to Denver because it was so hard to turn down. You really can't put that into words. I won a national championship my first year. That's really nice to have."
After the inevitable turnover from the NCAA championship team, linemates Rizzo, who is from Joe Sakic's hometown of Burnaby, British Columbia, are the major offensive threats for the Pioneers. Under coach David Carle, who turned 33 Wednesday, DU is 7-3-0 overall and 3-1-0 in the NCHC.
Mazur and Rizzo also are roommates, in the dorms as freshmen and now in a house as sophomores. (Rizzo, Carolina's seventh round choice in 2019, also attended the Hurricanes' development camp last summer.)
"We see each other all day," Rizzo said. "He's a great guy. Obviously it translates on the ice. Being so comfortable with each other, we can communicate and read off each other."
I started to ask who was Felix and who was Oscar, but realized Mazur would have no idea who I was talking about. So I instead asked how they were as roommates.
"He's the clean one, I would say," Mazur said. "He picks up after himself. He puts things back. We watch movies in the basement, so it's a good relationship."
This weekend's series at North Dakota is a litmus test for DU's defending NCAA champions.
"This team has a lot of speed," Mazur said. "I think we can take it to a team with that speed. We have so many guys now who can build off each other. I would say we have that same competitiveness in practice on every single day, no matter what the circumstances are."
And what of Mazur's childhood hope to make the NHL and help out hospitals and the poor?
"I might as well live up to that now that I've said it," Mazur said. "That's the goal when I reach the professional level. It's something I've always wanted to do. It's in my family to give back to the community, especially for my Grandpa, who works with the Kiwanis with a lot of projects around the Jackson area."
That's pretty heady stuff for a 20-year-old. Or an 8-year old.
Terry Frei is a Mile High Sports Magazine contributing writer. He is a seven-time winner of state sportswriter of the year honors — four times in Colorado and three times in Oregon — in peer voting conducted by the National Sports Media Association. His seven books include Horns, Hogs, and Nixon Coming; Third Down and a War to Go; Olympic Affair; and '77: Denver, the Broncos, and a Coming of Age. Information is available on his website, www.terryfrei.com.