When John Elway told the gathered media following a disappointing playoff loss to the Indianapolis Colts that he wanted a team that was going to go out "kicking and screaming," the scribes, talking heads and mouthpieces in the room knew they had a golden goose that would keep laying eggs for at least a year and until one of two logical conclusions: Yet another unceremonious end to the season, or a Super Bowl victory. Indeed, the mantra has now been elicited countless times in print, over air and in pixelated form to say that there is only one attitude that will pass these days in Broncos Country.
But over the course of training camp, All-Pro guard and leader of the offensive line Louis Vasquez let slip his own, slightly different ideology for the makeup of his unit. Vasquez does not want those men in the trenches with him acting like spoiled toddlers. He thinks of things in much harsher terms.
"My mentality is by the end of the fourth quarter," Vasquez said on the second day of camp, "we want to feel your soul wilt in our hands."
It's that kind of attitude that carried the Broncos to their only two Super Bowl titles, when a menacing offensive line controlled the game from beginning to end. As two-time Pro Bowler and three-time Super Bowl champion Mark Schlereth recently told Mile High Sports Magazine, "…a guy like me, I want to put my hand in the dirt, and I want to walk up there, and I want to freakin' shorten your neck."
And so, when the Broncos signed 2013 All-Pro guard Evan Mathis, widely regarded as not only one of the best, but one of the grittiest players at his position, to a one-year deal on Tuesday, they showed that they're committed to building a line in front of Peyton Manning that is capable of fulfilling Vasquez's mission.
Just one look at Mathis and it's clear he's of like mind to Vasquez. As such, we offer five great game day photos of Mathis giving his trademark glare. One we think could wilt a few souls. Need proof? Look into his eyes, if you dare…
No. 1
This image was snapped as Mathis left the field following a preseason game between the Eagles and Panthers. Philadelphia defeated the Panthers 14-9. Just to be clear, this is how he looks after a preseason win.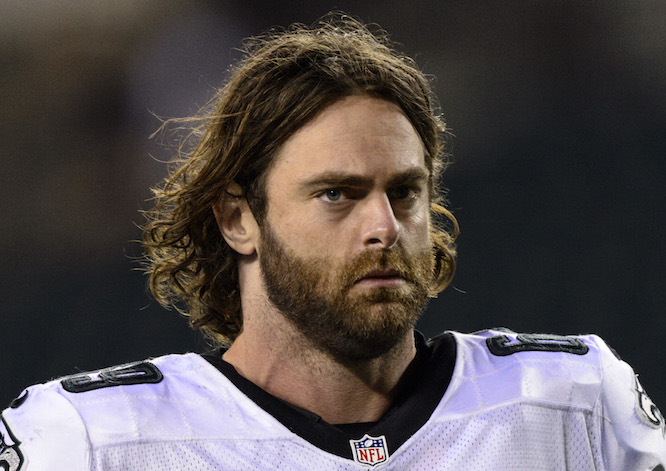 Up next: Don't goof off around Mathis, even during a win…