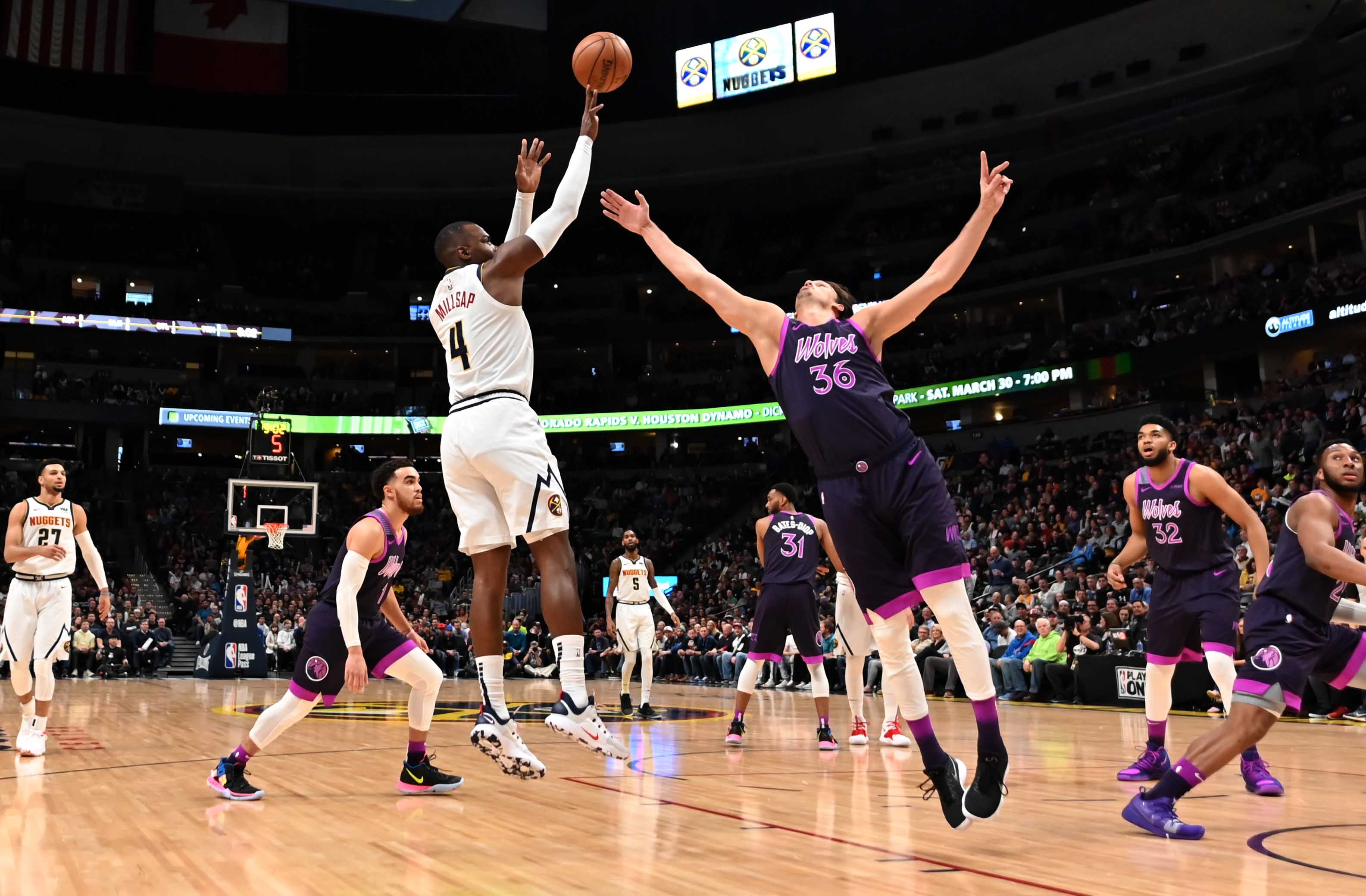 The Denver Nuggets' lackadaisical play after the All-Star break has been haunting them for the better part of three weeks.
The Nuggets, who have been consistently a top-two seed in the brutal Western Conference all season, were a mediocre 4-4 after the All-Star break. Their offense stagnated, their mentality turned somewhat individualistic and the ball uncharactaristically stopped flowing through Nikola Jokic.
Those issues eventually became worrisome enough that Nuggets' head coach Michael Malone decided to have a fairly intense film session on Monday morning the day before taking on the Minnesota Timberwolves in Denver. During the film session, Malone ripped into his players for their self-made struggles in order to get them back on track.
"I showed 13 clips today and I told the guys before we watched them, 'if anybody in here is sensitive, get up and leave now'," Malone explained on Monday morning after practice. "It was very open, very honest, and very direct about what a bad shot is, what a bad turnover is, and what selfish basketball looks like.
"Hopefully they hear the message and get back to playing the way we play."
Fast forward just about 36 hours after that brutal film session and it is safe to say that the Nuggets heard the message their head coach was trying to convey as Denver absolutely demolished the Timberwolves 133-107.
"It was great," Malone stated happily after clobbering the Timberwolves. "They just told me that was our highest assist total since 2013. After the last couple of days — the film sessions and just harping on ball movement and playing selfless and for each other — for us to go out there and get 40 assists on 51 field goals was refreshing and fun to watch. The message was delivered. The guys embraced it, accepted it, owned it, and went out there and played tonight at a very high level on the offensive end."
Denver managed to put up 40 total assists as a team — the highest total by a Nuggets team since 2013 — on 51 made field goals against the Timberwolves. Denver also shot an incredible 60 percent from the field and an even more absurd 60 percent on 3-pointers despite taking 30 triples in the game. Denver even had eight players register double-digit assists and four players scored 16 points or more as a cherry on top.
"It was really fun to play, of course," Nikola Jokic said. "When everyone is sharing the ball, everyone is making everyone happy. We made a lot of shots that were assisted so we played the right way."
A 40-assist game is really a spectacular milestone to reach. For context, the Warriors only have two games of 40-or-more assists on the year and they have arguably the most talented group of scorers ever assembled on one team.
"That was probably one of the best passing games that we have had," Jamal Murray said after the win.
In addition to just the pure insanity of putting up 40 assists in one game, the most important aspect of Denver's win is that they answered the challenge from their head coach.
"It felt great," Mason Plumlee explained in the Nuggets locker room after another division win. "We really responded to the film. Coach pointed out some zero-pass and one-pass possessions and I thought we did a better job of sharing it tonight."
One of the main reasons for Denver's incredible offensive production against the Timberwolves just so happened to be yet another film study, but instead of using the Monday morning film session to attack the roster for their struggles, Malone decided to take a different approach and essentially showed the Nuggets a highlight package of how incredible they are when they play for each other and more altruistically; not individually.
"We played a couple clips before the game just to get us back in that mode and to see how good we are when we move the ball and guys are moving without the ball and when we are playing unselfish," Barton explained to the media in front of his locker after Denver's bounce-back win.
If you ask Monte Morris, who had one of his best games of 2019, he will also will give Malone credit for, "refreshing," the team by showing them how good they are when they are playing selflessly.
"He showed us a ten-play edited clip before the game of just when we play the right way," Morris explained after putting up 16 points, five rebounds, and six assists in the win over Minnesota. "Simple basketball, the ball hopping, three or four passes, post-highs; we are hard to guard like that because everybody can score on our team. That is what we wanted to do tonight and it was beneficial for us."
Yes, the Nuggets bounced back in a big way tonight, but that does not mean their work is done. With just 16 games left until the playoffs arrive, Denver needs to get into a strong rhythm and stop shooting themselves in the foot from time to time.
"Even tonight, we played well, but in spurts we still had letdowns and stuff like that," Barton said after the game.
Getting his team to understand the value of each possession is going to be a major focus for Malone for the remainder of the season. Without learning that lesson, Denver will be at risk of unnecessary losses which could be damning during the final 16 games of the regular season and, more importantly, in the playoffs.
"There are times in games where we are up big and we kind of float for a couple of possessions," Malone explained. "Moving forward, we have to eliminate those because in the playoffs every possession matters. We cannot afford to have a couple blown sets or not get back in transition or throw the ball all over the place."
While the lack of consistency may be alarming at first glance, there is also a silver lining.
After 69 games, no one has seen the actualized version of this Denver squad. The Nuggets starting unit has only played a total of 152 minutes together and Denver has the most total games missed due to injury of any team this season. Oh, and on top of that, they entered the season as the second-youngest roster in the the entire National Basketball Association.
So, when Barton was asked if the best version of the Denver Nuggets is still to come, he confidently said, "If you ask me, yeah."
Now, after a quick skid from the Nuggets over the past five games, it seems that their win over the Timberwolves is the first step back towards Denver's dominant play and they did so by playing, "Nuggets basketball," as Malone says.
"Overall, we took care of business," Malone said. "What a great way to start off this homestand coming off of a disappointing road trip. We played the right way tonight. That was probably the most important thing was that our guys understood what needed to be done and we changed and changed for the better."
With 16 games left, there is still a ton of work for Denver to finish, but if you ask Mason Plumlee, he will tell you that everyone has the same mindset as Denver approaches the playoffs for the first time since the 2012-13 season.
"We are focused on the bigger picture right now," Plumlee explained. "We have a chance to do something special and I think that is what is on everyone's mind."