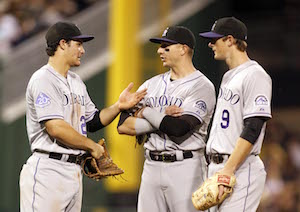 Tuesday night in Cincinnati the Colorado Rockies will have three players – three infielders, to be exact – on the National League roster for the 2015 MLB All-Star Game. It got those of us in the office wondering, "Will all three Rockies be on the field at the same time tonight?"
With second baseman D.J. LeMahieu starting (due to Dee Gordon's injury) and shortstop Troy Tulowitzki and third baseman Nolan Arenado coming off the bench – each of which is a a right-handed bat – it might take some special circumstances to see a "Coors Shield" infield on display.
But it also got us thinking about what an all-time Rockies All-Star starting lineup might look like.
Could we field a full roster of current or former All-Stars? Or at least enough of one to play a single, decisive game (à la the "2007 Play-In Game")?  The key being, the players must have been an All-Star for the Rockies.
Here's the starting lineup we put together, along with a brief description as to why we selected this player in this spot:
1. Eric Young (2B)
E-Y was not only fast, he was clutch. While D.J. LeMahieu might have the edge defensively, we're only going to trust E-Y to set the table in our winner-take-all game.
2. Troy Tulowitzki (SS)
Tulo only needs one more All-Star selection to break Todd Helton's franchise record for the most in club history (5). He's one of the best-fielding shortstops of his generation and he can flat-out rake. Once E-Y gets on base and swipes second, Tulo's the perfect guy to trade places with him with a double off the wall.
3. Larry Walker (RF)
Probably the greatest pure hitter in Rockies history, Walker also had a cannon for an arm and picked up seven Gold Gloves. His .334 batting average, .426 on-base percentage and .618 slugging percentage are all tops in franchise history. He's second all-time in games, plate appearances, runs, hits, total bases, doubles, home runs, RBI, stolen bases and base on balls. Need we say more?
4. Andres Galarraga (1B)
The aforementioned Todd Helton has as many All-Star appearances as Tulo (5), leads the franchise in just about every offensive category except stolen bases (see above) and has three Gold Gloves, yet he didn't make our starting lineup. What gives? Call us sentimental, but we've got a soft spot for the guy who won NL Comeback Player of the Year, not once, but twice. Helton saw a major decline on the tail end of his career. Galarraga resurrected his career twice. Give us the Big Cat.
5. Todd Helton (DH)
After all that, you didn't really think we'd leave The Toddfather out of the starting lineup, did you?
6. Matt Holliday (LF)
In just four years in Colorado, Holliday put up monster numbers and established himself as one of the best-hitting outfielders in the game. His defense (and head-first slides) left something to desire, but he offers a much more well-rounded package than Dante Bichette. And since leaving Colorado, Holliday has continued to be one of the top outfielders in the league – as evidenced by his seven career All-Star nominations.
7. Carlos Gonzalez (CF)
CarGo is playing a little out of position here, but with his range, it's not a stretch to put him in centerfield. He's played the position when needed, just like he's moved between left and right as the team needs.
8. Michael Cuddyer (C)
In the team's 22-year history, the Rockies have never rostered an All-Star catcher. It's the only position on the field that goes unrepresented, and thus we're asking Cuddy to step up, don the gear and get behind the dish. Sure, his aching knees might only give us one game, but that's all we're asking.
9. Nolan Arenado (3B)
The youngster of the bunch, Arenado brings an insane glove to go along with what has turned out to be a surprisingly good bat. Sure, Vinny Castilla can knock the cover off the ball, but Nolan gives us productivity at the bottom of the lineup and defensively will steal a run or two from the opposition. Plus, that gives us Castilla as a dangerous bat coming off the bench.
Ubaldo Jimenez (P)
Due to his relatively short tenure in Colorado, Ubaldo didn't rack up the stats that his electric arm probably deserved on the Rockies all-time leaders list (he still sits second in strikeouts and fifth in wins), but his 3.66 ERA is the best in club history. If he's on his game, we won't need a sixth, seventh or even eighth inning guy – just let Ubaldo hand it off to the closer.
The bench and bullpen look like this:
Bench
Dante Bichette (OF)
Charlie Blackmon (OF)
Ellis Burks (OF)
Vinny Castilla (IF)
Jeff Cirillo (IF)
Jeffrey Hammonds (OF)
Brad Hawpe (OF)
D.J. LeMahieu (IF)
Preston Wilson (OF)
Clearly, our bench is stacked with some big bats, but is lacking a backup catcher. And fortunately (or unfortunately), because our pitching staff is so small, we have the extra room to spare a little more lumber. We might need it, given the shape of the pen.
Bullpen
Aaron Cook (RHP)
Shawn Chacon (RHP)
Brian Fuentes (LHP)
Mike Hampton (LHP)
Jason Marquis (RHP)
Things get a little shaky in the bullpen. Sadly, in 22 years, the Rockies have only had five All-Star caliber pitchers, and only Brian Fuentes was named an All-Star more than once. Sure, we have a bonafide closer in Fuentes, a good left-on-left matchup specialist with Hampton and a decent long-relief option in Cook if Ubaldo struggles early (as he's been known to do). But if things get sticky at any point, we'll need Chacon or Marquis to step up and get us some big outs.
If you were counting along the way, you determined that over their 22 years the Rockies have fielded 24 All-Stars.
Seeing that the Rockies have just 24 All-Stars in their history, we still have room for one more on our 25-man roster. We think it's time the Rockies trade for an All-Star catcher. After all, Cuddy's knees won't hold up for long.