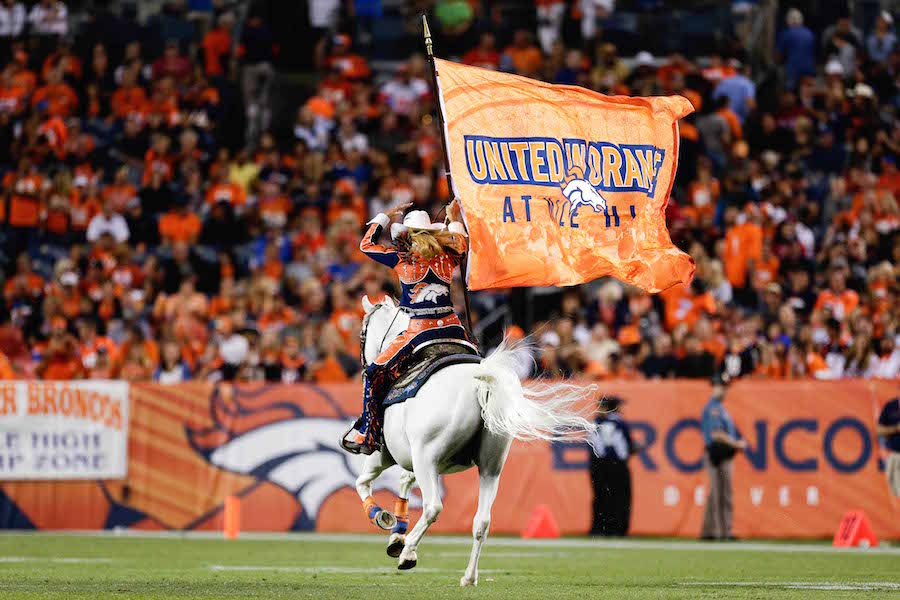 Case Keenum must revive Denver's offense if the Broncos hope to compete in the rough-and-tumble AFC West
*A version of this story appears in the July issue of Mile High Sports Magazine. Subscribe here!
***
At this time last year, optimism burst from the seams at Dove Valley. Still blessed with a fearsome defense, the "reloading" Broncos added a fresh-faced new coach in Vance Joseph, a burly new left tackle in Garret Bolles, and were buzzing with the expectation that quarterback Paxton Lynch would finally turn from a peach-fuzzed caterpillar into a butterfly.
Yes, the Denver Broncos and their fans were flying high. Until they weren't.
The Broncos instead had a disastrous season, going 5-11 while looking increasingly hapless as the season dragged on. Bolles performed well enough as rookie, but Lynch was a complete non-factor once more, and Joseph fell from grace so far and so quickly that vice president and general manager John Elway said that he actually had to sleep on it before deciding to bring Joseph back for a second season.
"Obviously, you get better with time — time on the job. I'm focused on getting it right. We'll see in the fall if I got better. It all comes down to wins and losses," Joseph said during June's minicamp. "I think last year was a teaching moment for me. When you lose that many games in a row, my job is to fix it quicker. Good teams don't lose three and four games in a row, so that's on me. I can do better there — and I will do better."
Elway made sure that Joseph got some help; breaking out the checkbook to sign quarterback Case Keenum to a lucrative contract and handing him the keys to the Broncos' stalled offense. Keenum, a journeyman since his high-flying college years at Houston, finally found his fit at the age of 29 with the Minnesota Vikings, helping lead them to the NFC Championship before joining the Broncos in the offseason. Joseph doesn't believe that Keenum's long-overdue breakout was a fluke.
"Obviously, it's been some years and players mature. Case has been through a lot of ups and downs in his career, and he's had success at a high level, speaking of last year. He's ready for the challenge," Joseph said. "He's been a great leader for our football team and having a chance to finally be the guy from day one has been fun for Case. I'm excited for him… It helps to have a guy who's your starter working with your first team. It's the first time we've had this in three years."
Keenum, whose businesslike approach befits a man who's now in his 30s, sounds eerily reminiscent when striking the same chords that Peyton Manning did after taking unquestioned hold of the Broncos' huddle.
"New challenges arise each day. We're trying to do new things; trying new concepts and really building a foundation of what our protection and our offense is going to be," Keenum said during minicamp. "That way, during the year — when we get into scheming and game-planning — we can mix up certain things and really accentuate what those guys do well… It's new each day, and that's why I love this game. That's why I love getting to know these guys and building new relationships. Not just on the field, but off the field, too."
The Broncos neither expect Keenum to become Manning, nor do they need him to be — and he knows it.
"I always thought that it was my job to get the ball out of my hands, get it into the fast guys' hands and let them do something with it," Keenum said. "If I'm stuck with a ball, usually it's not a good result. I try to get it out of my hands and to those guys who can do something with it — and we have a lot of those guys."
"Those guys" – first and foremost – are wide receivers Demaryius Thomas and Emmanuel Sanders, both former Pro Bowlers who thrived with regular 1,000-yard seasons under Manning and struggled with an array of quarterbacks who couldn't empower the dynamic receivers to provide game-breaking, highlight plays. With an offense that couldn't stretch the field, and a running game that struggled in short-yardage situations, it's easy to see where the Broncos went wrong, and why they invested millions of dollars in getting it right this time around.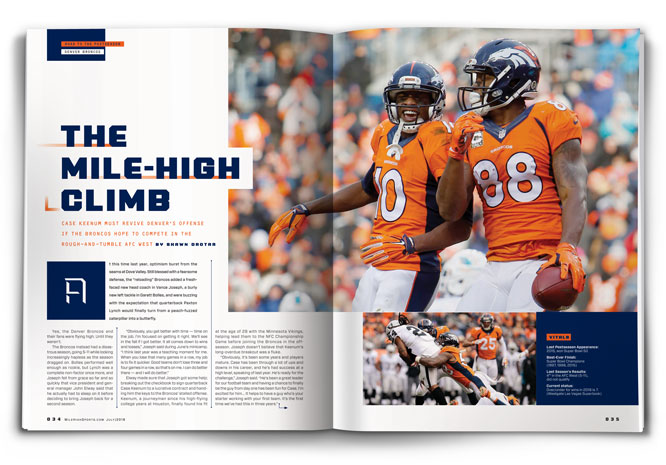 After cutting ties with running back C.J. Anderson — who had his best season in 2017 — the Broncos now turn to a stable of young runners in the hope of finding a workhorse. Returning backs Devontae Booker and DeAngelo Henderson have never been asked to carry the load, and they're now joined by powerful rookie Royce Freeman and local legend Phillip Lindsay, who starred at the University of Colorado and Denver South high school before being signed as an undrafted college free agent — like Anderson before him.
The Broncos aren't depending on youth at running back alone. They bolstered the wide receiver position with 2018 draft picks Courtland Sutton and DaeSean Hamilton — both have performed to rave reviews since they arrived in Denver — and believe that their long-term solution at tight end is ready to step into the spotlight.
Jake Butt, a Mackey Award-winning tight end at Michigan, might just be the "X-factor" the Broncos have been looking for. A reliable route-runner and willing blocker, Butt could fundamentally change the Broncos offense, and become Keenum's security blanket, to boot.
"Jake is a competitor. He wants the ball no matter what, and I like that. I like a guy that comes back to the huddle and… even if there were three guys on him, he's like, 'Yeah, you could've fit it in,'" Keenum said. "He wants the ball — and I love that."
As minicamp wrapped up, Keenum said that he planned to tear another page from Manning's playbook and host his own private camp with his new teammates. "It's going to be [at] an undisclosed location, so none of you [media] guys are lurking around and creeping on us," Keenum said with a chuckle. "If I see any of your faces, I'll call the cops on you guys."
As the Broncos enter the 2018 campaign, it hard to miss the "all or nothing" vibe that permeates the organization. The team hasn't experienced back-to-back losing seasons since 1972, and there's no desire to break that remarkable, 45-year streak.
The Broncos' defense is a given. Perhaps they won't be the league's best, but they'll certainly be among them. In a division where pass-rushers like Los Angeles's Joey Bosa, Oakland's Khalil Mack, Kansas City's Justin Houston and Denver's own Von Miller reign supreme, it's the offense that must add to the Broncos' win total, and they appear to have the talent to do so.
The Broncos' division rivals all have question marks of their own, whether it's the Chargers' health, the Chiefs' adjustment period under young quarterback Patrick Mahomes II or the Raiders' back-to-the-future approach with coach Jon Gruden, who said he'll dispense with "GPS and all the modern technology" that today's NFL embraces. However, the challenge for the Broncos' offense under Keenum is that all the new arrivals and young players need to have good seasons for the Broncos to make a giant leap forward, which makes confidence-building in September and October critical.
The Broncos' last-place schedule may be of help. Of the nine games that precede their fortuitously placed bye week, only three of them are against teams that won double-digit games last season. Four of them are among teams that won six or fewer. If the Broncos can reach the bye week with at least five wins, they'll stand a good chance of returning to the playoffs for the first time since they were Super Bowl champions.
With Keenum at quarterback, the Broncos are headed in the right direction once more… but as Joseph said, it all comes down to wins and losses.
Doesn't it always?
***
VITALS
Last Postseason Appearance: 2015, won Super Bowl 50
Best-Ever Finish: Super Bowl Champions (1997, 1998, 2015)
Last Season's Results: 4th in the AFC West (5-11), did not qualify
Current status: Over/under for wins in 2018 is 7. (Westgate Las Vegas Superbook)
***
ONE MAN'S OPINION
"If everything goes absolutely perfect, the Broncos will make the postseason — and that includes the following: Case Keenum must stay 100 percent healthy all 16 games of the season, and Bradley Chubb needs to be flirting with the sack record for a rookie. I fthose two things happen, the Broncos will be back in the playoffs."
— T.J. Carpenter, co-host of Mornings at 5280′
***
WHAT THE BRONCOS HAVE
Von Miller — Arguably the most disruptive defender in the NFL, the affable Miller has become the bespectacled face of the franchise — and the one Broncos player that keeps opposing coaching staffs awake at night. The fearsome pass-rusher has virtually no remaining flaws in his game. It's simple: as Miller goes, so goes the Broncos' defense.
Chris Harris Jr. — Perhaps the most underrated defender in the game today, Harris's no-drama playing style disguises the fire that the once-undrafted afterthought from Kansas brings to the field. He'll be counted on more than ever now that longtime running mate Aqib Talib has joined former defensive coordinator Wade Phillips on the Rams.
The Dynamic Duo — Wide receivers Demaryius Thomas and Emmanuel Sanders have both been spectacular and highly productive pass-catchers… when they've had a NFL-starting caliber quarterback throwing to them, that is. If new arrival Case Keenum can open up the Broncos' offense, Thomas and Sanders can elevate it to dazzling heights.
***
WHAT THE BRONCOS NEED
Case Keenum plays like a Pro Bowler — At $18 million per season, Keenum was paid like the elite-level quarterback he played like last season while leading the Minnesota Vikings to the NFC Championship. Keenum's better-late-than-never career renaissance must continue in the Mile High City for the team to have any chance at the playoffs.
Jake Butt stays healthy, claims the starting job — Butt, who missed all of last season recovering from an ACL tear, is expected to be healthy — and among a field of unproven tight ends, the starting role is his for the taking. The Broncos didn't add a starting-caliber veteran in the offseason, which speaks volumes regarding their faith in the former Michigan Wolverine.
The offensive line stops offending — Center Matt Paradis is reliable as always, 2017 first-rounder Garret Bolles should improve in his second season, and Ron Leary should be better at left guard, his natural position. The Broncos hope Connor McGovern emerges as the starting right guard, and that offseason addition Jared Veldheer returns to form after a slew of injuries.
***
TWITTER POLL RESULTS
We asked you, on Twitter, "Will the #Broncos make the playoffs this fall?" Here are the results:
Yes, as AFC West champs — 26%
Yes, as a Wild Card — 35%
No, they'll just miss out — 27%
No, not even close — 12%
***
FOOD FOR THOUGHT…
The always-tough AFC West has passed the Broncos by since their Super Bowl victory. The last-place Broncos won only five games last year for a reason, and expecting them to double that win total and compete for first place after only one offseason may be too much to ask.
***
*For more from Mile High Sports Magazine, subscribe here!