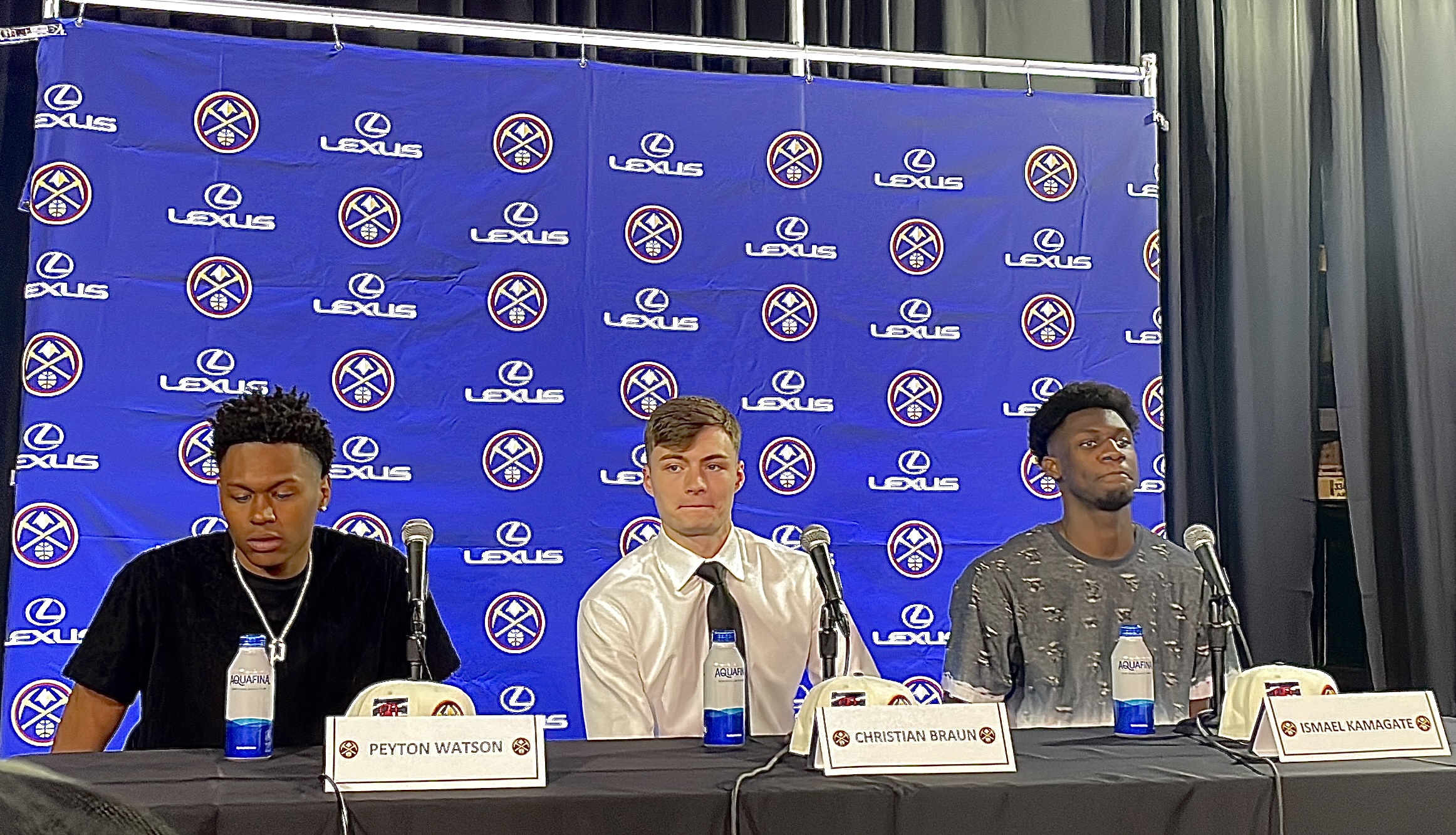 Three words come to mind after listening to Christian Braun, Peyton Watson, and Ismael Kamagate speak to local media today: defense, work, and culture.
When the Nuggets selected three rookies in the 2022 NBA Draft, it caught some (including me) by surprise. Now that the players are in the building and have spoken to media for the first time, it's easy to see why the Nuggets became enamored with all three.
For a long time, the Nuggets have striven toward becoming a player friendly team, cultivating a strong family environment where the main goal is often bringing in players, coaches, and executives that simply love the game of basketball. It's easy to see where Braun, Watson, and Kamagate all fit into and add to that mold.
"Getting that call, they said I was going to be selected, it felt surreal," shared Peyton Watson, the 30th overall pick who will wear the number 8 for the Nuggets next season. "That's the first time it really hit me that I was going to be in the NBA. It's been nothing but a blessing and I'm excited to get to work."
"It was awesome to get that call from Mr. [Calvin] Booth," said Christian Braun, who will don the number 0 next year. "Just talking to him, he told us I was going to be the choice for that pick. It was like a dream come true. It felt amazing. Just to be in Denver now, it's all a dream."
Ismael Kamagate, who will wear 14 in summer league, echoed those thoughts: "Same thing. It's a dream come true. I think we are all proud to be here."
Throughout the press conference, it was easy to see why the Nuggets gravitated toward the three players. There's a sense of realness and authenticity just oozing through each microphone, as well as a genuine desire to work hard improve each of their games. The Nuggets love to invest in hard working people that love basketball, and it's clear that all three love the process of getting better.
The next theme, of course, was doing whatever it takes to help the team win.
From Braun: "I think they just liked my winning mentality, my toughness. I'm a guy that wants to compete on both ends of the floor."
From Watson: "I think the common theme from all three of us sitting up here, and even my guy Collin [Gillespie], we're all fighters. We're all competitors. We all want to help our team in various ways, if that's by pushing guys in practice every day, if that's coming to the G League team and contributing there, or if that's playing on the NBA level and helping us win games in an 82-game season.
"I think we're all ready to do all of that, and everybody here's unselfish and ready to get started and help this team move forward."
While Kamagate is expected to return overseas following summer league and be stashed for the 2021-22 season, he echoed similar thoughts of competing hard, working for everything, playing defense, and doing whatever it takes to win.
The Nuggets know that their goals go beyond what rookie players are likely to provide in the earliest seasons of their career, so it's refreshing to hear players talking about doing whatever it takes to help the team. Watson in particular seems to know that it will take time for him to see the court extensively, but it doesn't mean that the next season or two should be written off as purely personal development. He wants to be a part of things and contribute to winning. They all do, even if the goals go beyond just helping others succeed.
For Braun, competing on the court might happen sooner than for the other two, and he will be ready whenever it does:
"I'm just a super competitive person, no matter what it is. When I'm on the basketball court, I like to bring a certain personality, a certain passion to the rest of the teams I've played on."
Braun certainly developed a reputation for wearing his passion on his sleeve, his willingness to compete and tell opponents and opposing crowds in no uncertain terms exactly how it is. He's going to revel in it.
For all three, the next step in the process comes at summer league. Gillespie will join them, and all four will likely start and play together, where they can show just how competitive they are.
But don't be lulled into a false sense of security about it just being summer league. The Nuggets rookies appear ready to win wherever they can.
"We just want to win, show everybody that we're competitive, that we're going to go out there and compete every game," said Braun. "I think all three of us are really good defensive players. Obviously, that's why we were drafted here, and we're going to focus on playing defense and getting wins."
From Watson: "Obviously, we're all looking to work on different parts of our game and to showcase what we can do, but the main goal is to win, and we just want to set the tone for the entire season."
"We start winning now, we start building that chemistry now as a team and really liking each other as humans, I think that will carry on into the season."
And from Kamagate: "I think I'm going to show how we work, how it is to be here, to show our [work etiquette] and our defense."
While the bulk of Denver's offseason hinges on how they handle free agency and the trade market, it's nice to know that they've also added nice, genuine, defensive-minded prospects into the pipeline. They all fill different skill sets and will all be ready to go at different times, but the Nuggets can take solace in the fact that no matter what happens in July, they added some good pieces in June.
But now, as each of Braun, Watson, and Kamagate stated at the presser, it's time to get to work.