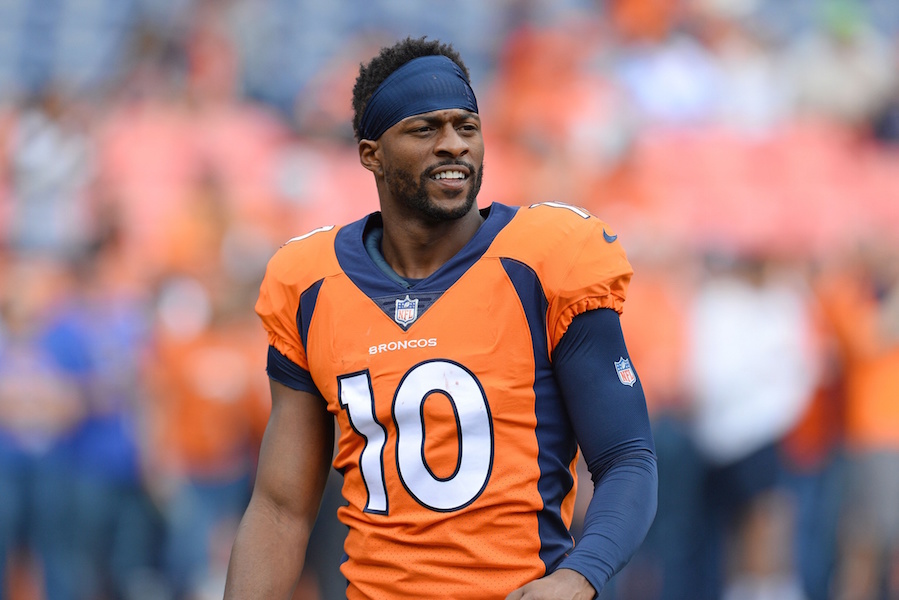 The legal system in Texas says Emmanuel Sanders is free and clear after a grand jury failed failed to find a bill of indictment on the Denver Broncos wide receiver in a sexual assault investigation stemming from an incident on June 15, 2017, TMZ Sports reported yesterday. That doesn't mean Sanders is off the hook with his employer or the National Football League, however.
The NFL and the Broncos will no doubt investigate the situation, and the possibility remains that Sanders could face discipline in the case. The league suspended Ezekiel Elliott six games during the 2017 season for a series of incidents, despite no formal charged being filed against the Dallas Cowboys running back.
But should the Broncos and the NFL even have been aware of the Sanders investigation?
According to Dan Jacobs — a Colorado attorney and co-host of The Final Verdict on Mile High Sports AM 1340 | FM 104.7 — Sanders' rights may have been violated when news of the grand jury proceedings were made public.
"They're supposed to be secret proceedings," Jacobs said on his show the day the report from TMZ broke. "The idea was, whenever they started — and I don't know for certain when they started; they've been around a long time — but the idea was: This is a chance for the government to test the case without having to impugn the character of those involved and if a jury of people, citizens, say 'There's nothing there,' well then you've never been charged, you've never been through the wringer, your reputation hasn't been besmirched because it's supposed to be secret."
That fact, Jacobs says, means the NFL will have to tread very lightly if they are going to consider disciplining Sanders in this case.
TMZ did not disclose specifically how or from whom they obtained the information on Sanders' grand jury hearing, only citing "according to court docs obtained by TMZ Sports" as the initial source.
"What we got [Thursday] should not have happened," Jacobs continued. "It's a serious violation to break the secrecy of a grand jury. What happened [Thursday] should not have happened. When they failed to indict him, when they didn't issue the bill of indictment, it should never have been mentioned again. And that's why the NFL will be on very thin ice to try and use that information against him. Because that's the whole point of a grand jury."
Unfortunately for Sanders, the news did become public and his reputation has since taken a hit.
"When people hear 'There's a grand jury indictment,' your reputation is not good," Jacobs said.
Although there was no indictment, even the implication of a grand jury hearing in a sexual assault investigation can prove damaging.
The good news for Sanders is that the burden of proof is so low in a grand jury hearing that the NFL should have very little case for a suspension.
"If a grand jury doesn't indict you, it's pretty much an exoneration. Because the standard is probable cause, it's the same standard that cops use every single day to go after people. It's not by a preponderance of the evidence. It's not beyond a reasonable doubt. It's 'Eh, seems like it. It's probable. He probably committed a crime.' Boom. You're indicted. It's a very, very low standard.
"The prosecutors have a very, very low bar they have to hit to get that indictment," Jacobs said.
The NFL has made a concerted effort in recent years to levy harsh penalties on players who commit or are even accused of domestic violence or sexual assault, even without a criminal conviction, so it's possible that Sanders could still face punishment from the league. However, his lawyers appear to have a convincing case that such information never should have been made public in the first place.
Click here to listen to the full conversation with Jacobs and his co-host, Renaud Notaro, including more information on how a grand jury operates, or listen in the podcast below.
Catch The Final Verdict with Notaro and Jacobs every M-Th from 6p-8p on Mile High Sports AM 1340 | FM 104.7 or stream live any time for the best local coverage of Colorado sports from Denver's biggest sports talk lineup. Download the all-new free Mile High Sports mobile app for Apple or Android.