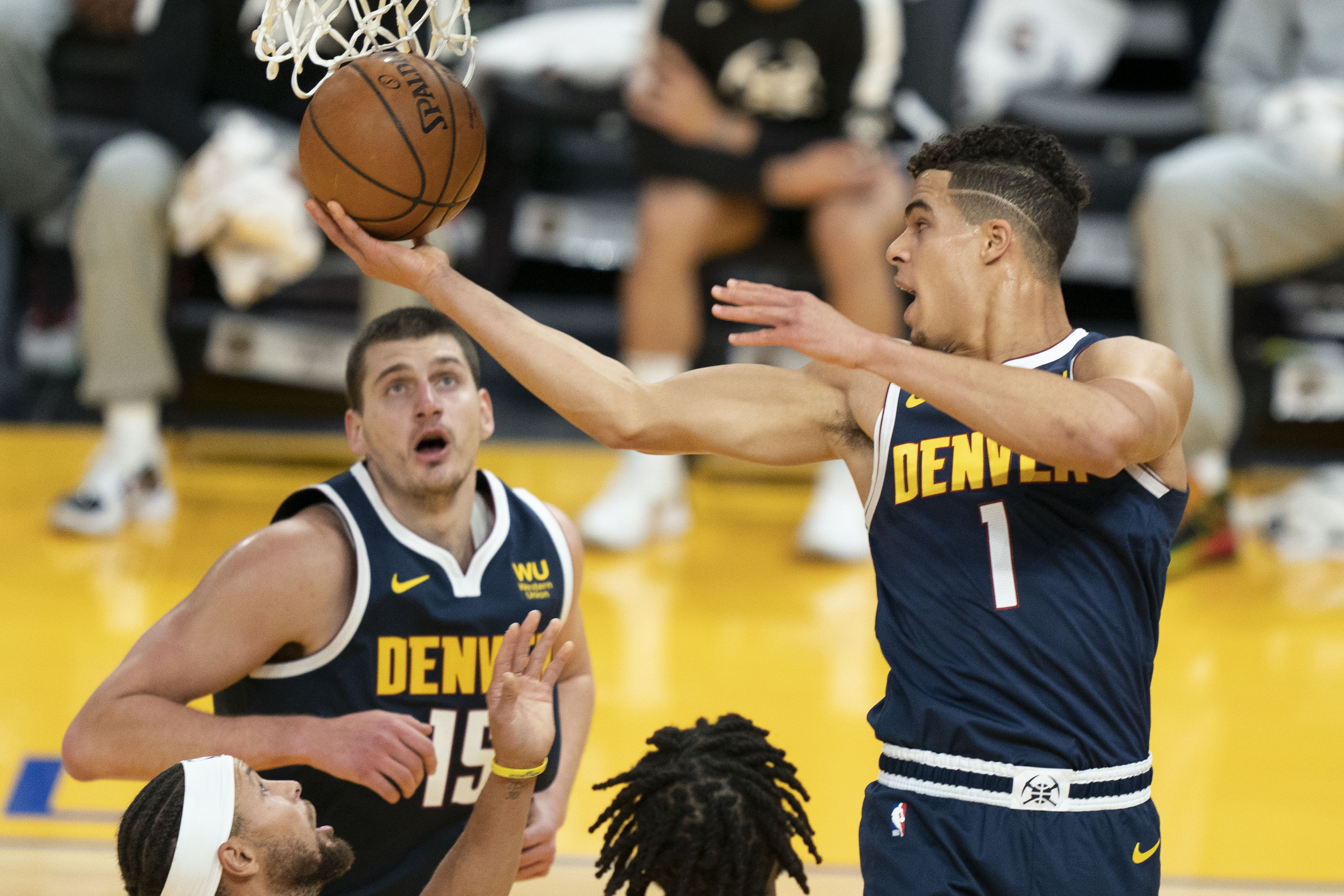 It wasn't pretty but the Nuggets were able to pull out a close 103-102 win on the road in Memphis. That's 5 straight wins for Denver, all on the road. A sluggish start after the All-Star break can be expected but the Nuggets hold themselves to a much higher standard.
"This was a really good win to start the second half of the season on the road," Michael Malone said. "I'm proud of our guys. We talked about turnovers and not fueling their breaks, they did a really good job there. Talked about protecting the paint. They did a really good job in that category as well." 
The Nuggets kept their turnovers down but struggled on both ends of the floor early. They shot 44 percent from the field in the first and allowed the Grizzlies to go on a 14-4 run to close out the quarter.
In the second, the Nuggets' bench didn't do much to stop the bleeding. They were sloppy and not getting any stops on the defensive end. They allowed Memphis to score 20 points in the paint and put up 8 second chance points. Malone had to put his starters back in the game to regain some momentum. Nikola Jokić, of course, made an impact right away scoring 11 of his 17 first half points in the second quarter. 
"The last seven games we are playing the right way," Jokić said. "We are sharing the ball, we are taking the shots, we don't hesitate which is a really good thing."
Winning third quarters has been an area of focus for the Nuggets and that's what they did. After a rough first half, they picked up the pace shooting 48 percent from the field and going on a 26-12 run. Jokić recorded his 33rd double-double on the season, leading the NBA in that category.
"When we win games we win third quarters," Malone said. "I think there is a definite correlation to that where we come out focused. The first 10 minutes of that third quarter were very impressive. We did a really poor job of closing that quarter."
Jokić had an injury scare late in the third. He rolled his ankle and left the game for a short period of time to get it checked out. He ended up being fine, thankfully. 
"I just wanted to see what happened," Jokić said. "It was painful. It still is… I stood on someone's foot and I felt a little pop."
Michael Porter Jr. had another impressive outing scoring 9 of his 21 points in the third and killing it on the boards. Porter has been playing both the small forward and power forward positions and said it doesn't really matter to him which position he plays but feels better at the four. 
"Honestly I've just found my groove and my mentality has shifted," Porter said. "I don't think it really matters, the three or the four, I'm still spacing the floor either position. But that lineup where I do start at the four, we've kind of found our groove and it's been working well so far." 
Later in the third, the bench came back in and gave up 8 straight points to close the quarter. The Nuggets still won the quarter 28-22 and held onto the lead 81-77 heading into the fourth. Malone continues to be patient with his second unit after having so many of them out with injuries and missing games due to COVID protocols.
"The hardest thing for us is anytime you're trying to work players back into a rotation that had been out, "Malone said. "We went 4-0 on that last road trip going into the break and Facu (Campazzo) was not available. Obviously Paul Millsap wasn't available. JaMychal Green wasn't available and Gary Harris. To get Facu and to get Paul back tonight, which is great, but you always wonder, how is this going to affect our chemistry on the court." 
Malone was happy with how they both played in their first game back but knows the bench has to continue getting better to allow the starters to get some rest. 
The Grizzlies opened up the fourth quarter on a 13-2 run after the Nuggets bench continued to struggle. The starters came back in and got things rolling for Denver. They hit three straight threes to take a 101-97 lead with less than 90 seconds left to play. One from Porter Jr, another from Will Barton who had 21 points on the night, and then Jokić who finished the night with 28 points, 15 rebounds and 7 assists. 
Jokić then missed an easy bucket that would've sealed the game but recovered nicely by having a controversial game winning block on the former number 2 draft pick Ja Morant who went 5 of 16 from the field for 16 points. 
Jamal Murray had one of his worst offensive performances of the season scoring only 3 points on 1 of 14 shooting but had 5 assists that counted for 14 points. Despite Murray's challenges, Porter Jr. was impressed with how the team stepped it up and won.
"We won that game and Jamal Murray went 1 for 14," Porter Jr. said. "I think that just shows how good of a team we are because Jamal is obviously one of our best players, one of our best scorers. If we can scrape out wins when one of us don't play well. That's really encouraging."
Coach Malone said Murray apologized to him after the game.
"I said, you don't have to apologize," Malone said to Murray. "You went out there, you competed, you played hard, your shot just didn't go down tonight. That's going to happen."
The last time Murray struggled with his shooting, he followed up the next 12 games averaging 29 points on 55 percent shooting from the field.
The Nuggets now head back home to host five straight home games. They're currently 5th in the Western Conference Standings with a 22-15 record.