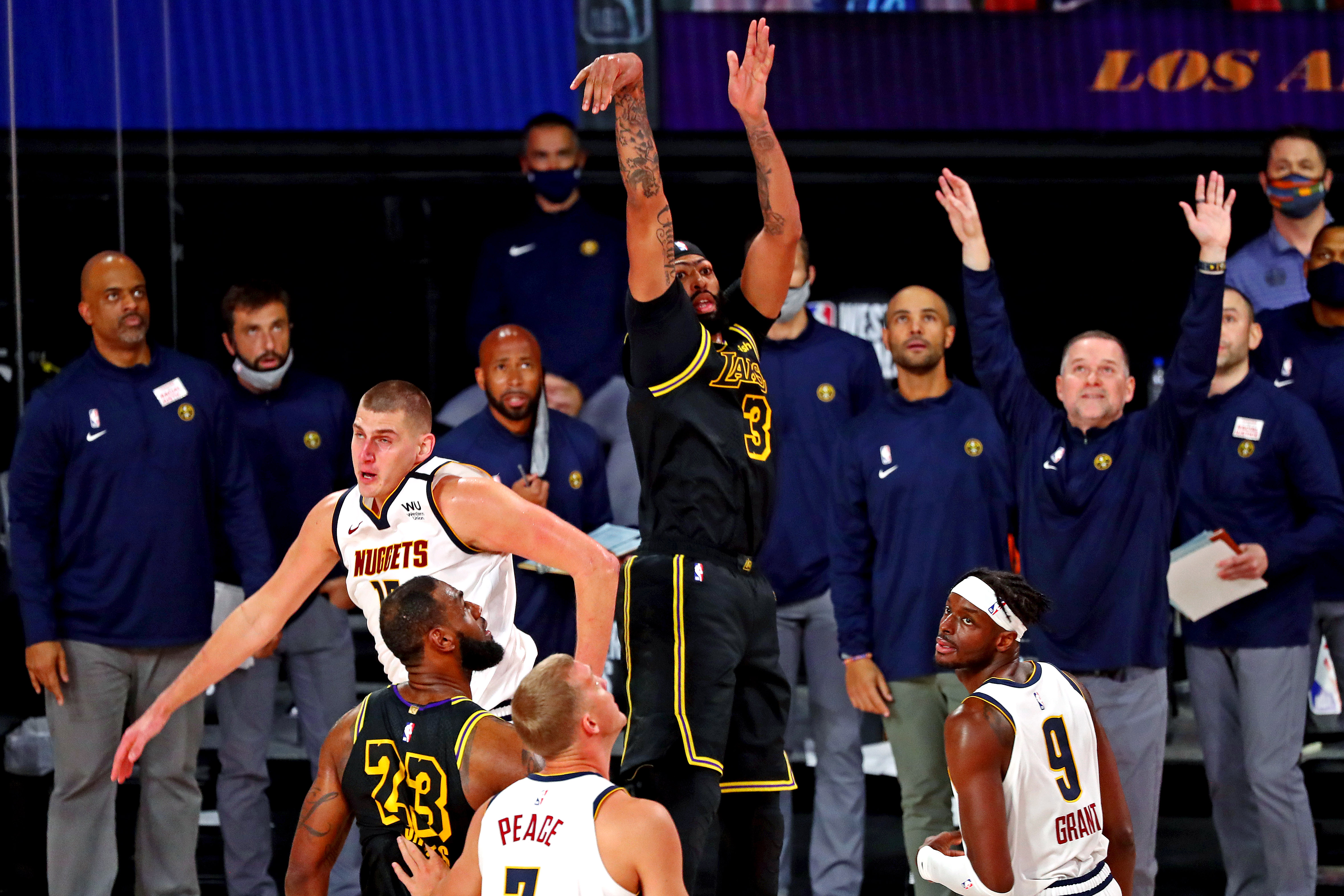 Despite their 105-103 loss to the Los Angeles Lakers, the Denver Nuggets battled and proved themselves once again.
They fought for all 48 minutes, but their impressive Game 2 performance in the Western Conference Finals against the Lakers was not enough as Anthony Davis drilled a truly incredible 3-pointer at the buzzer to give the Lakers a 2-0 lead
Did Denver play well despite Davis' buzzer beater? Did they do everything they can do to win? Do they belong among true title contenders in the National Basketball association?
Well, let's get into it.
Nuggets battle for all 48 minutes, but get beaten by an incredible shot by an incredible player
Sometimes, it is as simple as an incredible player making an incredible shot at the perfect time.
For the Nuggets, that is how Game 2 ended.
All game long, Denver did everything they could to stay within striking distance. They got timely shooting from Jamal Murray to finish out the first half, flew around on defense making life somewhat more difficult for the potent Lakers offensive attack, got back in transition to limit the Lakers to eight fastbreak points, and had Nikola Jokic score 12-straight points in the fourth quarter to give Denver a lead with under a minute in regulation.
But even with all of those positives, the Nuggets came up one possession short after Anthony Davis hit this three:
AD

OMG pic.twitter.com/nkPPTf3PcP

— SportsCenter (@SportsCenter) September 21, 2020
Denver did everything they could to win. Were they perfect? Of course not. But they gave themselves a chance to claim victory on one of the biggest stages against an elite opponent and that is all you can ask from a Nuggets team that is still experiencing their first taste of playoff basketball against title contenders.
Not only is Denver hanging tough, but this series is 2.1 seconds away from being tied at one win apiece.
Denver's turnover issues doom them against the Lakers once again
The Lakers are one of the most devastating teams in transition that has been seen in years. That means Denver taking care of the ball, which they have not done, is incredibly important.
In Game 2, Denver turned the ball over a whopping 19 times which turned into 19 Lakers points and in Game 1, the Nuggets had another 16 giveaways leading to another 22 points for the Lakers off of those turnovers.
Far too many of those turnovers were just mental errors by the Nuggets. They would dribble into crowds or worse, pass into crowds. Once Denver committed those live ball turnovers, it was like injecting nitrous into the engine pushing the Lakers to run faster and faster.
The Lakers are already trying to push the pace not only off missed shots, but even made baskets and made free throws. Simply stated, there is no time in which the Lakers don't want to get out and run. Because of that, limiting turnovers is one of the most important changes for the Nuggets to make if they hope to win Game 3.
Regardless of the outcome, the Denver Nuggets belong in these Western Conference Finals
For some reason, the Denver Nuggets are being treated as some unfortunate occurrence keeping everyone from being able to watch the Clippers battle with the Lakers in the Western Conference Finals.
That needs to stop.
The Nuggets have earned their place. They battled and refused to fold in the face of historically impossible adversity. Despite all they have overcome to get to this point — being ravaged by COVID-19, having so few players in their seeding games, still missing a starter in will Barton III, playing so many high-intensity games to get to this point — they laughed at the impossibility factor and found a way through both the Jazz and Clippers despite being down 3-1 in both series.
They have Nikola Jokic, who is unequivocally a top-10 player walking this earth and there is a real argument for him actually being top-5. Additionally, Jamal Murray is making his case to become the next All-Star point guard to come out of the gauntlet of the Western Conference. Denver also has playoff-hardened veteran in Paul Millsap, explosive but inconsistent rookie in Michael Porter Jr., and a whole host of productive role players who are not scared of the moment. They have a coach that not only has done a stellar job of adjusting and finding new ways to attack opponents throughout the postseason, but has kept his group of men believing they can win regardless of the odds.
They have a group that is ready to contend for an NBA title and they have been proving that game after game.
Denver is not some sorry replacement for the Clippers. They outplayed the Clippers and earned their role in the Western Conference Finals. It's time people started to realize that and give them their due.