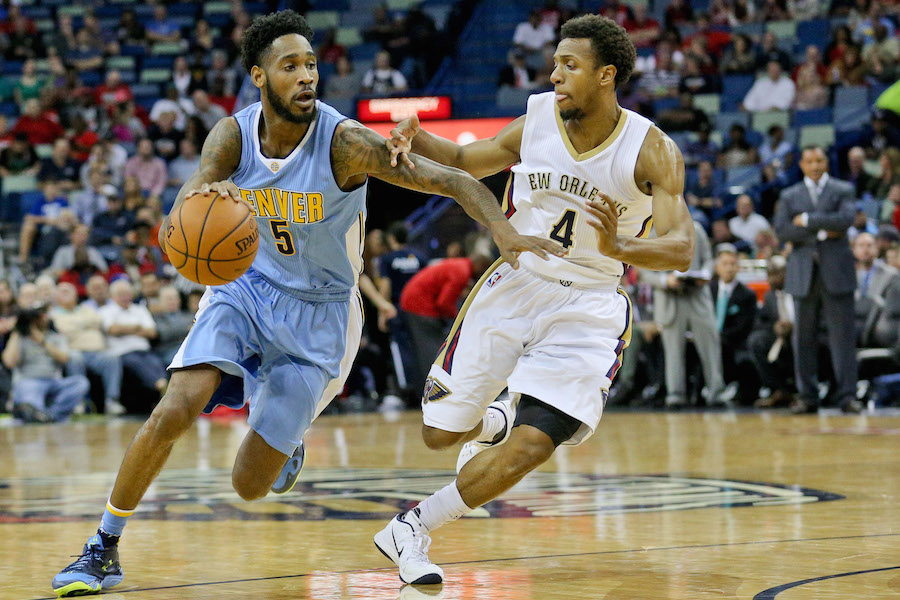 At 6-5 and winners of four of their last five games, the Denver Nuggets are starting to turn some heads. A team that Las Vegas picked to win just 26.5 games for the entire year is already nearly a quarter of the way there.
Made all the more impressive is the fact that they're doing so without three players that new head coach Michael Malone expected to be big contributors this year, both from a minutes perspective and as defensive cogs in a system whose offense is derived mainly from its defense. The absence of Wilson Chandler, Jusuf Nurkic and Joffrey Lauvergne, according to one expert, means we're watching a Nuggets team that will look very different later this season, not to mention in the years to come. And the fact that they're winning without those players is a very good sign for Nuggets fans.
Adam Mares of Denver Stiffs joined Gil Whiteley on Mile High Sports AM 1340 on Wednesday following Denver's win over the (Anthony Davis-less) Pelicans the previous night. Whiteley says that Malone is still figuring out his rotations and forging a team identity – one that's not running the floor as much as Whiteley would like.
Mares reminded Whiteley that because of those injuries, Malone has been forced to "figure out what works for right now." In his eyes, the Nuggets you see are not necessarily the Nuggets that will be when the front court gets healthy. With the return of Nurkic and Lauvergne (Chandler is out for the season), Denver can play a more balanced game.
The absence of that front-court trio has forced Malone to go with smaller lineups that often depends on perimeter shooting to generate offense. That means increased minutes for the likes of Will Barton and Gary Harris, both of whom have been impressive so far, says Whiteley.
Mares agrees, especially in the case of Barton. "Good things tend to happen when he's out there," he says. Barton's play is high-energy and both he and Harris have been shooting well during the Nuggets' recent hot streak – something the team struggled to do last season.
Denver was poor at shooting the three in the early parts of the year, and Mares would still like to see the Nuggets take more open-look shots, but the recent stretch has shown signs of promise. Danilo Gallinari has been a particular bright spot, averaging 19.1 points on 33.8 minutes for the year.
First round draft pick Emmanuel Mudiay, however, is still a work in progress from a scoring perspective, something Mares and Whiteley also discussed.
Listen to the full conversation on the state of the Nuggets through the first 11 games in the podcast below…
Catch Gil Whiteley every weekday from 11a-1p on Mile High Sports AM 1340 or stream live any time for the best local coverage of what's new and what's next in Colorado sports.