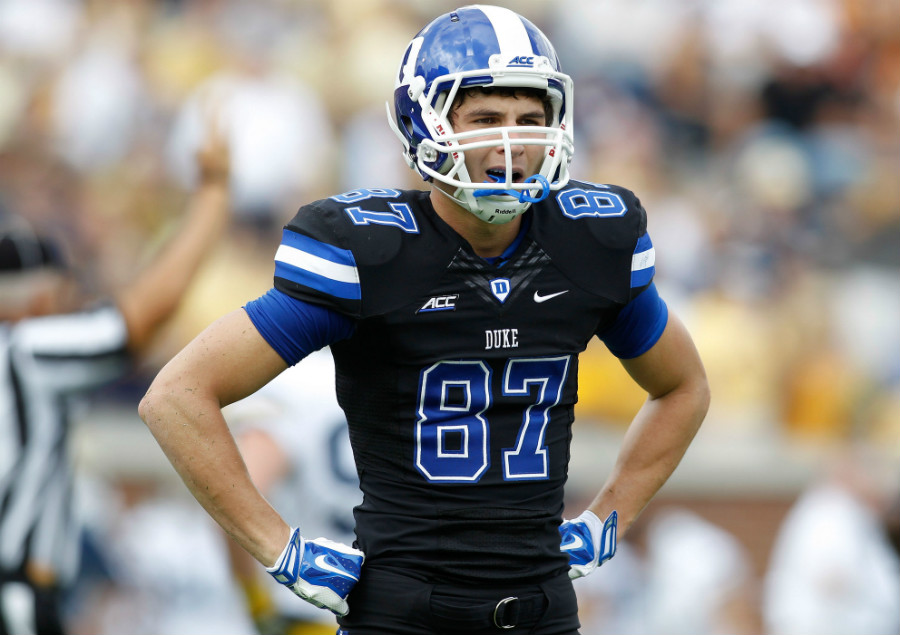 The McCaffrey's may be Colorado's first family of football, but it seems as if the adoration always seems to miss Max McCaffrey, the "other" McCaffrey brother.
After the season he had last year, everybody in America knows about Christian, and in Denver, there's no high school athlete that has drawn as much attention as Dylan. Even Luke has the allure of the unknown. But Max … well, he's just the big brother that keeps getting overshadowed by his younger siblings.
Until now, at least.
Max, who led the Duke Blue Devils in receptions last year is currently prepping for his opportunity in the NFL, and after the pro day he just put on, there's no question that he just drew the attention of a lot of teams.
WR Max McCaffrey – son of Ed, brother of Christian – ran 40 at Duke Pro Day in 4.36. 36-inch VJ, 10'2 broad. Another McCaffrey NFL bound.

— Adam Schefter (@AdamSchefter) March 23, 2016
Max McCaffrey's 40 time would have ranked 3rd among WRs and tied for 10th overall at the NFL combine: https://t.co/9QYIz3g1kV

— Nicki Jhabvala (@NickiJhabvala) March 23, 2016
And don't be mistaken. Max isn't some small, quick slot wideout; he's 6-foot-2, 200 pounds and capable of running past nearly every cornerback in the NFL today.
With those raw abilities and his great lineage, Max McCaffrey has just about everything an NFL franchise could want in a wide receiver.
As of now, most analysts have Max projected to be a late-round or undrafted selection, but a workout like that could change a lot.
When the draft rolls around in a couple months, make sure you keep an eye out for the "other" McCaffrey brother. He could be rising up the draft boards.