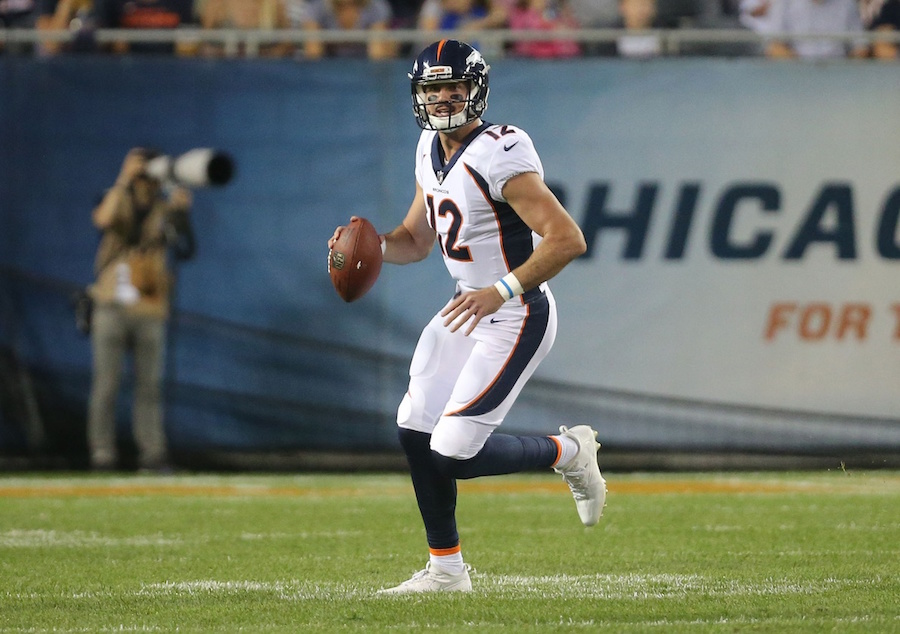 If you're keeping score at home, it's Trevor Siemian 3 – Paxton Lynch 0.
It's far from an impressive total, but that was the number of points each quarterback put up during Thursday night's preseason opener against the Chicago Bears.
For fans looking for separation, they won't find it in the stats. Siemian ended the night 6-of-7 for 51 yards, no touchdowns and no interceptions. Lynch was 6-for-9 for 42 yards, no touchdowns and no interceptions. Siemian took a sack for a seven-yard loss. Lynch ran four times for 11 yards, gained almost entirely on an 8-yard effort for a first down.
Yet, somehow, the three-point scoring difference between them looked much larger as Lynch's possessions went three-and-out, three-and-out, punt, downs. The Lynch-led offense produced three first downs and moved the ball into Chicago territory only once.
Beyond the numbers, Lynch looked the more athletic of the two quarterbacks, as he always does, but his command of the offense and his read on the Bears' second- and third-team defense was not great.
Lynch held the ball too long, threw some dangerous passes, saw his fundamentals break down at times and failed to pick up the blitz. All in all, it was not an impressive night for the second-year quarterback.
Compounding things for Lynch is the fact that undrafted rookie out of Northern Colorado Kyle Sloter helped lead a seven-play, 64-yard touchdown drive in his first drive in a Broncos uniform. Sloter was aided by a blown coverage on fellow rookie Isaiah McKenzie, but he was able to hit the speedy wideout in the end zone for a game-tying 47-yard score.
A 41-yard touchdown run by rookie jitterbug De'Angelo Henderson to win it for Denver put a shine on a game whose middle half was wholly uninspiring thanks to Siemian and Lynch, but mostly Lynch.
The good news for Lynch is that he'll get his shot with the first-team offense next week in San Francisco. With a week to prepare, not to mention joint practices with the 49ers, Lynch has a chance to swing the pendulum in his direction. It doesn't have far to swing, given Siemian's performance, but another performance like Thursday could spell doom for Lynch's hopes of starting.
Here's what some of our favorite follows on social media were saying about Lynch's performance on Thursday. And very little of it was good.
Lynch's second drop back sails way high. 3rd & 8, Lynch 0-for-1 and scrambles on the following play. Gain of a few.

— MileHighReport (@MileHighReport) August 11, 2017
Three-and-out. Rough series with an overthrow on 2nd down. Needed to commit to the scramble on 3rd down quicker.

— Andrew Mason (@MaseDenver) August 11, 2017
I hope #Broncos Lynch turns out to be a great player… But that 2nd down play sums up his training camp… Poor decision.. worse throw.

— Eric Goodman (@EricGoodman) August 11, 2017
Holding onto the ball too long. No quick decisions. Paxton's play is inducing penalties.

— Ronnie K (@RonnieKRadio) August 11, 2017
Paxton Lynch didn't recognize the blitz coming from his right, and made another overthrow on 3rd down. 2 three-and-outs. #Broncos

— Sayre Bedinger (@SayreBedinger) August 11, 2017
From my view, Paxton didn't get his feet set on his two errant throws.
He has improved his footwork but games bring back bad habits.

— Ryan Koenigsberg (@RyanKoenigsberg) August 11, 2017
Right now? The game looks too fast for Paxton Lynch. And this is against 2nd/3rd stringers.

— Ronnie K (@RonnieKRadio) August 11, 2017
So #Broncos Lynch throws short of the sticks… Where is everyone at? Fair point with Siemian, but what about Paxton?

— Eric Goodman (@EricGoodman) August 11, 2017