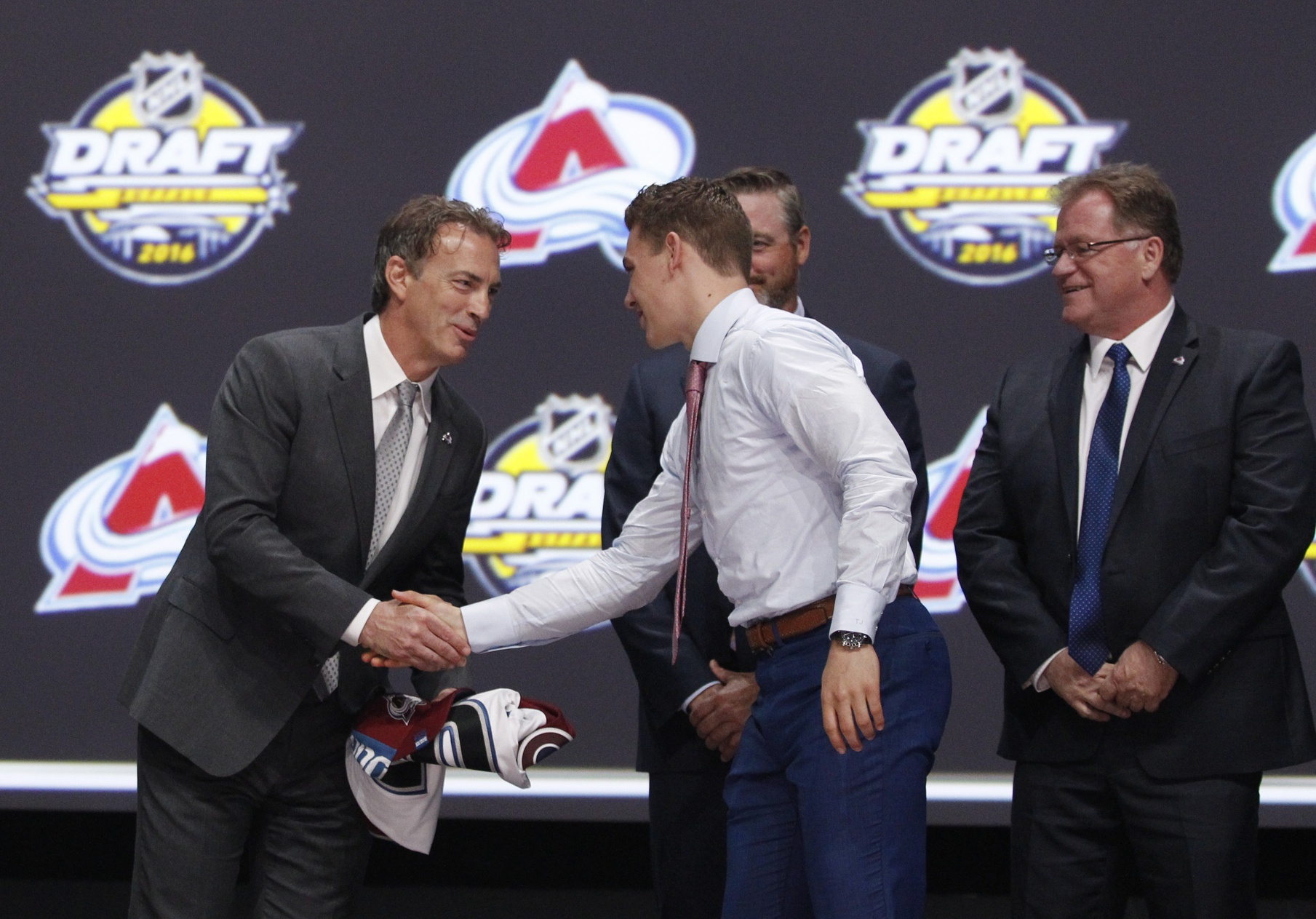 We are now a full week removed from the Avalanche's heartbreaking Game 7 loss to the San Jose Sharks. With thoughts of what could have been now shifting towards an exciting offseason of change, General Manager and Executive Vice President Joe Sakic met with the local media on Tuesday to discuss his team's performance along with what's to come for the Avs in the coming months.
"We Just got to keep building and getting better," Sakic said. "As great as the end of the year was, we still didn't accomplish the end goal. We still got to find a way to get better and it starts here in the offseason."
The Avalanche hold the fourth and 16th overall picks in the first round of the NHL Entry Draft and an additional three more picks in the next two rounds. Colorado also has an ample amount of cap space to dip into a strong free agency pool, albeit they have many of their own players to re-sign as well.
Restricted Free Agents
The headline of Sakic's to-do list is to sign RFA Mikko Rantanen. The Finnish winger coming off his entry-level deal is part of the talented Group 2 RFA's that are due for an extension this summer. Other names on that list include Maple Leafs forward Mitch Marner, Lightning centerman Brayden Point and Flames winger Matthew Tkachuk, to name a few. These other players could play a large part in the number of years and money Sakic commits to Rantanen.
"It's a priority to get him done," Sakic said. "We prefer long term, but if it has to be short term than it has to be short term. We want to make sure that we get him signed. Don't ask me the time frame. There are a lot of great hockey players in that same situation that are coming up so we'll just see how the players and the agents handle that."
Aside from Rantanen, Colorado also must re-sign RFA's J.T. Compher, Alexander Kerfoot, Vladislav Kamenev, Nikita Zadorov and Ryan Graves. Sven Andrighetto, also an RFA, is not expected to be qualified.
Colorado must also make a decision on RFA's AJ Greer, Dominic Toninato, Sheldon Dries, Julien Nantel, Anton Lindholm, Sergei Boikov, Mason Geertsen and Spencer Martin—all of which dressed in the AHL playoffs with the Colorado Eagles.
Unrestricted Free Agents
Sakic also has some questions to answer in regards to Avs players that are set to become UFA's on July 1. The biggest name is goaltender Semyon Varlamov. The Russian netminder has started the last eight seasons as the Avs number one goalie but lost the job to Philipp Grubauer in March. The second-longest tenured Av is not expected to return to the Avalanche next season.
Also heading to free agency in less than two months are forwards Colin Wilson, Gabriel Bourque, and Derick Brassard, along with defenseman Patrick Nemeth. With the Avs looking to be buyers in free agency, the expectation is that neither of them will be back in Denver next season.
Perhaps the biggest question mark of the remaining UFA's that ended the season in the AHL is Eagles starting goaltender Pavel Francouz. Coming over the from the KHL, Francouz was originally slotted as the backup goalie behind Varlamov before Sakic creatively acquired Grubauer from the Washington Capitals. The 28-year-old finished the year in the minors with a 27-17-3 record overall, a 0.918 save percentage and a 2.68 goals against average. He also made two impressive appearances for the Avs, stopping 33-of-35 shots in relief. If Francouz returns he could be a low-price option to backup Grubauer in Denver.
Now here is where the fun begins.
Even with Rantanen signed to a deal that is expected to make him the highest paid player on the Avs, and Compher, Kerfoot, Kamenev, Zadorov, and Graves locked up, Sakic will still have a lot of cap space to work with.
Last season Sakic was creative in trading with the Capitals for Grubauer. He sent Washington a second round pick for Grubauer and veteran defenseman Brooks Orpik. The former, a sought-after goalie with starter potential. The latter, a salary dump. Sakic immediately bought-out the contract of Orpik. The blueliner then went on to sign back with the Capitals for a friendly one-year, $1 million deal.
Sakic was able to leverage the Avs' cap space as an asset to acquire Grubauer for less than market value by taking on a bad contract. With cap space at a surplus once again, Sakic can do the same exact thing. The potential target? The Toronto Maple Leafs and their bevy of depth forwards.
Sakic has built arguably the best defense core the Avalanche have had in nearly two decades. Alternate Captain Erik Johnson spent a majority of the season paired with 20-year-old Sam Girard, while Tyson Barrie, Ian Cole, Zadorov, Nemeth, Graves, Mark Barberio and in the playoffs, Cale Makar, rounded out the top-six.
Colorado could leverage one of their defenseman in a deal with the Maple Leafs. Whether it's Barrie, who is on the last year of his deal and could be replaced by Makar, Zadorov, who is looking for a new contract, or perhaps even Johnson, who is under contract for four more seasons.
The Avalanche can target wingers Kasperi Kapanen and/or Andreas Johnsson for example, while also taking on the contract of Patrick Marleau, in a deal for Barrie—a player that would immediately replace UFA Jake Gardiner on the Toronto blueline. Sakic could then buy out the final year of Marleau's contract, allowing the Maple Leafs to bring him back for a cheaper deal that fits under the cap.
Since Marleau was over the age of 35 when he signed the deal, Colorado would be on the hook for the entire $6.25 million cap hit. But the actual dollars are significantly less, as Marleau is owed $4.25 million, with a portion of it paid on July 1st by the team that owns his rights.
At the conclusion of the draft lottery in April, Devils GM Ray Shero told Sportsnet reporters Elliotte Friedman and Jeff Marek, "There is only one winner today and that is Joe Sakic from Colorado. Because we are all going home today and he's going to the playoffs, and he's got the fourth overall pick"
Unlike other teams at the top of the drafting order, the Avalanche can afford to be patient with their high draft pick, which was acquired from the Ottawa Senators in a trade for Matt Duchene nearly 18 months ago. In a recent episode of Sportsnet's 31 Thoughts: The Podcast, Friedman and Marek spoke in length about the Avs and their offseason to be, highlighted by Colorado's $30 million-plus in cap space and positioning in the NHL draft.
"One of the big conversations about the draft right now is the Russian winger (Vasili) Podkolzin," Friedman said on the podcast. "He's got two more years left in Russia. And there is no question he is one of the top skilled players in this draft. The only teams who could afford to take him near the top are teams that can afford to be patient. Colorado at four, they probably can be patient. Do they take the most skilled player in the draft knowing that they have enough to wait for him for two years?"
Sakic made a similar move in 2017 when he drafted Makar at fourth overall. Makar was committed to UMass with the intention of playing two years of college hockey before turning pro.
The surplus of cap space Colorado has also gives Sakic the ability to target bigger names in free agency, something that he confirmed would happen during his press conference.
"It's a pretty good class this year," Sakic said. "We already have targeted players in mind if they become available that we're going to want to talk to about joining our club. We have positions of need that we're going to want to look to. There are a few players that we want to talk to if they become available. We'll be more aggressive this year with that, but keep in mind if it doesn't work out for the players that we want to talk to, we're not just going to spend on anybody."
The free agency courting period begins on June 23. This is ideally the time where Sakic, Assistant GM Chris MacFarland and the rest of the Avalanche front office will begin to reach out to their targeted players.
It's no question that the biggest issue they must address is depth scoring. Some of those targets could potentially include Jordan Eberle, Jeff Skinner, Anders Lee, Gustav Nyquist, Kevin Hayes or even the big fish, Artemi Panarin.
The excitement is very much warranted for both the front office and the fanbase. The 2019-20 Avalanche will be a treat to watch, especially with the expectation of building on this year's playoff run. But before they take the ice, the offseason should provide many fireworks for a franchise looking to win their first Stanley Cup since 2001.