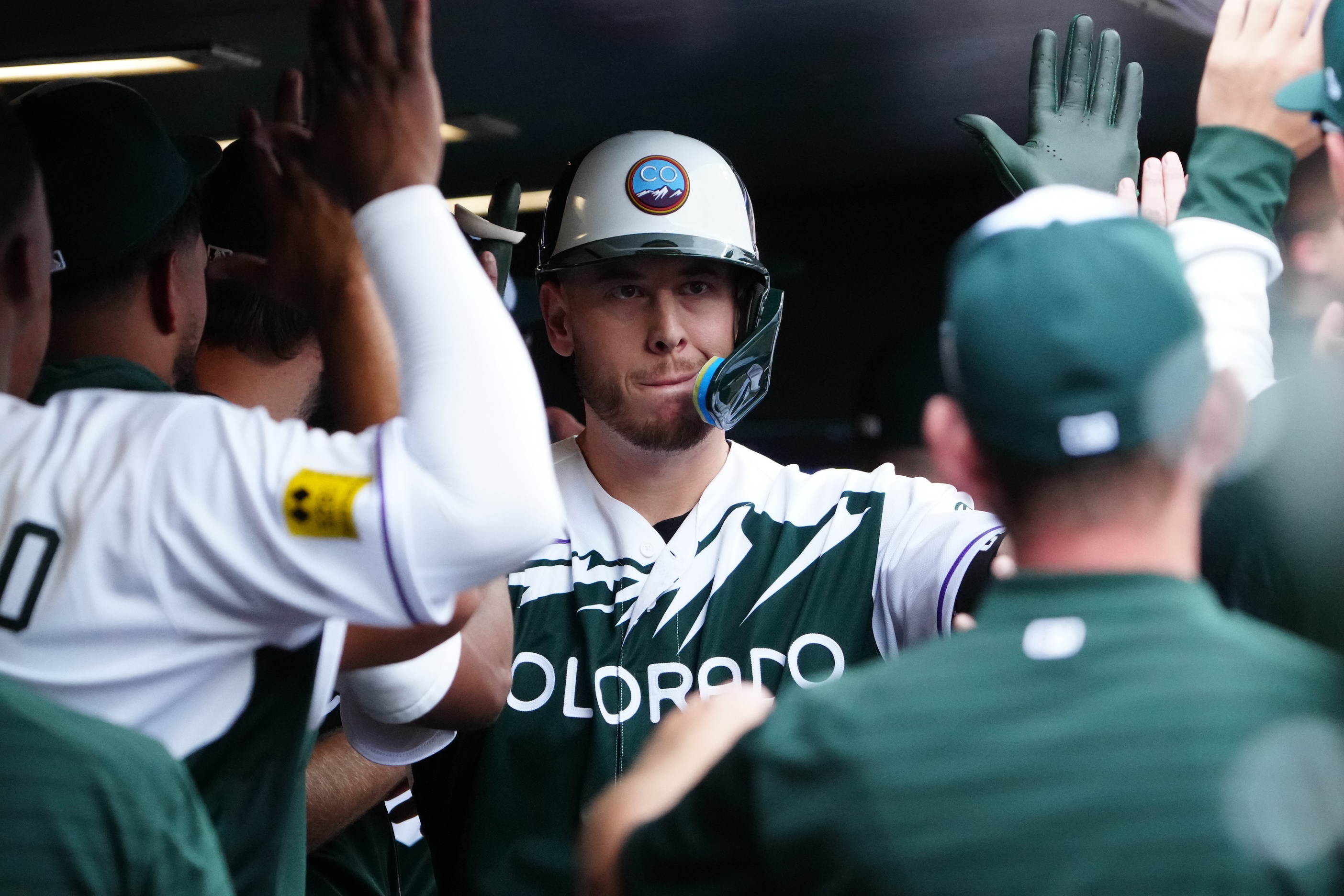 It was incredibly unlikely that the Colorado Rockies were going to save their season this month and after losing the first two in LA, it is looking less and less like a possibility.
They've played a fundamentally better brand of baseball for over a month now and finally got Kris Bryant back out on the field where he hit his first home run of the season in his 24th game.
But it hasn't mattered to the record where they sit at 35-46 with just a few weeks remaining before the deadline.
Recently, we've discussed the general idea and case for the Rockies being sellers and addressed why this season is unique compared to those of campaigns past, so let's dive into some specifics.
Colorado currently has a collection of veterans who are either on contracts that expire at the end of this season or next, are playing well, could net a decent return, and are not likely to be gut-punches to the fanbase should they end the season wearing different colors.
Here is a breakdown of the pros and cons of trading each of the position players who fit into that category:
Jose Iglesias
The Rockies brought in the veteran shortstop as a bridge between the present and what appears to be a very Ezequiel Tovar heavy future. He's hit well from a contact standpoint, batting .293 on the year, and has been especially good in the clutch, hitting .389 with runners in scoring position.
Oddly enough, he has been better out on the road which is tremendously difficult for a Rockies hitter and something that neither he nor the club will get extra credit for in negotiations but at least his splits won't be held against him like they so often are for Colorado players. 
He hasn't hit for much power, slugging just .386 and hitting only a lone homer and he has also been shaky on defense having committed seven errors on the season in addition to a number of other questionable plays.
This makes him difficult to judge in terms of value. Any team acquiring him for the stretch would likely be doing so for his contact skill alone and not so much to take over in the middle of the diamond unless they currently have a truly terrible defensive shortstop. 
Therefore, it is unlikely the Rockies can net much in return but given they have a replacement coming soon and that Iglesias likely won't be around next year anyway, they should take what they can get for him.
Randal Grichuk
Grichuk has a bit more value because he hits home runs and is signed through next year. He's also a solid defender and has been known to be streaky throughout his career meaning that a team could try to get him, counting on a hot second half.
He's slashing .251/.293/.389 with eight home runs, so you still shouldn't expect a parade of prospects for him but he has enough utility in the right places that it makes sense for a contender to part ways with something along the lines of a decent minor league reliever in order to add him to their roster.
He makes more sense as a pinch-hitter and defensive replacement on a contending team.
The emergence of Yonathan Daza and the presence of a few intriguing outfield prospects also make it much easier for the Rockies to absorb the loss of Grichuk. The sticking point here will likely be over how much of his remaining contract either team is willing to eat.
C.J. Cron
This is a tough one. It might seem like the most logical thing in the world from an outside perspective to move Cron as he is a legitimate All-Star and the one player you might actually get some star potential for in return.
The Rockies need to play extreme hardball on this one though. Cron has quickly made himself an important part of the culture here and has become the best reason to watch the team. He has set himself apart as a leader and made it clear that he loves Colorado and being a Rockie, a commodity this team cannot simply brush off.
Signed through next season, it's also not out of the question that the club could extend Cron and keep him on as a vital captain during this turbulent turnaround. At least they hope its a turnaround.

Dick Monfort has long made it clear that this club will not engage with a total teardown and rebuild which means the edict from on high will be to try to compete again next year and its hard to see the Rockies getting immediately better by removing their best player from their lineup.
All of that said, they simply have to pull the trigger if a team does offer the right package. Particularly, if they can get some potentially star-level pitching, they have to do it.
This is not one of those times where they have to move a guy simply because it is tradition to do so in these kinds of circumstances. Colorado can't play by those traditions and needs to be aware of their unique situation at all times.
For the players who aren't a part of the core, you take what you can get. But for a guy who has made himself this indelible to the team, you must tread carefully.
And before you ask, no the team will not be trading Bryant or Charlie Blackmon. Check back soon and we will go over the pitchers they ought to consider.