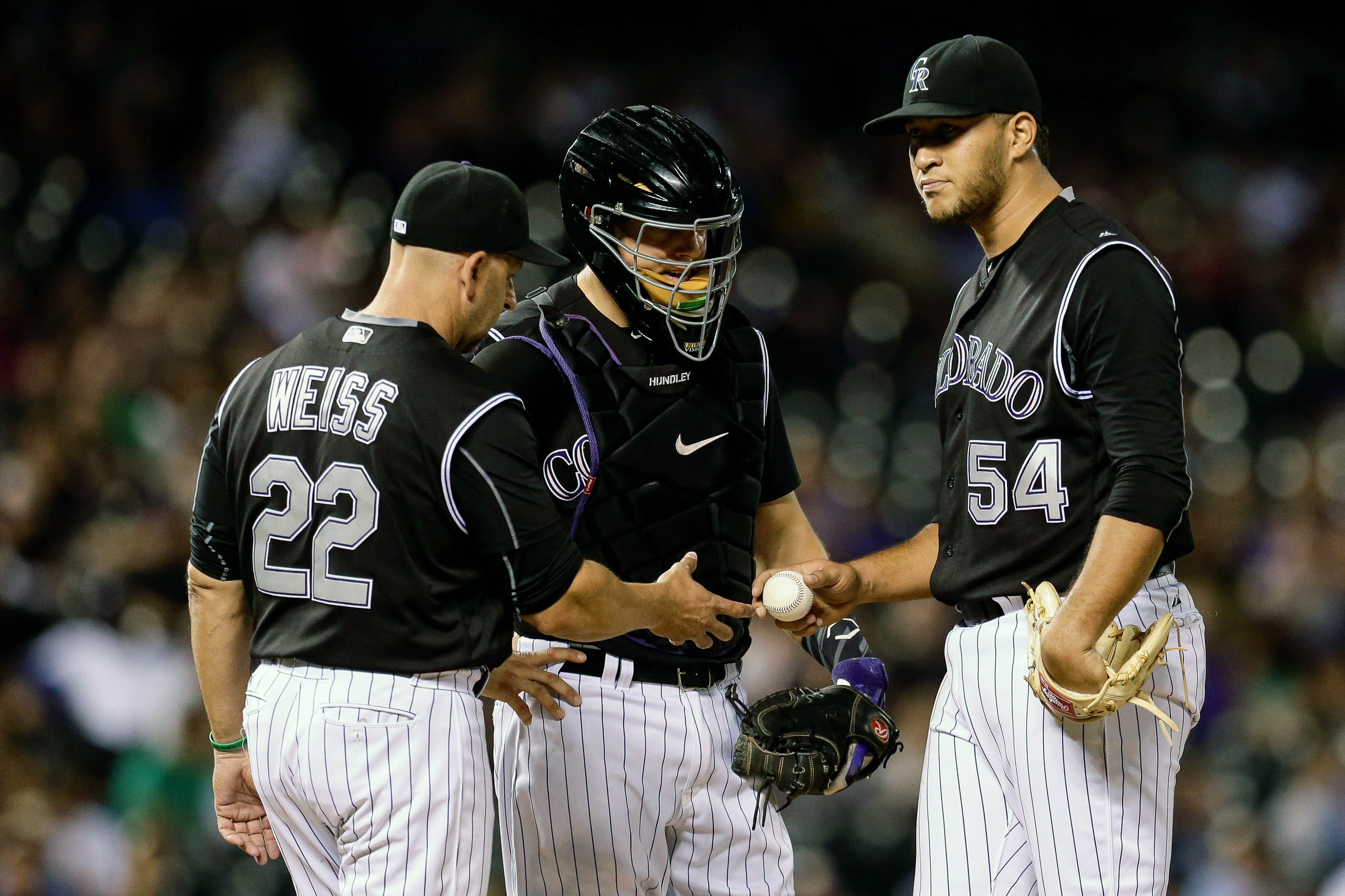 For seven innings the Rockies looked lost against the Marlins without their rookie shortstop's 27 homeruns and 72 RBIs. Walt Weiss couldn't emphasize enough that Trevor Story's production can't be replaced.
But to the manager's point, this Rockies team on the rise keeps finding ways to win. After getting shut out for more than three hours, the Rockies scored three runs off reliever Fernando Rodney to take the lead against the team who holds the lead over the Rockies for the second wild card spot.
That is when Carlos Estevez lost command of his fastball. The Marlins scored fours in the ninth to repeat a narrative all too familiar to this 2016 Rockies club. This team wouldn't be here without it's rookies, but another comeback was thwarted late.The 5-3 loss dropped the Rockies' record to 54-55, now four games back in the Wild Card race.
"I think it's just a matter of not commanding my fastball because I've still before been worse than that and I get through it," Estevez said responding to if the pressure of the game got to him. "Obviously my command wasn't there. I was coming back to the same spot every time. My slider and change up were good but my fastball wasn't there."
While the late loss may be the toughest of the season with the playoff implications, it is telling how different these Rockies are from years past. Rookies are getting experience in meaningful games late in the season.
Adam Ottavino may be more suited for the closing position right now pitching another scoreless inning Friday night extending his scoreless innings streak to 25.1, the longest in the Majors. Even so, Weiss still has trust in the rookie Estevez. It may be more beneficial in the long term to keep the rookie in the closer role to solidify his confidence and build him up for the future.
"Command wasn't sharp from the get-go but [Estevez] has had outings like that before where the first hitter or two he's not real sharp and then settles in," Weiss said. "He can strike guys out and usually he works himself out of those types of messes. Late losses are always frustrating. Bounce back tomorrow, win a game tomorrow."
Fans still may have trust issues with this team as only 27,888 showed up Friday night. With the Rockies fighting for a playoff spot and Ichiro Suzuki in town two hits away from 3,000 MLB hits, Coors Field seemed much emptier than that.
The media seemed more interested in this game as there were more members covering Ichiro's milestone seemingly than those who showed up for Tulowitzki's return and the Yankees series combined.
Ichiro made one pitch-hit appearance in the seventh striking out looking against, his former teammate in New York, Boone Logan.
"He was a good teammate but I don't want to be the one that gives up one more hit to get to 3,000," Logan said. "I'm just excited for him. I think everyone is."
The Rockies won 15 games in July, the most wins in a month in over two years and the most wins in the month since July 2009. Rockies starting pitching recorded 20 quality starts in the month that is a franchise record beating their total of 19 in June of 2009. To quote Frank Sinatra, that was a very good year. This staff has three of the five starters that have one year of service time or less. This opening game loss may show why the Marlins look more playoff ready than the Rockies, but this loss does not sum up the way the Rockies are trending. A trend that has a lot to do with Rockies rookies. Even Estevez.
If not for Ichiro, come to Coors for competitive baseball. Friday the result looked similar. But this team is anything but familiar.