The rise is real for Colorado Rockies shortstop Trevor Story, and it continued Tuesday night when he became the first shortstop in Major League history to record 40 doubles, 30 home runs, and 25 stolen bases in a single season.
In the Rockies' current quest for the franchise's first NL West title, Story has played a major role in the teams success this season. After slugging three home runs in a victory over the San Franchise Giants last week, Story followed it up with a three-run home run in Monday's victory over the Arizona Diamondbacks. With third baseman Nolan Arenado stuck in one of his worst slumps of his career, Story's picked up the slack for the Rockies' offense and its undoubtedly landed him in the conversation for National League MVP.
After a rough 2017 campaign, Story's bounced back to give the Rockies a major jump-start in their quest for a second straight postseason berth. A first-round pick by the Rockies back in 2011, Story paid his dues in the Rockies' minor league system before making the team for the 2016 season. A solid start to his career gave the Rockies hope for his future with the franchise, and his play as of late is indicative to the work he's put in each of the last three seasons.
Starting his career with a bang, Story homered not once, but twice against Diamondbacks starter Zack Greinke. As a rookie, Story was thrust into the spotlight not only by his performance, but because he was replacing arguably the best shortstop in Rockies history, Troy Tulowitzki. Still, that didn't bother Story, as he became the first player in history to hit seven home runs in his first six major league games. Story also tied White Sox first baseman Jose Abreu for the most home runs hit in the month of April by a rookie (10).
Story finished his rookie season with 27 home runs, 72 RBIs, and placed fourth in the Rookie of the Year voting. In a season cut short due to a wrist injury, Story played just 97 games, posting an alarming 130 strikeouts in just 372 at bats. Story's strikeout issue was a trend that continued into his second season, where he posted 191 strikeouts in 503 at bats. According to Fangraphs, Story struck out 34 percent of the time and hit a ground ball 34 percent of the time during the 2017 season. This caused Story's WAR (Wins Above Replacement) to sit at 2.6, which was down from his rookie season (3.2).
As much as Story struggled at the plate in 2017, his glove made up for it. Story's fielding percentage was up five points from the year before (.982) and he turned 101 double plays, which almost doubled his number as a rookie (64). Committing just 11 errors on the season, Story placed seven amongst shortstops tying him with the eventual gold glove winner, Giants shortstop Brandon Crawford.
With the organization's number one prospect, Brendan Rodgers, coming up as a shortstop, the 2017 season became critical for Story to show his worth to the Rockies' organization. In what's been a historic and revelatory season, Story has shown that he's one of the league best shortstops. After being selected to his first All-Star game, Story made it a memorable one, taking Houston Astros starter Charlie Morton deep in his first at-bat.
The greatest development in Story's decreased stakeout rate has been his approach at the plate. According to Fangraphs, Story's strikeout rate has improved by nine percentage points, and coincidentally, his contact rate is up by seven percent. After striking out 191 times in 503 at bats last year, Story currently sits at 156 strikeouts in 546 at bats this season. That strikeout difference is historic, and its one of the greatest year-to-year strikeout differences dating all the way back to the 1900's.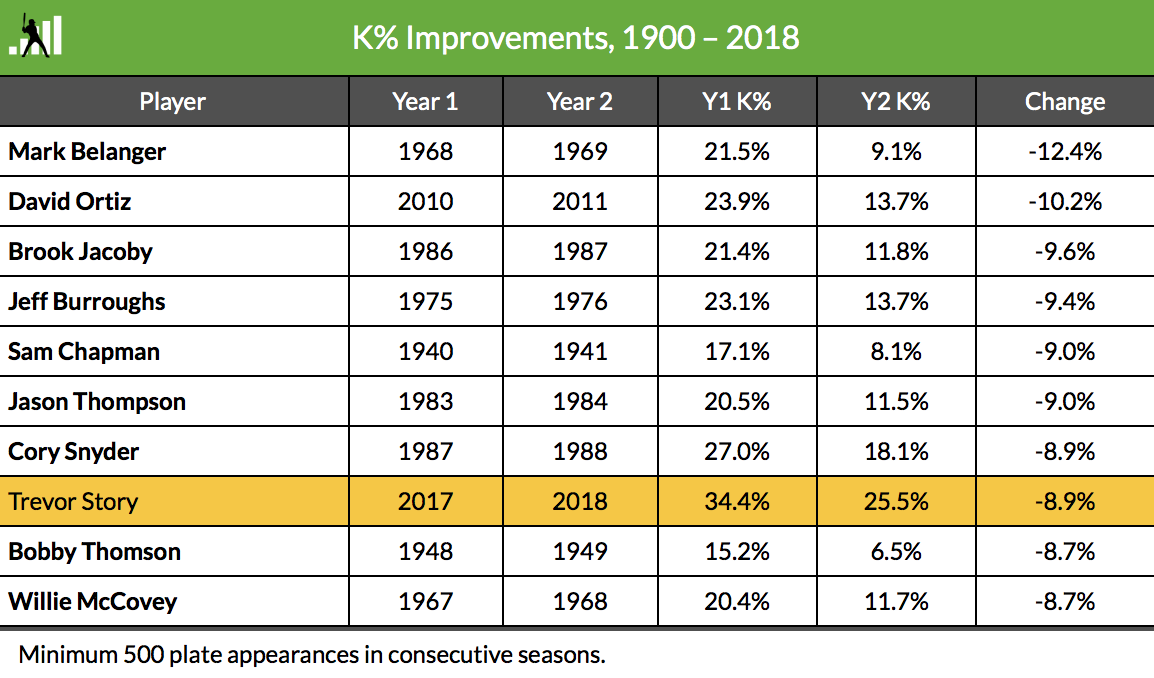 One of the greatest contributors to Story's success has been his willingness to swing at first-pitch strikes and not get himself caught in pitcher friendly counts. Story owns a league leading 21 first-pitch extra-base hits, which is a number he recorded just 12 of last season, and seven during his rookie season. This upward trend points to a readiness when he steps into the box and a willingness to be aggressive early in counts.
The other stat that stands out is Story's two-strike percentage compared to years past. Just last season, Story ended up with a two-strike count 62 percent of the time; this season, that number is down to 52 percent. Story isn't striking out as much because he's taking himself out of those situations, and its only allowed his numbers to improve.
In 142 games this season, Story has posted career highs in hits (161), doubles (40), triples (5), home runs (32), RBI's (100), stolen bases (25), and a slash line of .293 (batting average), .348 (on base), .559 (slugging). With just five more stolen bases, Story has the opportunity to become just the fourth Rockies player to post a 30-30 season, a feat that hasn't been accomplished since Larry Walker did it in 1997.
Out of all of Story's stats, the one that might be most impressive is his wins above replacement. With a WAR of five, Story currently leads the Rockies in that category and sits at 24th in the majors. After sitting at 2.6 last season, Story has almost doubled that number with his growth as a hitter and uncanny ability to flash the leather out at shortstop.
Story's new and improved approach at the plate has allowed him to sneak into the MVP conversation with just a couple of weeks remaining in the regular season. In each of his first three seasons, Story has shown his ability to be a solid fielder, but the bat is what's always fallen behind. Not anymore — the Rockies' shortstop has turned into a bonafide five-tool player that has the ability to affect the game in every aspect, and he may end up earning some hardware because of it.
In what's going to be one of the toughest stretches in franchise history, Story has the ability to not just help the Rockies win their first NL West title, but to go even farther than that.