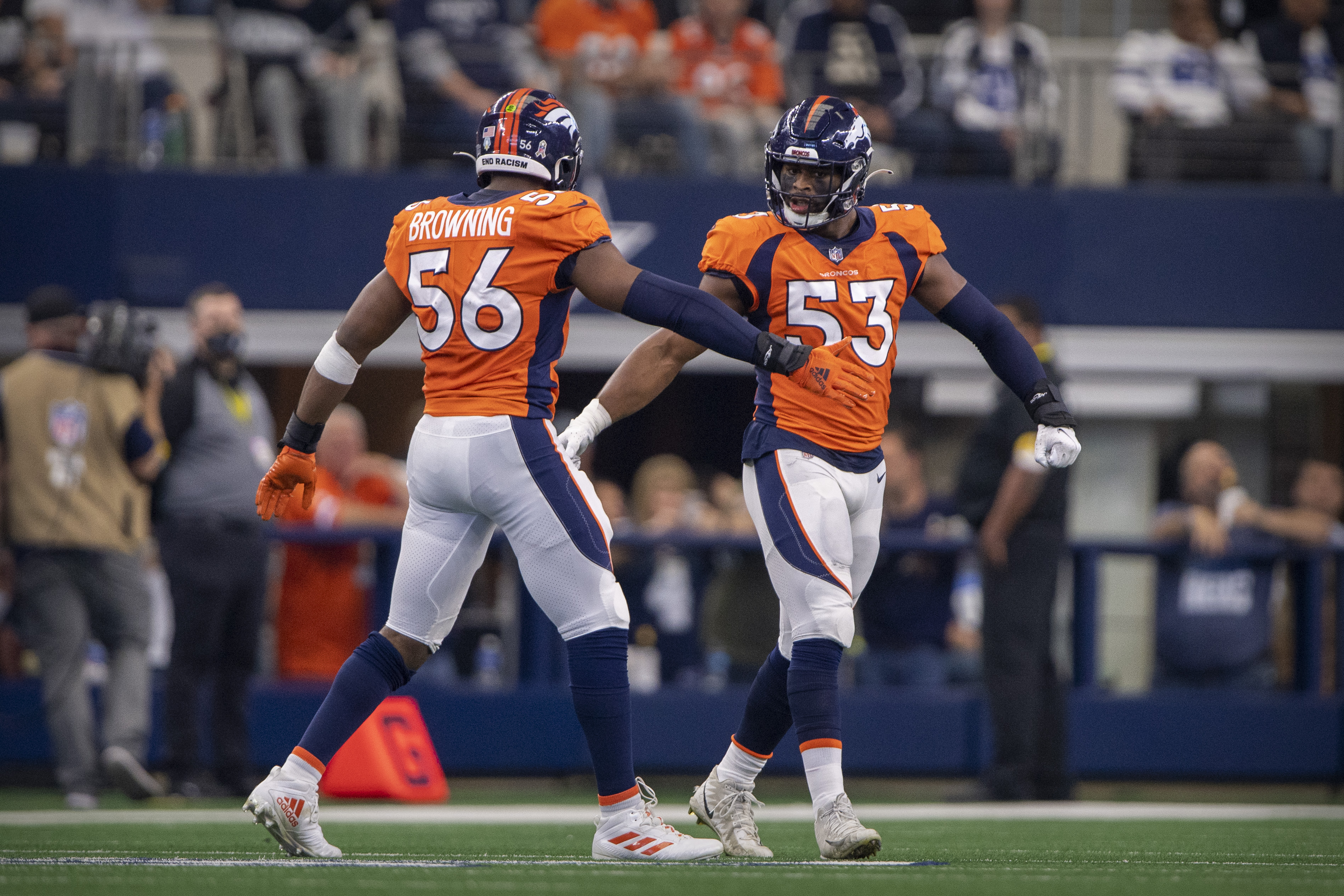 Shortly after Nathaniel Hackett took the head coaching position for the Denver Broncos, rumors started to swirl of Baron Browning switching positions from inside linebacker to edge for this upcoming season.
Not long after that, the rumors were confirmed as true.
What made this situation especially unique, is that usually when a player switches positions it is because they failed at the one prior, but for Browning, this could not be further from the truth.
In fact, as a rookie last season, he showed flashes of brilliance, displaying the potential to be great in coverage all while still being a true sideline-to-sideline inside linebacker.
With that said, there is reason to believe that Browning's position change will be well worth it. If the experiment works, Browning will remain a high-end starter for the Broncos, only at a more valuable position.
Why the Denver Broncos are right
Browning's college film from his time at Ohio State University will show a side of him that one may not fully appreciate if they're only familiar with his Denver Broncos tenure.
As a Buckeye, he was truly a do-it-all, Swiss Army knife, that would be deployed in multiple roles depending on the game, situation, or season.
Despite still playing more inside linebacker than anywhere else, when he was used on the edge, he experienced a good deal of success. In fact, he was so great on the edge, that many analysts liked him more there than at inside linebacker as a college prospect.
Throughout Browning's collegiate career, he took 141 pass rush snaps, finishing with 35 total pressures and 8 sacks.
Taking a look at the film, the first thing that will jump off the screen is a lightning-quick first step.
In college, this is how Browning was able to win most of his successful reps. This quick first step allowed him to get on the tackle's outside shoulder in a hurry, where then he was then allowed the opportunity to keep the opposing player's hands off of him and bend his way to the quarterback.
If the Broncos are looking for a backer who can contribute as a pass rusher, Baron Browning will intrigue. pic.twitter.com/nR6hYTanN7

— Joe Rowles (@JoRo_NFL) January 28, 2021
This one attribute may not seem like that big of a deal, but a quick first step for a pass rusher is almost like having a deadly jump shot in basketball. It unlocks an arsenal of moves that the player may not be able to deploy otherwise.
To this point, we have not seen him take full advantage of these moves, but it does allow scouts to project what he may look like down the road with more seasoning at the position. Unlike all those technical skills Browning has yet to incorporate into his game, that explosion off the line is something that can't really be taught.
Broncos Country just saw the value of an elite first step firsthand for over a decade with Von Miller.
Adding on to this potential, Browning's physical profile is still very impressive despite the position change. He clears any length concerns with 33.5-inch arms while still boasting elite agility and speed metrics.
More specifically, Browning scored a 9.98 out of 10 relative athletic score as a linebacker and a 9.63 out of 10 as a defensive end. That translates to him being a 99.8th-percentile athlete at linebacker, and a 96.3rd-percentile athlete as a defensive end.
Baron Browning is a LB prospect in the 2021 draft class. He scored a 9.98 RAS out of a possible 10.00. This ranked 5 out of 2137 LB from 1987 to 2021. https://t.co/9u2aj8ZlSN #RAS via @Mathbomb pic.twitter.com/nwDNRGW9CL

— Kent Lee Platte (@MathBomb) April 14, 2021
At inside linebacker, these athletic triats greatly benefited Browning in a variety of ways but most impressive was how they aided him in pursuit, chasing down offensive players sideline-to-sideline. Now switching to edge, it is easy to imagine these skills being utilized while scraping down the line of scrimmage to make a tackle in run support.
Another area you can see a transition from linebacker to edge be successful is in pass coverage, where Browning has already shown he is very talented.
Simply put, Browning works really well in space. Unfortunately, playing edge will limit how many coverage reps he gets, but nonetheless, this adds value to his new position and can add a dimension of creativity to the Broncos' defense if used properly.
Watching some #OhioState defensive film tonight and this rep from LB Baron Browning was textbook.

Out guarding TE-2 Pat Freiermuth in the boundary, one one. Does a nice job mirroring, and finishing the play with a PBU. The modern NFL covets linebackers who can cover in space. pic.twitter.com/7j97xTszyG

— Devin Jackson (@RealD_Jackson) January 19, 2021
Overall, the edge position is much more valuable than the linebacker position so if Hackett and his staff think that this will be a successful transition, the change makes sense, but there is no doubt that the experiment comes with big risks as well.
Why the Denver Broncos are wrong
Most of the concern with this transition is the unknown. Viewers have simply not seen a ton of him playing at this position, leaving scouts with more questions than they have answers.
There are multiple areas where these unknowns are concerning, but questions surrounding his ability to set an edge stand out from the rest.
There just isn't enough film of him being asked to set the edge against the run to feel confident saying that he can win at the point of attack, when lined up on the line of scrimmage.
Although there have been some promising reports about his run defense at training camp, those practices are rarely full contact, this is something fans and analysts alike will have to watch for this preseason.
The physical demands of the NFL are much greater than in college, and considering that this is something we rarely, if ever, saw from him in college leaves worries about whether he can develop into an early-down player in the pros.
Another one of these concerning unkonwns is his pass rush arsenal, as alluded to earlier.
While he does have prior experience at edge rusher, it is extremely limited, making it fair to assume that he is raw when asked to string together multiple pass rush moves, a there isn't anything on his film to evidence otherwise either. That's something that could stifle him in the pros.
One of the bigger concerns Browning had coming out of Ohio State was how much he was moved around in their defense. Because of that, it never really felt like he had a full grasp on any one position, making him a slower processor.
Now in the NFL, another role change could be detrimental to his development. This is especially scary as the inside linebacker we saw last year improved drastically over the course of they year and could have been the best player the Broncos' had at linebacker heading into this season.
If this experiment doesn't work out for Browning, the team will be stalling his development in a position we already know he is good at.
Final Thoughts
At the end of the day, it is understandable why Hackett and his staff believe Browning will be a well-suited edge rusher.
The flashes on film combined with his athletic ability are enough to get anybody excited about his potential. EDGE is such a valuable position and the Denver Broncos have so many unanswered questions–both now and in the near future–here that this change could pay huge dividends, but it's hard stomach the risks it carries.
At this point, there have only been positive reports about Browning's transition coming out of training camp, but it is still fair for fans to be questioning the decision.
Only time will tell how this situation unfolds but Broncos fans should be heading into the new season cautiously optimistic about Browning's new role on the defense.