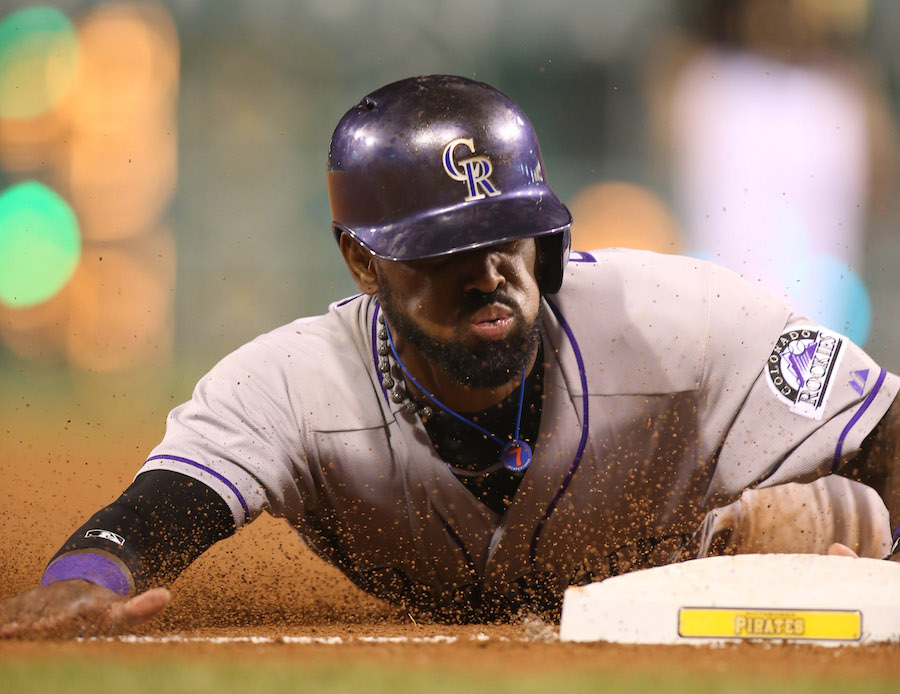 On Wednesday the Colorado Rockies opted to designate Jose Reyes for assignment, meaning the team now has 10 days to trade him, keep him or cut him. The shortstop had reached the maximum days per his contract to remain on the restricted list following reinstatement from a MLB suspension for violating the league's domestic violence policy.
In a press conference with the media, Rockies general manager Jeff Bridich said the team would explore all options surrounding Reyes. (Although Bridich did say it's in the best interest of the team and Reyes to go their separate ways.)
"We've got a little bit of time to figure out exactly what that means in terms of his true exit." said Bridich "We will see what happens."
Bridich went on to acknowledge that there was low interest in recent weeks about a trade involving Reyes.
"There was a lot of things over the last week to two weeks that have kind of come and gone. Couple of team's poking around," said Bridich, "nothing real serious ever truly materialized."
It is expected that the Colorado Rockies would have to eat an enormous amount of money left on Reyes's contract in the event of a trade; however, there is one team that maybe, just maybe, would consider bringing in, or in this case bringing back, Jose Reyes: The New York Mets.
Yes, the defending National League champion New York Mets are one of the few remaining teams that could provide Jose Reyes a home.

At this point in time no teams have come out saying "Yes, yes, yes, we want Jose Reyes!"
In order for the Rockies to swing a deal involving Reyes they will need to find a team with holes and a willingness to bring on someone familiar with the reputation of Reyes, like the Mets.
The Mets have holes to fill in the infield with David Wright and Lucas Duda both battling injury. While both Mets starting middle infielders are healthy, the team needs to think about adding depth. Right now the Mets' backups consist of Wilmer Flores, who is taking over at third for Wright, and aging utility man Kelly Johnson.
Reyes would be a solid, well-traveled bench player for the Mets. He'd be inexpensive, since they can essentially set their price and ask the Rockies to pick up the rest of tab – which would be better for Colorado than releasing him outright and paying the whole amount.
The Rockies have already put themselves in a position to take on the remaining money on the Reyes's contract, meaning it would only take minimal compensation from the Mets to get a deal done. You would have to assume that the Rockies would take anything they could get for Reyes at this time.
The tough part of the deal would be convincing the Mets front office.
When he was with the Mets, Jose Reyes was the king of the town, becoming one of the most recognizable faces in the Big Apple. Mets fans loved him when he was there and are as open as ever to bringing him back, despite his challenges of late.
In a poll from one of the biggest Mets fan pages on Twitter (20k+ followers), nearly sixty percent of fans said they would want to bring Reyes back to Queens.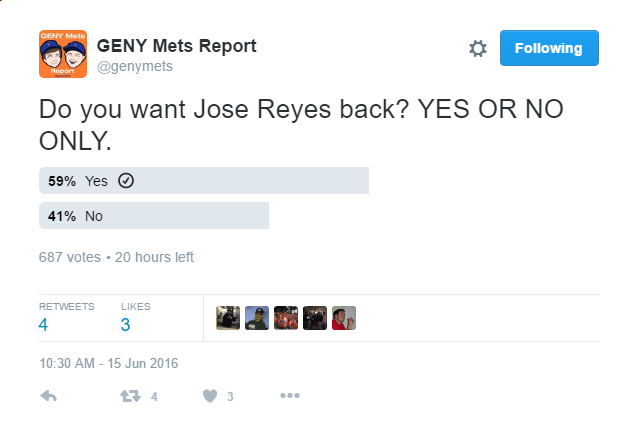 Reyes wants to win; he has made that known since coming to Colorado. Right now the Rockies are in a position to satisfy themselves, Reyes, and help boost the Mets. All it will take is the brass in New York admitting they need help on the infield and bringing their former All-Star shortstop back for a redemption tour.
Jon Heyman of MLB Network
reported that the Mets are not interested in a reunion; however, that does not completely shut the door on the idea. This past offseason, 
reports (by Heyman)
 circulated that the Mets were OUT on bringing back Cuban slugger, Yoenis Cespedes. Those proved to be false, as the Mets ended up retaining him.
So, while it may seem unlikely Reyes will return to Queens, it remains a possibility until proven otherwise.
The Mets are the Rockies' best hope in an attempt to get some sort of salary relief on the large sum of money Reyes is owed.