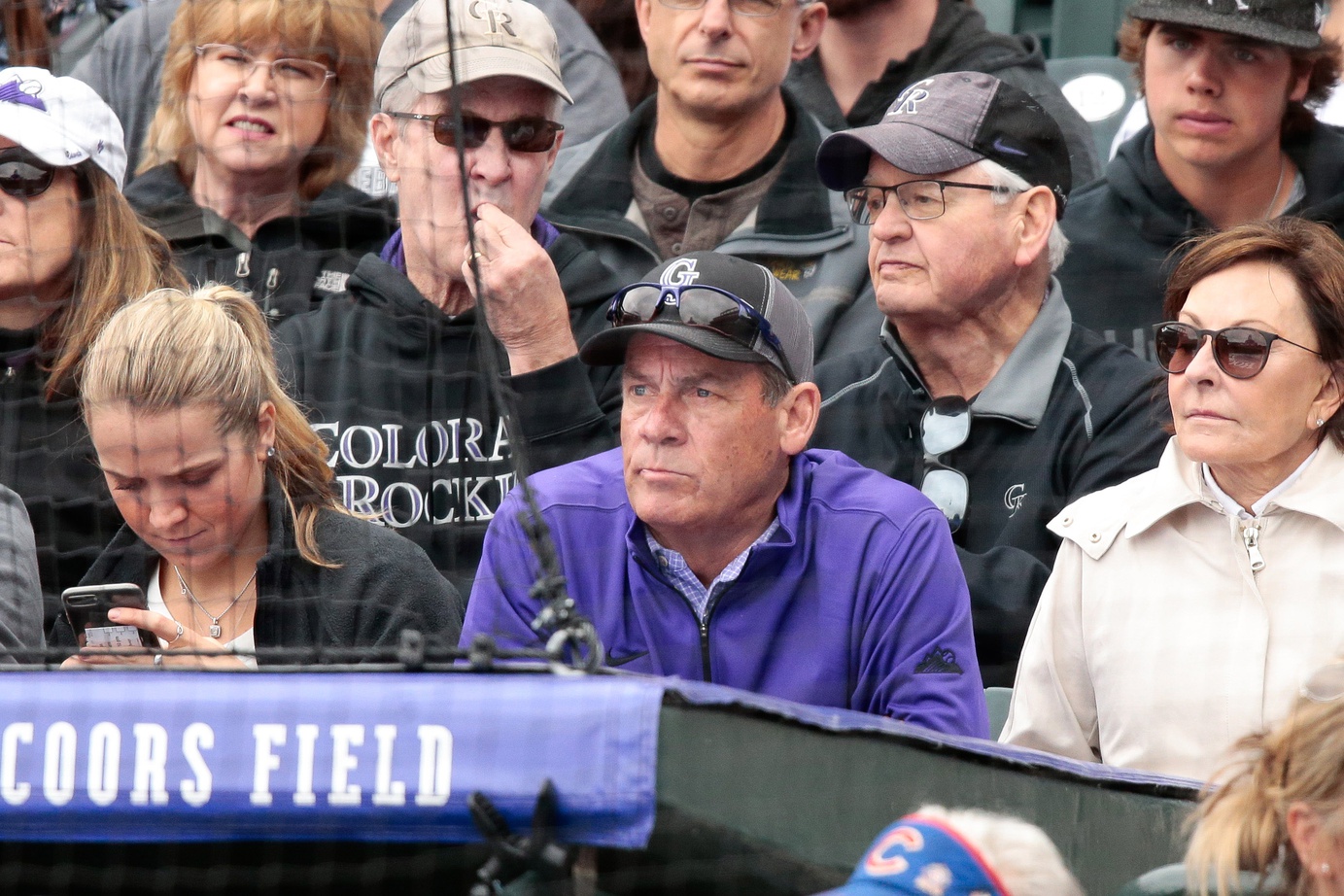 After Colorado Rockies owner Dick Monfort and general manager Jeff Bridich spent the better part of Tuesday morning ducking and dodging jabs from reporters both local and national, there's only one though that comes to mind:
How can the Rockies not make changes, like, today?
And not just a roster change; signing a couple more minor league free agents isn't going to help, and neither will picking up another player or two who has passed his prime.
No, these Rockies need to make changes at the top.
What the Nolan Arenado trade—you know, the one that cast off one of the best two or three players in the history of the franchise and netted precisely zero of the St. Louis Cardinals' top 10 prospects, according to Baseball America's rankings, and actually cost the Rockies $51 million—shows is that Colorado quickly went from a team spiraling out of its contention window to one that is now quite literally the laughingstock of the entire baseball world. It's no longer just the Woody Paiges and Mark Kiszlas of the world who are clowning on Monfort and company; recently, The Athletic's Marc Carig and Keith Law—among dozens of others—joined in on the comedy. Carig described the Rockies as a team that does not "do self-reflection, nor do they do reality." Law chimed in with a damning summary of the trade, saying Colorado "traded one of the five-best players in franchise history, one with an argument that he was in fact the best, for one of the weakest returns I have ever seen for a players of this magnitude and impact."
That's really just the tip of the iceberg. Go look at the Twitter accounts of other beat writers and sports personalities, and you'll see more of the same: an onslaught of roasting of a club that has proven it doesn't have a plan and has no interest in formulating one.
This is the kind of thing that should get Bridich fired immediately. This is, after all, a guy who spent hundreds of millions of dollars on free agents who provided as much—or, really, even less—value to the team as you, the reader, squandering one of the best cores of talent in the game. All the while, he allowed the farm system to become one of the worst in baseball after it graduated a bunch of players that the previous GM drafted and developed. However, if you believe Monfort, there is no chance Bridich will removed of his duties, even though it's clear the GM is an absolute lemon. But maybe, since Monfort mentioned at least thinking about firing himself, the Rockies' owner will finally place a buffer between himself and the baseball side of the organization, putting an end to years of naiveté, if not pure, unadulterated neglect.
If Monfort truly believes Bridich is a genius (Bridich certainly thinks he is), fine. But he needs to hire someone who can effectively oversee what the brain surgeon is up to. Theo Epstein isn't walking through that door, and neither is wily old baseball mind Dave Dombrowski. Either would have been a great fit. Still, it shouldn't be hard for the Rockies to find someone better fit for a baseball operations executive position than Monfort, who repeatedly reveals—intentionally or otherwise—that he doesn't know what he's doing. Dan Duquette wasn't any good for the Baltimore Orioles during his last run, but perhaps his perspective combined with that of everyone's favorite Harvard grad can help the organization move forward. Jeff Luhnow knowingly allowed, if not orchestrated, a cheating scandal during his tenure as GM of the Houston Astros. But he clearly knows how to identify, acquire, and develop major league talent—something Bridich has shown zero ability to do.
Maybe these aren't the best or most realistic options for the Rockies, but they need to do something at the top. The status quo cannot continue for even another month, let alone another full season. And if Monfort is unable or unwilling to make that sort of change, he needs to consider selling the team to someone who will do what is necessary to ensure the Rocky Mountain region's baseball fans—who have proven to be tremendously supportive and, at times, rabid—have access to an on-field product that they deserve.