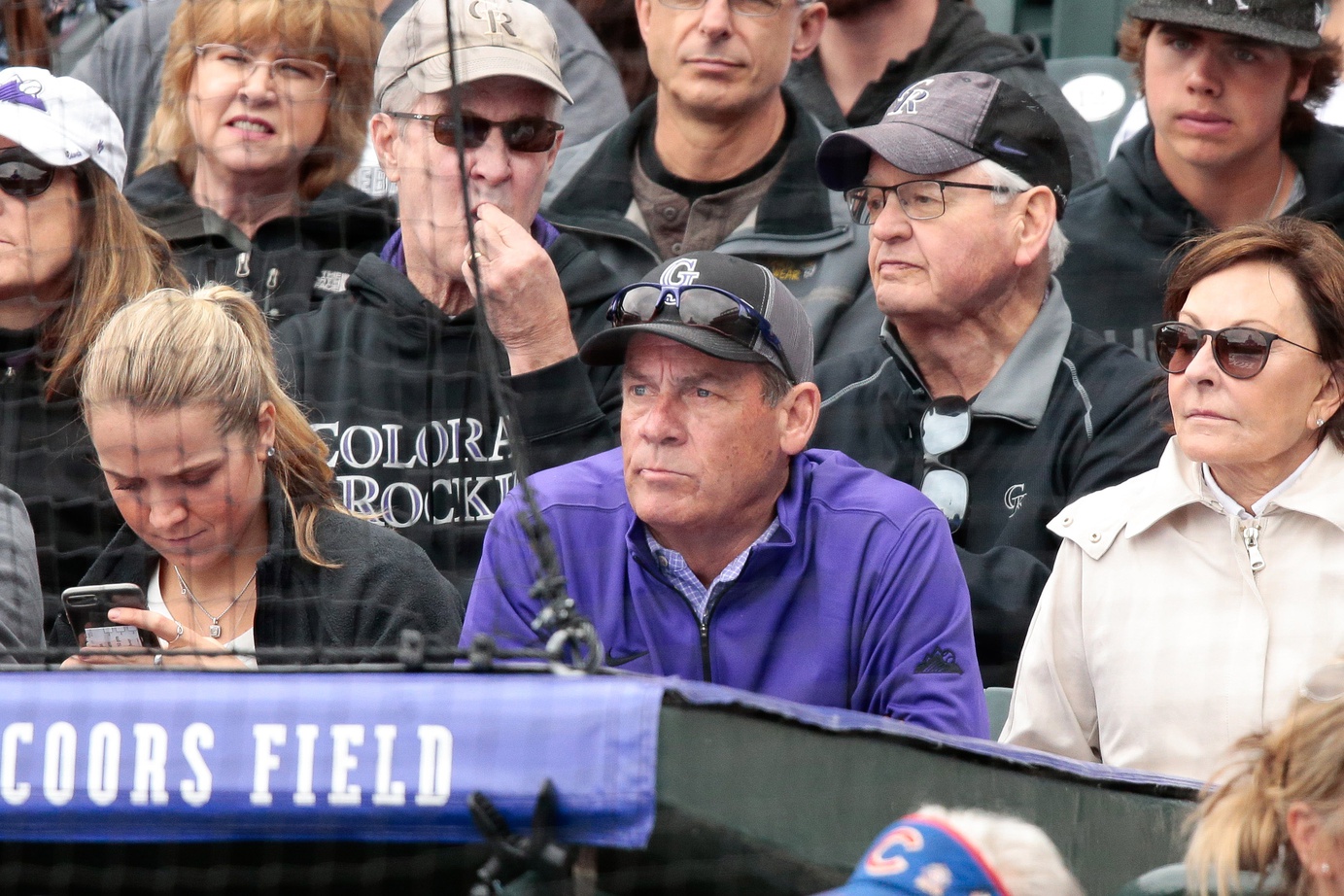 Remember when the Colorado Rockies, way back in 2017 and 2018, reached the postseason in two consecutive years?
It seems like forever ago because, in some ways, it was; 2020 alone seems like it has been its own decade, but we can talk about that elsewhere. In terms of baseball time, Colorado's success is in the distant past. The Rockies' core four— Nolan Arenado, Charlie Blackmon, Trevor Story, and German Márquez—is a couple of years older and, with the exception of Márquez, a year away from potential free agency.
Let's be honest: things look bleak for the Rockies even if the likes of Blackmon and Arenado, both of whom would likely be leaving tremendous amounts of money on the table if they opt to test the market after 2021, decide to stick around. Colorado ranks at or near the bottom of baseball in WAR at catcher, first base, second base, outfield, and in the bullpen. There are a lot of holes and—with Arenado's strained relationship with general manager Jeff Bridich, Story's impending free agency, and Blackmon's aging—not a lot of time to fill them.
Taking a diligent look at the positions of weakness, just what building blocks do the Rockies possess in order to improve without going outside of the organization? It's a fair question—and an analysis that really should determine how the team approaches 2021 and beyond.
In the outfield, David Dahl was an All-Star in 2019 but after another injury-filled season, should officially be considered a concern if he wasn't already. Raimel Tapia was a bright spot in an otherwise dismal 2020 but, even then, has some glaring weaknesses in his game. In the infield, Josh Fuentes is a tremendous defender and hit reasonably well, but his power and on-base skills are questionable. Ryan McMahon's batted ball profile suggests some improvement in productivity should be on the way, but that's at least partially dependent on him cutting down on his astronomical strikeout rate.
Catcher is a complete black hole offensively. Tony Wolters, a career .238/.323/.319 hitter, continues to get the lion's share of playing time for a team that doesn't appear to care whether it gets any sort of offensive output from its catchers. Wolters is a fine enough defensive player and his contribution to the success of the starting rotation should always be taken into account, but he's been a net negative in terms of actual, quantifiable value in two of his last four seasons.
For most teams, a weak bullpen is the easiest hole to address. That probably isn't any different for the Rockies, who had only two good relievers—Yency Almonte and Daniel Bard—in 2020 but have a wild card in Tyler Kinley, a hopefully returning stalwart in Scott Oberg, and a couple of intriguing arms—Ben Bowden and Tommy Doyle, the latter of whom received a cup of coffee in the majors and was not good—in the high minors. It's not a world-beating group by any means, but bullpens are volatile by nature, and the Rockies at least seem to have a decent approach to building theirs in that they've started to stockpile power arms.
Here's the thing: history suggests the Rockies aren't going to have all of those guys, or even half of those guys, clicking next season. That, combined with the weakness at the back of the starting rotation, should be a concern when attempting to give an honest evaluation of the club's chances at contending with the likes of the Los Angeles Dodgers and San Diego Padres in the short term. Rockies owner Dick Monfort, while not nearly as cheap as a significant portion of the fanbase and even some of the Denver media portray him to be, doesn't have deep enough pockets—particularly on the heels of pandemic-related hits to the business—to address the club's needs via free agency. And a quick look at Colorado's farm system shows a lack of the type of impact prospects needed to land proven, big-name players in trades; the Rockies' collection of minor leaguers ranks in the bottom five in baseball in every major publication's ranking system.
In short, the Rockies have a talent problem. That has been the case since Bridich took over as GM. The core four is great—one of the best in baseball, in fact—but beyond that lies absolutely nothing: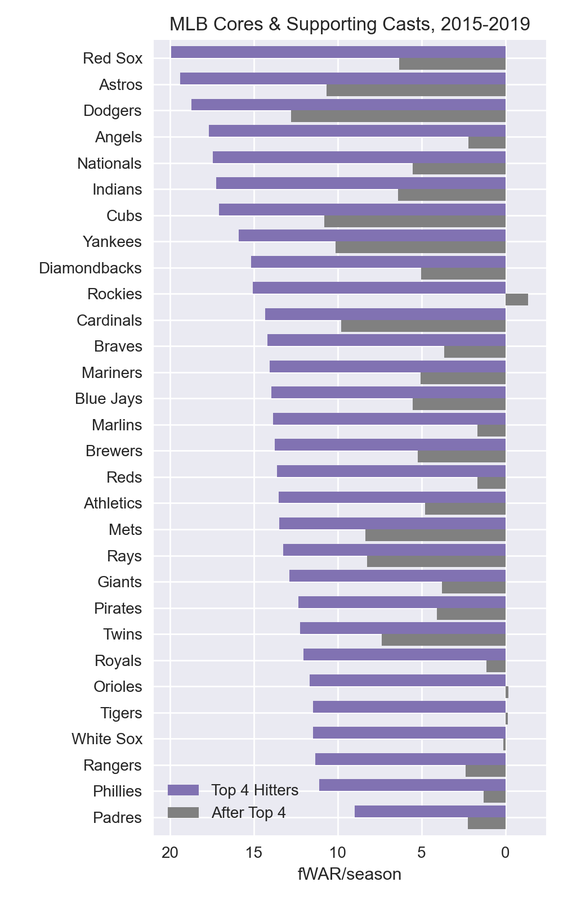 Additionally, the Rockies have a resources problem. Sure, the pandemic doesn't help, but this issue, too, has been festering for years. And the long-term money owed to Arenado and Blackmon isn't necessarily the problem; rather, Bridich and the Rockies' front office dishing out in excess of $250 million over the last five years for a cast of free agents who have contributed negative value is to blame. It would be understandable for ownership to be hesitant to spend money on free-agent contracts with those putrid results.
But that doesn't let Monfort off the hook. That sort of player payroll mismanagement should—and, in most cases, would—result in the firing of pretty much any other GM in sports. And yet, it doesn't feel like Bridich is on the hot seat. That's because Monfort still, after all these years, doesn't appear to know how to run a baseball team. For almost a decade, Rockies ownership has needed an executive to run baseball operations, including overseeing the GM. If Monfort wants to right the ship, that's a move he should consider making, like, yesterday.
That type of person—longtime baseball executive Dave Dombrowski comes to mind—should have the autonomy to make baseball decisions, and the first of those should be replacing Bridich, whose trade for Márquez in 2016 is still far away his best move in a tenure otherwise basically full of poor drafts and below-average major league acquisitions. There are plenty of good GM candidates out there, including former Rockies relief pitcher Randy Flores, who is currently in the St. Louis Cardinals' front office. Regardless of whom they choose, a rebuild should be in the Rockies' future, based on everything outlined above and throughout our series examining the club by position group.
Getting what they can for Arenado and Story should, sadly, be at the top of the list of things to do. The Rockies, with their long list of weaknesses, won't be able to compete soon enough to keep Arenado happy. And, based on what we know about what playing in Denver long term has done to the health of just about every player who has spend considerable time in a Rockies uniform, offering a hefty contract extension to Story simply isn't the best idea.
These are admittedly purple-tinted proposals of trades the Rockies should be trying to make this offseason, but it should at least serve as an example of the approach the club needs to take.
Offer a package centered around Arenado—a southern California native with a no-trade clause—to the Dodgers for a return of some combination of infielder prospect Gavin Lux, catcher Keibert Ruiz, and starting pitcher Tony Gonsolin;
Send Story, Jon Gray, and basically anyone else not named Márquez wanted by the other side to the Minnesota Twins for infielder Royce Lewis, first baseman Alex Kirilloff, and outfielder Byron Buxton.
Regardless of the prospects or young big league players the Rockies acquire, they need to address gaping holes on the roster and gain a potential advantage at Coors Field. Kirilloff's raw power and Buxton's outfield defense, and Ruiz being a catcher with a pulse are great examples of the types of players who could do just that.
It's time for a massive shakeup at 20th and Blake. The Rockies, in their current form, had a good run, but it's over. Ownership needs to accept that and move on, and a post-pandemic season that coincides with the start of a new TV deal seems to be as good of a time as any to begin a new era.