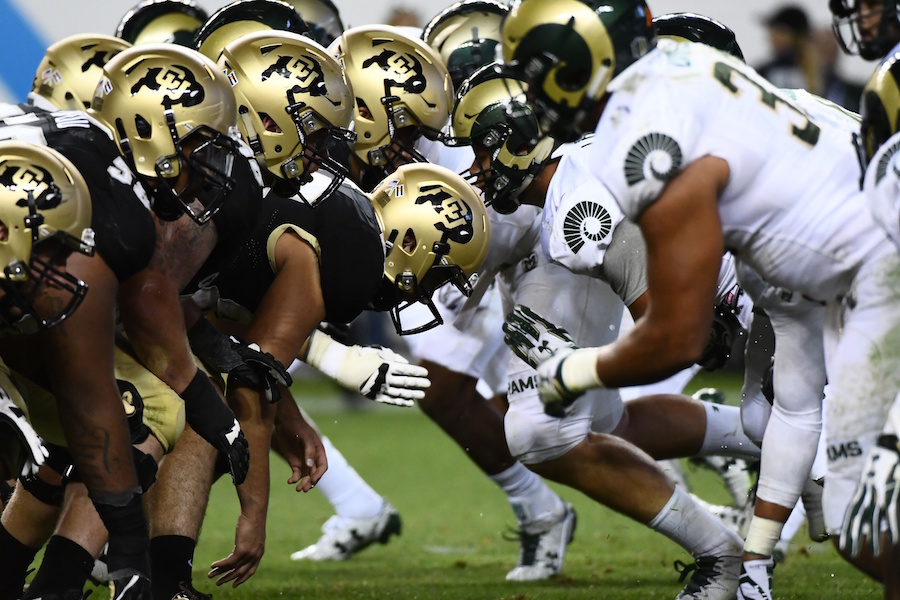 College bands warming up in the parking lot by playing movie themes between fight songs. Red solo cups halfway filled with inspiration, leaving enough room for a dirty bombardment of ping pong balls. Leaves beginning to change on Colfax from summer green to autumn gold. Mile High Stadium, if for just a moment, hands over its orange and blue. All of this excellence in pageantry means it is time for the ROCKY MOUNTAIN SHOWDOWN!
If you are watching at home, listening in on Mile High Sports Radio, or at Sports Authority Field at Mile High, here is your handbook for the Rocky Mountain Showdown Friday Night.
Everyone is going to score: But how you score is what matters.
This game between the Colorado State Rams and Colorado Buffalos is billed as a high-scoring affair with two powerhouse offenses and possibly a deficiency in defense.
Las Vegas has set the line of over/under at 65 points. To put that into perspective the Denver Broncos opener vs. the Los Angeles Chargers is set at 44. After this game, the Broncos grounds crew might need to reseed the whole 100 yards; this could be a track meet.
Colorado State proved it can put points up against a Power Five opponent in its opener last Saturday, scoring 58 against the Oregon State Beavers.
Colorado State showed the nation they have more than an all-world wide receiver in Michael Gallup (11 catches 134 yards vs. Oregon State). They have a run game as well. The Rams have a stable of stability at running back, going four – maybe even five – deep at the position. Junior Izzy Matthews, senior Dalyn Dawkins and freshman Rashaad Boddie combined for 191 yards on the ground, and they are looking for more. CSU will "Ram" it down your throat all the while QB Nick Stevens makes your defensive backfield look sheepish. CSU is going to score, just who scores will be the question.
CU is no slouch when it comes to the offensive side of the ball, and what they can do to teams might be even more fierce.
CU has a deep and talented offensive line. In fact, it could be the best line they have had since the days of Tyler Polumbus. The left side is stacked with three seniors who know how to handle their business, and right tackle Aaron Haigler and right guard Tim Lynott, both sophomores are no kittens. Combine those road graders with Phillip Lindsay, who is possibly the most-talented college athlete in Colorado, and you have a tough bunch to contain.
The best way to play defense is often times by playing offense. The winner of this game might be the team who has the ball the longest.
Special teams is so special
No one can deny that in 2016 the Buffs struggled when it came to the kicking game. In 2016, CU were 17-of-25 when attempting three, and almost gave up the game against Stanford when they missed three field goals in a 10-5 win.
That problem might be all but solved. Enter 30-year-old freshman: James Stefanou from Melbourne, Australia. Stefanou has shown to be the probable winner of a two-man kicking contest this summer in Boulder, and Coach Mike Macintyre appears to have found the answer to his special teams headaches. Stefanou and senior Chris Graham will solidify the kicking duties, while punter Alex Kenney will handle pinning the Rammies deep.
On the green and gold side, the Rams know who their guys are. Punter Ryan Stonehouse (cool name) averaged over 53 yards a punt against Oregon State, and Wyatt Bryan went 3-for-3 on field goals with a long of 41 yards in the win.
In a game that could be decided by a leg, both teams seem to be in great hands.
Its all about that QB
CSU quarterback Nick Stevens had a bad day in the last Rocky Mountain Showdown. Before getting the hook, Stevens was 6-of-20 for 31 yards while throwing two interceptions. It was a frustrating day for the all-conference QB.
Stevens now has a chance to rewrite the story.
Stevens is a mature QB who can handle the blitz, read a defense, and knows what is important in terms of managing the game. He is the leader of this Rams team, and it will ultimately be up to him to move the Rams and keep them in this game.
In CSU's opener, Stevens sliced up the Beavers for 334 yards and three touchdowns, with a passer rating of 158.9.
Stevens could be a pro prospect when he leaves Fort Collins, but before he makes money in the pros, he will have a chance to be worth his weight in gold against the Buffalos.
Steven Montez, the CU Buffs' quarterback, is a true athletic talent. A former basketball and football standout in El Paso, Texas, Montez at 6-foot-5 has some size and some shake to him. Many a Buffs fan in 2016 believed that Montez should have started over now Tampa Bay Buccaneer Sefo Liufau after Montez proved himself in relief.
Montez is slick and has all the talent in the world. The Buffs are his team now, and they will be looking to him on Friday night to step into the spotlight and lead this team.
So who will win?
This game will be close. Maybe not on the scoreboard or at the end of the game, but it will be close. Like most football games, just a few plays, a few breaks, will separate the winner from the loser.
After the breaks beat the boys and a winner is declared, the real winner is always realized.
It's us.
The media who get to cover it, the students who get to attend, the parents, the fans, the alumni, the whole state of Colorado. When this game is played, we all win.
CSU and CU do not have to schedule this game annually, but we are really thankful they do.
Every year, right about this time of year, many of the malicious media turn even more cranky more cantankerous. They become "anti-Showdown" and say this series should end and there is no reason to play the game, especially for CU.
The Buffs, being a Power Five school, does seem to have more to lose by playing its Group of Five in-state rival. So what? After all, it's a game, and games should be played, they should be enjoyed, and they should be played without fear or trepidation of "what might happen if."
There is an irritating and nauseating voice out there who condemns this game each and every year. They say this isn't "real college football" and this is nothing like they have in Texas, or Alabama, or Florida. They say this is not a rivalry and that this should not continue in the manner in which it is held.
Well… FORGET THAT!
These are 18-22 year old kids (excluding CU's 30-year old kicker) who love the game of football. Most of these guys are not going to make the pros or go on to millions. They are looking for a night under the lights at Mile High Stadium.
Friday night, the students will be cheering and chanting, the stadium will be bouncing and buzzing.
Unmatched and untainted echo of college football will be heard up and down I-25.
Let's let that happen, and don't get in the way of the good time.
Whoever wins, be safe, be smart, and enjoy the whole event; it's certainly a day to celebrate.