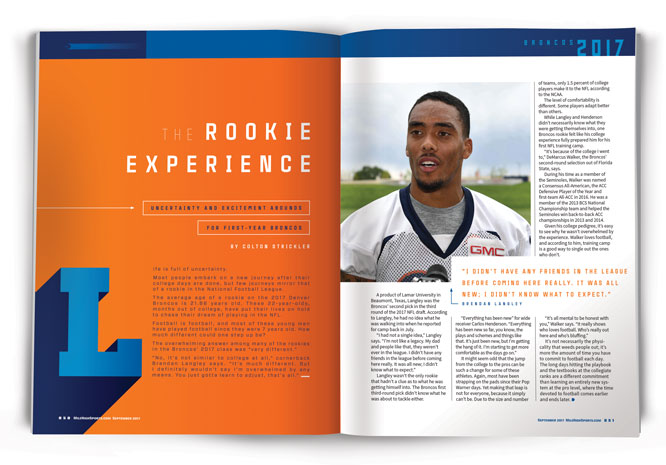 This story originally appeared in Mile High Sports Magazine. Read the full digital edition.
Life is full of uncertainty.
Most people embark on a new journey after their college days are done, but few journeys mirror that of a rookie in the National Football League.
The average age of a rookie on the 2017 Denver Broncos is 21.86 years old. These 22-year-olds, months out of college, have put their lives on hold to chase their dream of playing in the NFL.
Football is football, and most of these young men have played football since they were 7 years old. How much different could one step up be?
The overwhelming answer among many of the rookies in the Broncos' 2017 class was, "very different."
"No, it's not similar to college at all," cornerback Brendan Langley says. "It's much different. But I definitely wouldn't say I'm overwhelmed by any means. You just gotta learn to adjust, that's all."
A product of Lamar University in Beaumont, Texas, Langley was the Broncos' second pick in the third round of the 2017 NFL draft. According to Langley, he had no idea what he was walking into when he reported for camp back in July.
"I had not a single idea," Langley says. "I'm not like a legacy. My dad and people like that, they weren't ever in the league. I didn't have any friends in the league before coming here really. It was all new; I didn't know what to expect."
Langley wasn't the only rookie that hadn't a clue as to what he was getting himself into. The Broncos first third-round pick didn't know what he was about to tackle either.
"Everything has been new" for wide receiver Carlos Henderson. "Everything has been new so far, you know, the plays and schemes and things like that. It's just been new, but I'm getting the hang of it. I'm starting to get more comfortable as the days go on."
It might seem odd that the jump from the college to the pros can be such a change for some of these athletes. Again, most have been strapping on the pads since their Pop Warner days. Yet making that leap is not for everyone, because it simply can't be. Due to the size and number of teams, only 1.5 percent of college players make it to the NFL according to the NCAA.
The level of comfortability is different. Some players adapt better than others.
While Langley and Henderson didn't necessarily know what they were getting themselves into, one Broncos rookie felt like his college experience fully prepared him for his first NFL training camp.
"It's because of the college I went to," DeMarcus Walker, the Broncos' second-round selection out of Florida State, says.
During his time as a member of the Seminoles, Walker was named a Consensus All-American, the ACC Defensive Player of the Year and first-team All-ACC in 2016. He was a member of the 2013 BCS National Championship team and helped the Seminoles win back-to-back ACC championships in 2013 and 2014.
Given his college pedigree, it's easy to see why he wasn't overwhelmed by the experience. Walker loves football, and according to him, training camp is a good way to single out the ones who don't.
"It's all mental to be honest with you," Walker says. "It really shows who loves football. Who's really out here and who's bluffing."
It's not necessarily the physicality that weeds people out; it's more the amount of time you have to commit to football each day. The long days hitting the playbook and the textbooks at the collegiate ranks are a different commitment than learning an entirely new system at the pro level, where the time devoted to football comes earlier and ends later.
"In college it was probably like 6:30," running back De'Angelo Henderson says of his wake-up calls at Coastal Carolina. "Now I'm waking up at 5:30. It's a little jump – not too big – but the days here are a little bit longer. In college, we were getting done around 6, 7 [p.m.]; here we're getting done at like 8."
And just because players are done at the facility doesn't mean their day is over.
"It depends on how much studying I have to do," Henderson says when asked what time he's finally able to get to bed and heal up his body after a long day of practice and meetings. "If we have a lot of plays to study I try to get in bed around 10, but it's a push sometimes."
The Broncos' sixth-round selection, also noted the difference in contact during practices at the pro ranks.
"It's been fun," Henderson said of his first training camp experience. "It's a little bit different than college. There's not as much hitting. You know in college you hit like rams."
The hitting may be dialed back some, but with no academics to focus on like they would in college, the focus on football is magnified.
Langley says he too usually wakes up around 5:30 a.m. to get to the facility by 6. From then on, it's all football.
"They are pretty consistent," Langley said of his days. "We usually just wake up around 5:30, get to the facility around 6 and have a chance to eat breakfast. Get a little workout in, a light workout, just something to get our blood flowing. Then we'll have meetings for an hour or two, get out here on the field."
While the thought of such early days may turn some people off, Langley relishes them.
"Actually, personally, I like to get out here as early as we do," Langley says. "It's not as hot, you know. So, I get out here kind of early, I think 9:30. Finish the practice off at 11 or 11:30, and then we'll go back in and have lunch for an hour, a little bit more meetings, a walk through, and a couple more meetings after the walk through and that's pretty much it."
Some players can probably operate off the pure excitement of competing in an NFL training camp for the first few days, but eventually the grind catches up to everyone. When the going gets tough, it's nice to have someone to look up to who provides encouragement along the way. That's what the rookies have in second-year safety Will Parks.
"I've definitely gotten a lot of questions about the process and about the transition," Parks says of his conversations with the rookies. "I just basically told them to take it one day at a time. Of course, you're going to hear that a lot of times from different people. But it's really about what you do in the moment. You can't think too far ahead about the future."
One year removed from his rookie season, Parks, a fourth-round selection out of Arizona, is an example of a player who made the team and found ways to contribute in his first year in the NFL. He played in all 16 games in 2016, totaling 22 tackles, one interception, one fumble recovery and three defended passes.
"I just basically told them to stay focused on the now, don't worry about what you're going to do later on," Parks says. "If you mess up on this play, if you knew you messed up, that's a good thing. But if you didn't know you messed up, you get in the film room and things like that. That's kind of the basis of what I say to them and what I've been saying to them."
Parks, like a majority of this year's rookies, didn't know what to expect when he showed up for camp in 2016.
"I definitely didn't know what I was getting into, but at the same time I understood I had a job to do. I had a family to feed, and I had a job to secure," Parks says. "At the end of the day, as long as I did my job, remained focused and stayed true to my craft and my game. I stayed out here like an extra 10 minutes [every day]. I'm catching 25 balls after practice every day, hopefully that could lead to an interception the next day. I just did everything that I had to do."
Parks, like most veterans, is willing to lend a helping hand to the rookies when approached with a question. Despite constant competition for roster spots, they are all members of the Denver Broncos working towards another world championship. That doesn't mean that the veterans don't remind them that they are still rookies. That's how it goes in the NFL.
"Nothing's changed. Everybody is treated like a rookie," Carlos Henderson says.
One of the most notable ways the Broncos veterans lighten up camp and keep the hierarchy of the locker room in order comes at the expense of the rookies. More specifically their hair.
"I ain't trying to get my hair cut," Henderson laughs.
The Broncos' 2017 rookie class heard rumblings of the cuts before camp even began, and aren't looking forward to the day their do's get destroyed.
"I heard something about haircuts," Langley says. "I'm not looking forward to that one, but hopefully the hair will grow back in a couple days so I won't have to worry about too much."
The only rookie that wasn't afraid of having his hair butchered was DeMarcus Walker. His focus was centered on the Broncos' first preseason game against the Chicago Bears.
"I'm a mature person, so I just get prepared," Walker says. "That's all I do.
Preparation was key for cornerback Brendan Langley in the Broncos' 24-17 win over the Bears on Aug. 10. A rookie's first NFL game, regular season or not, is another point of uncertainty along the way. Langley's first NFL game was a little like camp – it turned out to be different than he expected.
"It was and it wasn't," Langley says. "It was in the sense of it just being football, but it wasn't as hectic as I thought it would be. Maybe it wasn't as big of a crowd, or whatever, or maybe I was just locked in."
It'd be easy to bypass the amazing accomplishment that is playing in the NFL because focus takes over. Langley was focused on the task at hand, but made sure to not let the experience pass him by. The fact that the rookie took the time to soak it all in made it easier for him to get back into the right frame of mind.
"I got a chance to go out there pregame, look into the lights, look around and see my surroundings," Langley says. "Once I did that, I was good."
The only way to master something is to practice it. After getting that first preseason game out of the way, the second one, Langley felt, would be a breeze.
"I was just getting my feet wet," Langley said. "Like I said, now I know that routine. I know how it goes. Pregame, warmups, everything leading up to the game, the game itself, I know how everything goes now. So now there's no surprises and I'm ready for it."
For De'Angelo Henderson, that first NFL game brought back a familiar feeling.
"It was just fun, really. Just it being my first game in the NFL, it just takes me back to my first game in college," Henderson said. "Just getting into the flow of things, seeing the speeds, seeing how everything is going to go, getting hit."
Henderson was certainly in the flow of things when he took a fourth-quarter handoff 41 yards to the end zone for the game-winning touchdown.
Once the uncertainty is gone, things become easier. The light at the end of the tunnel for these rookies is that the jump from year one to year two is black and white.
"Oh man, it's night and day," Parks says. "Everything is slowed down."
The reality of the situation, though, is that not everyone will have the opportunity to make it to year two. For some, the first training camp will be the only one. When it comes time for the 53-man roster to be decided, many rookies may feel the same uncertainty they did when they arrived for camp.
When it comes to uncertainty, Langley says it best.
"You've got to look at everything as the glass half full and you'll be alright."