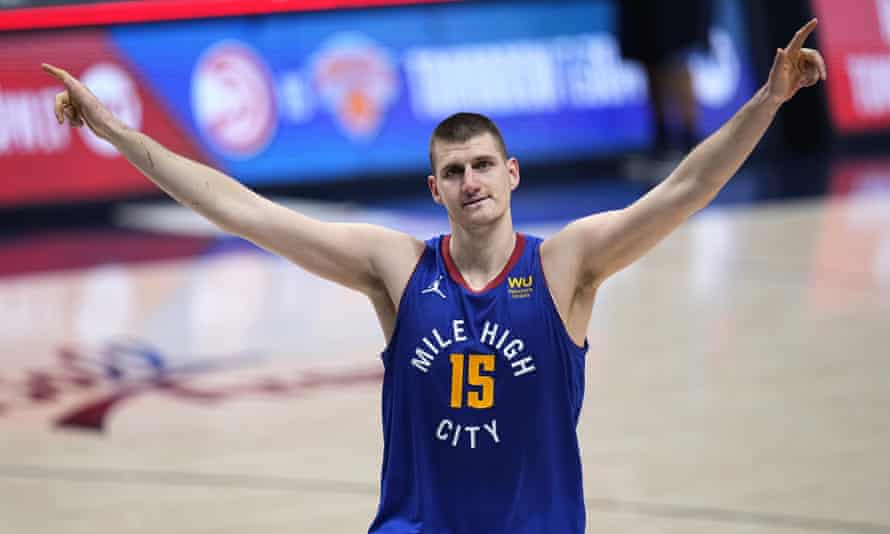 The effort was there for the Nuggets on Friday night, but the Suns were just too much to handle as Denver falls short 116-102 in Game 3. After Nikola Jokic's MVP award ceremony, he dropped a historic stat line of 32 points, 20 rebounds and 10 assists joining Wilt Chamberlain and Kareem Abdul-Jabbar as the only players with 30 points, 20 rebounds, 10 assists in a playoff game according to ESPN. 
"It was incredible," Michael Malone said. "How many times do you see in a playoff game a 32, 20 and 10 triple double? It was a special moment I think for all of us. He follows up the MVP award presentation by putting on an MVP performance. It's just unfortunate that that was wasted. We couldn't get other guys to step up and make shots and it wasn't for a lack of effort. We had a lot of guys trying their best out there and it just didn't go our way tonight."
Collectively, the Nuggets have struggled with their shooting this whole series and a lot of their shots in game 3 were good looks but they just weren't falling. They went 39 of 95 from the field, 14 of 41 from the three-point line and 10 of 16 from the free throw line while Phoenix shot the lights out going 43 of 81 from the field and 12 of 26 from three. 
Jokic left it all on the floor for his team yet he still took all the blame for Denver's loss. He went into the locker room and told his teammates he could've been better.
"He's an MVP," Monte Morris said. "He does his job every night. Plays at such a high level and it just shows you how good he is expected of himself. I think he played great. I feel like he played phenomenal… but if a guy is giving you 30, 20 and 10 we got to as a whole collectively help him and step up. He's been carrying us. We got to do it consistently and help him."
Outside of Jokic, Morris provided a spark off the bench that Denver needed and finished the game with 21 points on 8 of 12 shooting. Malone challenged him before the game by simply asking him which Monte Morris was going to show up for game 3? 
"Is it going to be Monté Morris Game five and six against Portland?" Malone asked. "Or is it going to be Monté Morris in game one and two against Phoenix? And I let him know how important he was to this team and we need him. And I knew he was going to embrace that message and come out and play at a high-level I needed that tonight."
In games 1 and 2, Morris had a total of 5 points on 12 percent shooting in 45 minutes of play. In game 3 he shot 67 percent from the field and 60 percent from three, a big improvement from his first two games. 
Will Barton also brought the energy and finished the night with 14 points on 6 of 14 shooting but struggled from three going 2 of 7. Malone ignored his training staff's request to limit Barton's minutes but after a conversation with him before the game he decided to play him almost 28 minutes. 
"The training staff are probably going to be really upset with me for playing 28 minutes but a conversation that Will and I had he understood the risk that was inherent with playing that many minutes but he wanted to put himself out there and do everything he could to try to help this team," Malone said. 
Barton has also made it clear to Malone and the training staff that he wants to be inserted into the starting lineup for game 4 and he's willing to play as many minutes as he needs to get the win. He also felt fine physically after playing extended minutes. 
"I talked to coach about that," Barton said about starting. "He knows I want to start and help us get off to a better start and just set the tone out there with my energy but I trust the game plan and whatever he wants me to do and do it to the best of my ability." 
Denver got off to a promising start and went into halftime only down 59-55 after trailing by 13. Jokic had 15 points and 12 rebounds in the first half. Then the last two minutes of the third quarter the Nuggets were only down by 8 until the Suns went on an 8-2 run. The Suns then opened the fourth quarter on a 6-0 run and Denver just couldn't overcome it. Denver gave up 20 total points off turnovers. 
"That 14-2 run is instrumental," Malone said. "We can't afford to allow those runs to happen so yeah the effort was there but let's be honest this is game three of the Western Conference Semifinals. I'm tired of people saying the guys played hard. They should play hard. That's not something to be proud about. That's our job is to go out there compete and play hard."
Devin Booker led the Suns with 28 points on 11 of 23 shooting in addition to 6 rebounds and 4 assists. Chris Paul had another stellar performance with 27 points, 6 rebounds and 8 assists. In game 2, Paul had 17 points, 15 assists and zero turnovers. 
Paul's elite level performance is no surprise to Malone, who coached him back in 2010 with the Hornets. This is just what he does and his IQ for the game is unmatched. He's playing chess while the Nuggets are playing checkers. 
"He's a great player and one of the greatest to ever do it at that position," Malone said. "I think game 1 he had 11 assists and only 1 turnover so obviously Chris Paul doesn't see us, he doesn't feel us and we're not in tact with what he's trying to do in any way shape or form. And I think I can say that pretty much for the entire Phoenix Suns roster. They've had their way with us on both ends of the court."
Game 4 is do or die for the Nuggets as a loss will eliminate them from the playoffs. They aren't thinking about needing to win the next 4 straight. They're focused on one game and one game only, which is the game on Sunday night. 
"We're down 3-0," Malone said. "We can't try to win 4 games in a row in game 4. Our only focus is trying to win a game. And I know for myself I can't speak for anyone else the last thing I want to see is a Phoenix Suns pushing a broom across our court after game four."
Regardless of what happens, the Nuggets have had a season to be proud of. Through all of the adversity and dealing with several different lineups, they never made any excuses and managed to finish the season with the third best record in the west and made it to the Western Conference Semifinals.