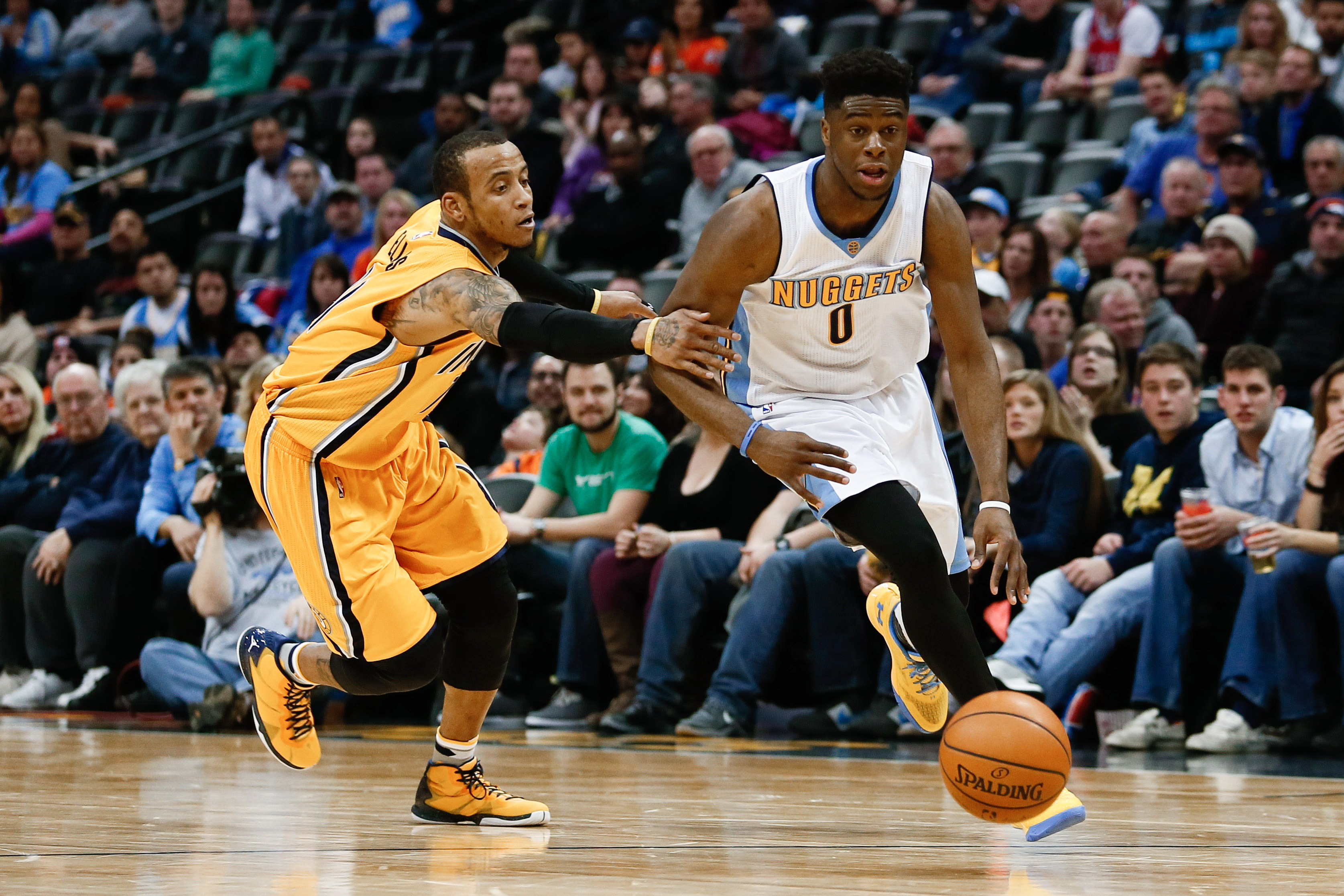 Emmanuel Mudiay missed 11 games this season with a right ankle deltoid sprain. Normally, in the first year of a rebuild, you don't want your No. 1 pick missing extended time, but in this case, it might have been exactly what Mudiay needed.
The Denver Nuggets were lucky to land Mudiay with the seventh overall pick in the NBA draft. A lot of basketball experts pegged Mudiay as the top point guard prospect leading up to the draft, but he fell in the team's lap, and they did the right thing by drafting him.
We all knew it was time for Ty Lawson to go, and this made it much easier to make the move.
From the moment he was drafted, and most notably through the NBA's Summer League, there was a buzz about the young man and this Nuggets team that got Denver and NBA aficionados everywhere excited. Fast forward to now, though, and not a lot of people could even tell you what the Nuggets record is.
What those Denver sports fans are missing is the the chance to watch the growth of Emmanuel Mudiay. Before the time he missed, there were some concerns about the young fella's game. And to be honest, there still are concerns about his game.
But there have been improvements, and that's what is important.
The biggest improvement has been his confidence. For the first time since the first few games of the season, he's beginning to believe in his own ability, which allows his teammates and coaches to believe in his ability as well.
Head coach Michael Malone wants Mudiay to lead this team, but he knew coming into the season that there would be growing pains. Malone mentioned way back on media day that there would be times when he would have to decide between growing Mudiay's game or getting wins for the Nuggets. We witnessed that situation a couple of times this year, where Mudiay was not on the floor for an extended length in the fourth quarter because the game was close and Malone was chasing the victory.
And a big reason why comes down to Mudiay's shot selection. He constantly found himself in the air and without an idea of where he wanted to go with the basketball. We saw it dating all the way back to Summer League. Mudiay had some success in Vegas with those types of passes or shots, but as we all know, Summer league is nothing like the regular season.
With the time off, Mudiay has been able to work on his jump shot and his jump selection. Many people questioned the Mike Miller signing, myself included, but he is a perfect player to help Mudiay.
At the start of the NBA season, I picked Mudiay to win Rookie of the Year. As we approach the half mark of the season, it's clear that won't happen; Karl-Anthony Towns is the best rookie in the league.
That doesn't mean this year can't be a successful one for the Nuggets No. 1 pick. If you're like me, you knew this season was going to be a rough one, so I'm not basing success on wins and losses; I'm basing his success on his growth as an NBA player and floor general. Up to this point his progress could have been measured in baby steps, but after nearly a month off, I'm now watching a new and improved Emmanuel Mudiay!