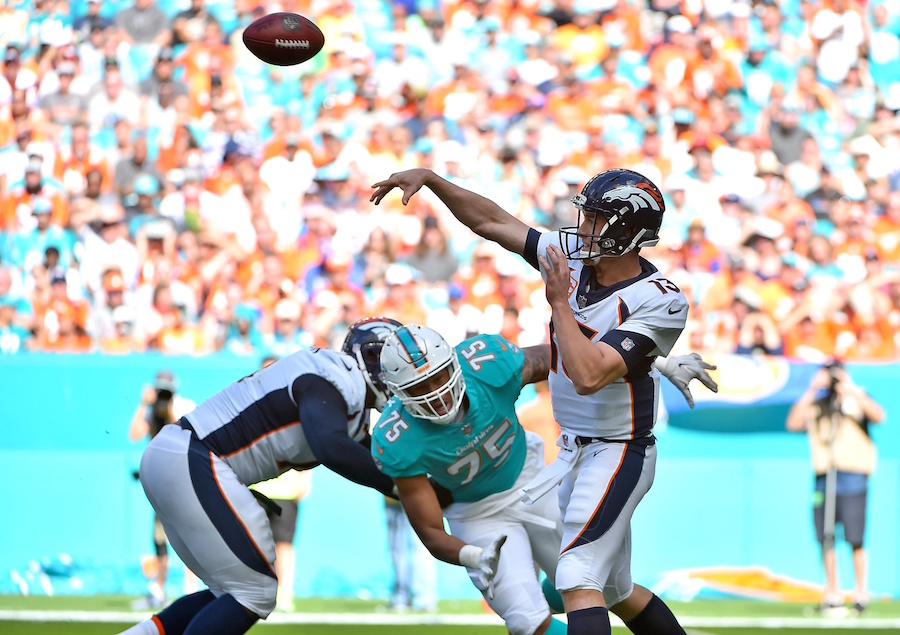 The Broncos have officially thrown in the towel. And that's the best possible thing that could have come out of Miami.
Now that we know it's over — there's not a shadow of a doubt — perhaps the Broncos can go ahead and move on. The sooner the mop comes out, the sooner this mess gets cleaned up.
The great thing about Denver's 35-9 loss in Miami on Sunday? There wasn't a single question that went unanswered. Every, single, possible, potential area of concern that was previously considered "gray" turned unmistakably black and white. The only debate remaining in Denver is whether or not the Broncos are better or worse than the Cleveland Browns.
As former Denver Broncos great and yesterday's FOX TV color commentator Mark Schlereth so aptly put it during the broadcast: "That. Was. Pathetic."
If the Broncos didn't have four games left on the schedule, they could go ahead and scrub Dove Valley, a place that should look nothing like it does now come next fall.
Vance Joseph and his staff? Gone.
Simply put, Joseph is an idiot. Calling a timeout with three seconds remaining on the clock, down 35-9, told us that definitively. (Just in case you weren't sure up to that point… After he and Bozo Olivo went for a "surprise" onside kick down 19-9 in third quarter. After the Broncos weren't ready for Miami's "middle finger" onside kick in the fourth quarter. After burning timeouts every time Denver is predictably caught off guard. After, well, after everything that's happened this season). Joseph got his ass kicked by his old buddy Adam Gase, and instead of taking his lumps letting time expire following a Miami sack, Joseph opted to subject his already banged up team to one more play of risk. Schlereth called the decision "insult to injury." If the locker room wasn't lost before, it has to be now.
That said, there's absolutely zero reason to let Joseph go now. He's so bad, he's actually the perfect coach to finish out the season. The more the Broncos lose, the tidier the cleanup will be. Keep ol' VJ around and climb that draft board. Hand him his walking papers with three seconds remaining against the Chiefs on Dec. 31. Think he'll call a timeout then?
Trevor Siemian? Gone.
Or at least he should be. That tiny glimmer of hope he offered up in Oakland a weekend ago was just that – a tiny glimmer. Against the Dolphins, we saw exactly who Siemian is: A nice kid who's overachieved relative to his draft slot. He's 19-for-41, zero touchdowns and three interceptions. He's a 30.5 quarterback rating. He's not anyone the Broncos should be planning around now or ever.
Siemian could potentially stick around next season as the Broncos backup (he's cheap, which may actually mean a lot to the Broncos, who'd better spend some dough on some serious repairs), but why? Let a young guy with some upside (i.e. Paxton Lynch or Chad Kelly) hold the clipboard. Besides, let poor Siemian go play for an organization that needs a nice backup — an organization that's not a total mess.
The Broncos offense? Gone.
Sure, that's not likely. There are players who can play, but collectively, this is one gawdawful unit. If one, some or all aren't there next season, so be it. Bill Musgrave's offense (is that whose offense it is these days?) manufactured three total points — three! The Broncos were 1-13 on third down conversions — one! Denver's offense was outscored by both the Broncos defense and Miami's defense. That's pretty hard to do.
Isaiah McKenzie? Gone.
Amazingly, there's still a need to acknowledge that he's still on the team. (Or is it Teams, Coach J?). At the "time of press" and just in case you wondered after his fourth fumble, or his fifth, or the sixth, which resulted in a safety, McKenzie is/was still a Bronco. If Vance Joseph is anything, he's loyal.
If any of the aforementioned issues were questions for you — or "in question" — now you have the answers.
If the Broncos were playing for anything besides draft position, Monday would be Pink Monday – as in, pink slip Monday. More than half of the organization would be sent packing.
Then again, that does leave one question.
What about John Elway?
If you think that Adam Gase's decision to go for a very unnecessary onside kick in the fourth quarter had anything to do with Joseph, who is allegedly Gase's friend, you're dead wrong. You're looking too closely at the symptom and not trying to find the disease. Gase's onside kick was nothing more than one, giant "F*** YOU!" to his former boss. Though he had a great deal of success in Denver, Gase, it would appear, isn't quite as enamored with the great John Elway as "we" are.
There's no doubt, the Broncos' problem is far bigger than any of the issues that were so clearly revealed in Miami. It's a problem so big, that there may only be one man who's able to fix it.
Ironically, it's the same man who created it.
If John Elway is to bring the Broncos back to contender status in short order, his greatness as a competitor will be called upon like no other time in his career. This is getting the ball on your own two in Cleveland, but with less time on the clock; solving Denver's current dilemma might make The Drive look like child's play. This is like getting MVP.com out of the red in just a few months. This will not be easy.
Is Elway's name — his larger than life persona in Denver, his gifts of MVPs, AFC Championships and Vince Lombardi Trophies — bigger than winning? You must admit, if his name wasn't John Elway, you'd be calling for his head, too.
As the man who hand-delivered three world championships to Denver — two as a player and one as an architect — John Elway deserves a chance to clean up this mess.
But after Denver so clearly threw in the towel in Miami, there's no doubt it's time for Elway to roll up his sleeves and get started.