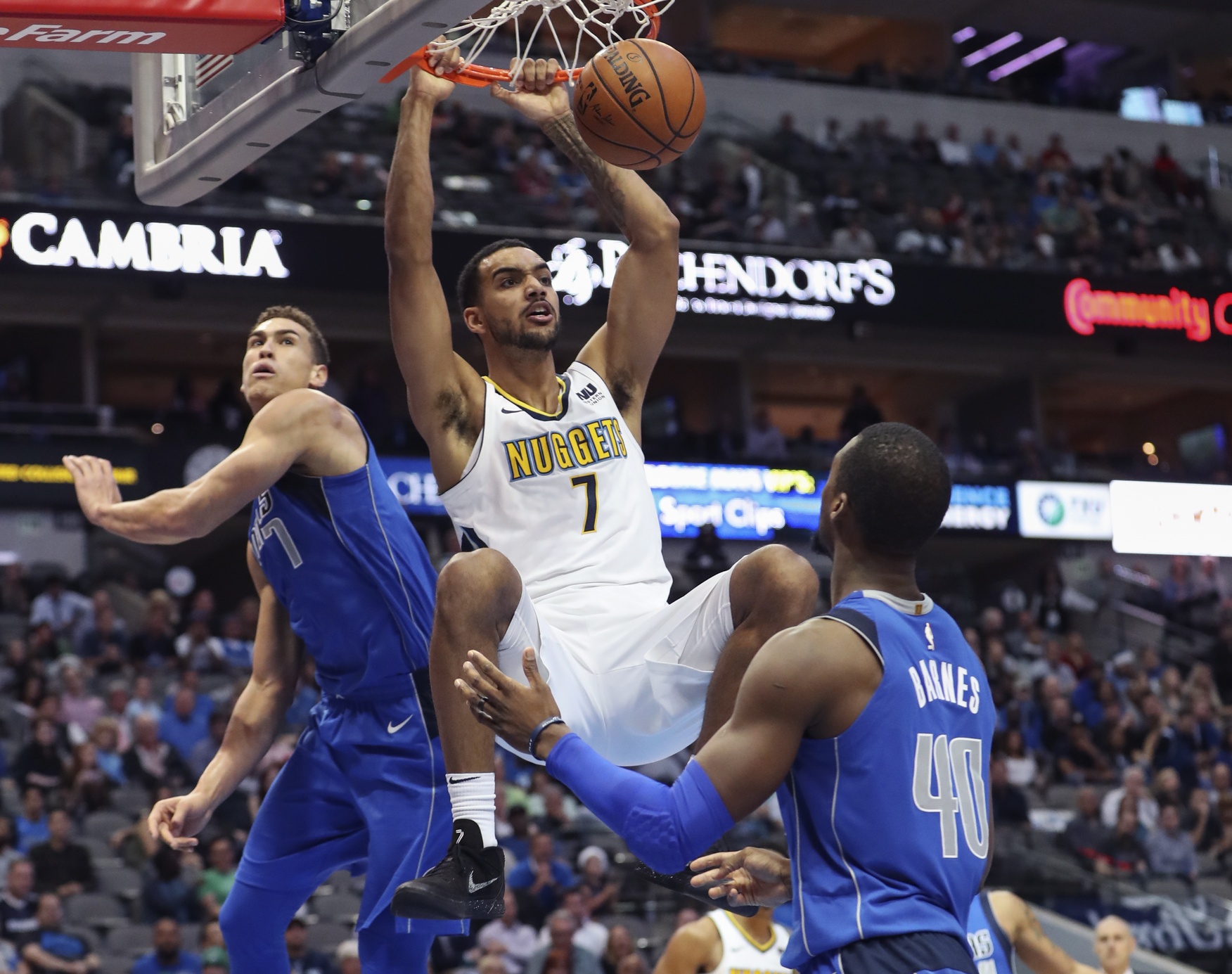 June 22, 2017 — NBA draft night — one that will live in infamy in the eyes of many Denver Nuggets fans. It was the night that (rumored) trade deals fell apart at the last second and the Nuggets flipped the rights of the 13th overall pick to the Utah Jazz. Denver wound up selecting guard Donovan Mitchell for the Jazz as part of a trade that sent Mitchell to Utah in exchange for the 24th pick and forward Trey Lyles.
At the end of the night, Denver walked away with a sense of despair after potential franchise-changing trades involving some of the league's biggest names fell through; draft night appeared to go as wrong as it could have.
In the time since then, Mitchell has taken the league by storm and solidified himself as one of the best players in one of the most profound rookie classes in years. While Mitchell has continued to turn heads around the sport with his highlights and scoring ability, the Jazz sit at 14-18 on the season and have had significant trouble dealing with the loss of Gordon Hayward and injury to star center Rudy Gobert.
On the flip side, Denver is 16-15 on the season and have improved significantly since last season. The Nuggets have managed to establish themselves as one of the better young teams in the Western Conference despite being down Paul Millsap for the foreseeable future. Denver has been without Millsap for some time and just welcomed star center Nikola Jokic back to the starting lineup after he missed seven games with an ankle injury. Despite the circumstances, Denver is currently penciled in as the seventh seed (tied for fifth by record, excluding tie-breakers) in the West mainly due to bench players stepping up in light of recent woes, including the forgotten man from draft night: Trey Lyles.
Lyles joined the Nuggets after being ousted entirely in two seasons from Utah's gameplan. Although his situation with the Jazz was a disaster, things did not immediately get better for Lyles when he arrived to the Mile High City.
A 6'10" forward, Lyles joined the rest of the Nuggets' surplus of big men, a position they have failed to address for years.
As soon as the Nuggets acquired Lyles, everybody between media, front office, and fans knew he would struggle to find playing time with Millsap as the team's starter at power forward and veteran Kenneth Faried and youngster Juancho Hernangomez both set up to soak up most of the backup minutes.
Head coach Michael Malone even admitted on more than one occasion throughout the early portion of the season that Lyles was skilled enough to warrant playing time, but there were just not enough minutes to go around. This resulted in Lyles only seeing the court in six of the Nuggets' first 15 games of the season, with a majority of his playing time coming in garbage time.
Early on, Denver seemed like Utah 2.0 for Lyles, but to his credit, he stayed prepared from the start of the season for an opportunity and now he's established himself as an integral part of the team moving forward, both for this season and beyond.
"He can hoop!" Gary Harris said after Lyles' 18-point showing in Denver's 115-100 victory over the Los Angeles Lakers on December 2nd. "That's my guy. He's been staying ready. He puts in the work. I see him put in the work every day, and I'm glad everybody is starting to see all the work he's been putting in."
Lyles has been a Swiss Army knife for Denver as he's served as both a starter and bench player for the past few weeks, excelling in both roles. Lyles is one of just four reserves to post 20-plus points and four or more rebounds in back-to-back games this season.
The Nuggets fell in love with Lyles for an many reasons, but one of the biggest was his versatility. Lyles fits the mold of the modern NBA player — lengthy and athletic while capable of playing both forward positions and guarding a variety of different players. Lyles is as close to a plug-and-play player the Nuggets could find, and his transition to becoming a focal point within the Nuggets' rotations has been relatively smooth.
To his credit, Lyles was laying in wait for an opportunity with his new team, and when one came around, he took full advantage. Now, he's found a defined role with the Nuggets in which he can further evolve.
"Just continuing to put the work in," Lyles said, explaining how he managed to stay ready when he was not playing early on in the season. "Believing in myself, having Coach's confidence and going out there and doing what I'm capable of doing; not try to push or force things."
Since Millsap and Jokic were sidelined due to injury, Lyles has stepped up in a big way as he's registered at least 15 minutes of playing time in each of the Nuggets' last 16 games while playing at a high level. In December, Lyles is averaging 14.1 points, 5.8 rebounds, and 1.5 assists per game while shooting 54% from the field and 56% from beyond the arc. Also, this season has yielded a career-high 25-point performance for Lyles in Denver's game against the Indiana Pacers on December 10th.
Lyles has shown exponential growth in his scoring with his newfound playing time, as he's never shot over 45% from the field in his career. Also, his 50% mark from three-point range is almost absurd, considering the best Lyles has shot from beyond the arc in the NBA is 38%.
Lyles has impressed in his new role, and at just 22 years old, he fits the timeline of the rest of the Nuggets' young, budding stars, and if he continues to progress, he can become an active point of the team moving forward.
Nikola Jokic: 22 years old
Gary Harris: 23 years old
Jamal Murray: 20 years old
Malik Beasley: 20 years old
Juancho Hernangomez: 22 years old
"Coach has given me the opportunity to play; he's giving me consistent minutes," Lyles said. "I'm playing well right now, so I've just got to keep doing what I'm doing."
Lyles has remained level-headed since he joined the Nuggets. He's been understanding of the team's situations, and in turn, that has helped him blossom recently, as he's managed to develop the proper mindset over the course of the season.
"It really hasn't changed from when he wasn't playing," coach Malone said of Lyles' mindset. "From him coming to Las Vegas for Summer League, from him coming to Atlanta with our minicamp, training camp, preseason, and practices from before Paul went down, he was doing everything he's doing now."
The only difference is that he is now getting an opportunity to showcase his hard work, mainly due to injuries.
"Obviously, right now he's shooting really well from the three-point line, and we hope that continues," Malone said. "We all knew that Trey was a very talented player, and now the only thing that has changed is that he has an opportunity because of some of the injuries we have sustained. He's really skilled; he can put the ball on the floor, he can shoot the ball, and I think he is a sneaky athlete. I think some of the finishes he's had — some of the dunks he's had — showcases his ability to get up and finish at the rim, in paint and traffic."
Lyles' athleticism has taken center stage recently. He's had numerous plays where his athleticism has stole the show like this dunk over Boston Celtics poster boy Jayson Tatum:
Trey Lyles isn't playing games. pic.twitter.com/QSLHbwgVzP

— SportsCenter (@SportsCenter) December 14, 2017
Lyles impact was probably not expected to be this significant. That's not to say the Nuggets undervalued him, as they had him high on their big board during the 2015 draft. When an opportunity to acquire Lyles for a reasonable price became available, Denver pulled the trigger on a deal. Although Lyles was not Denver's top target during the draft, he has done a superb job at instilling the core values of Nuggets basketball on the court. His ability to guard multiple positions, score, and play as a starter or off the bench while staying on an even keel will force the hand of coach Malone.
The Nuggets have "always viewed him as a guy that would be a good fit with his positional versatility and skillset," Nuggets president of basketball operations Tim Connelly told Mile High Sports.
As the games go along, Lyles will demand minutes based on his skillset and will serve as a plus option for most scenarios.
"Very happy for Trey," Malone said. "It also speaks to him staying mentally engaged when he wasn't playing, not feeling sorry for himself, knowing that at some point he would get the opportunity — and by staying ready, he's taken advantage of that opportunity."