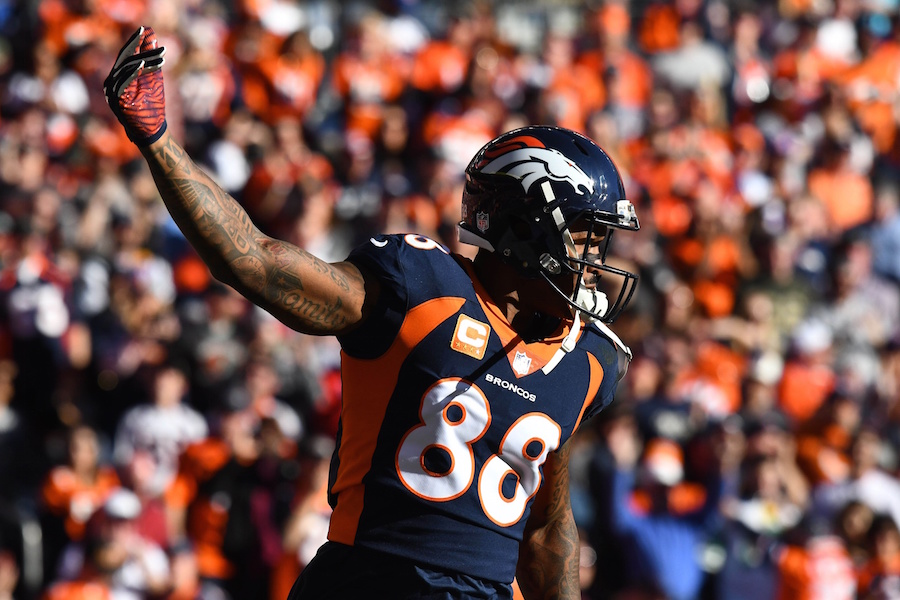 He was an easy target.
Well, perhaps not. Not for Trevor Siemian. Ten targets. Two catches. Just 27 yards.
It was easy to point the finger at Demaryius Thomas last week following one of the most embarrassing losses in Denver Broncos history. The scoreboard against the mediocre (at best) Dolphins last week was ugly, but Thomas' stat line was equally disappointing.
It sometimes seems easy to pin things on "DT." He's so damn big. So damn strong. So damn paid.
When you make $12 million dollars — $70 million total over the five-year contract he signed prior to the 2015 season — a lot is expected. Two catches and 27 yards stands out a little more when there are that many zeros on the check.
Then again, the excuses that Thomas could make never surface. He could easily point to the fact that most of his targets against the Fins were off target. He could remind us all that he's had three quarterbacks this season, or in that instance, three different starters in three consecutive weeks. Oh, by the way, none of those quarterbacks are particularly good and all of them are usually running for their life while trying to find an open receiver.
But you'll never hear that from Thomas. He's a pro's pro, a quiet leader, never afraid to face the music after a game. Instead of addressing the bad passes, he's quick to own the drops.
"I feel like I can be better as a player to help the team," he said from the locker room in Miami. "I had a couple plays out there that I should've had. It would have been a totally different game I think. I have to keep working and try to get better, try to be a better leader to figure out what it is and try to get a win."
About the time Denver gets down on Thomas — and Denver does from time to time — he does what he did Sunday against the Jets. Now, of all the performances of Thomas' career, his eight catches, 93 yards and one touchdown in a relatively meaningless win won't go down as one of his best; he's had far bigger games, in far bigger moments. But it might be one of the most significant, if not symbolic.
Whether you like Thomas or not; whether you believe he's worth the money — Is any receiver really, especially when Peyton Manning isn't throwing to them? — whether you prefer Dez Bryant, Antonio Brown or A.J. Green; whatever it is that you think of Thomas, one thing can't be denied: He's been the Broncos' most consistently productive player of the modern era. Period.
He's arguably the best wide received in Broncos history. He's indisputably one of two.
While he didn't quite cross the century mark yesterday, something he's done 35 times in his career (32 regular season games, three times in the postseason), Thomas did surpass Shannon Sharpe on the Broncos all-time list for both receiving yards (8,475) and receiving touchdowns (56).
Thomas is chasing Rod Smith for the top spot on the list. Over his 12-year career, Smith tallied 11,389 receiving yards and 68 touchdown catches. Smith had eight seasons in which he crossed the 1,000-yard mark, including six straight from 1997 to 2002. Thomas, currently an eighth-year veteran, is on his way to his sixth (consecutive) 1,000-yard season.
Smith caught passes from 11 Broncos quarterbacks; Thomas is already on his sixth. Smith played four seasons with John Elway, and four with Jake Plummer, while Thomas was the beneficiary of catching passes from Peyton Manning for the better part of four seasons. All the others who threw to Smith and Thomas can best be described as "Denver also-rans." Both players put up impressive numbers regardless of who was tossing them the pigskin.
The fact that Thomas sits at 771 receiving yards this season, needing to average 76.3 yards over the next three games to reach 1,000, is a minor miracle. Nothing like his four best seasons with Manning, when he averaged 100.5 catches and 1,446 receiving yards (!!), this 2017 campaign, in an odd sort of way, might be every bit as impressive. The Broncos can't run this season, nor can they throw. There are no "middle of the field" pass catchers who pose a threat from the tight end or slot position, so he's regularly double-teamed by an over-the-top safety or an underneath linebacker. The quarterback position has been nothing short of a disaster, and the Broncos offense — both statistically and to the naked eye — is as bad as it's ever been.
"Those guys don't deserve this season," Siemian said of Thomas and fellow wideout Emmanuel Sanders after the win against the Jets. "They deserve more."
Would Dez Bryant have even made it to Week 13 in Denver in these conditions?
Thomas has bitten his tongue and trudged toward another 1,000-yard season.
Added Siemian: "I think the world of him. He's such a good player. People don't see the injuries he plays through and how tough he is.
"As good of a player as he is, and as much respect I have for him, he's a better teammate; he's a better guy.
In a league where "wide receiver" and "diva" are synonymous, Thomas stands out as the exception.
The rest of the NFL, especially those defensive coordinators who must gameplan against him, understands what kind of impact Thomas has on the Broncos offense. Defensive backs across the league know how difficult it can be to hold him in check.
Denver doesn't know how good it has it with Thomas, one of the best — yet one of the most under-appreciated — Broncos to ever play.