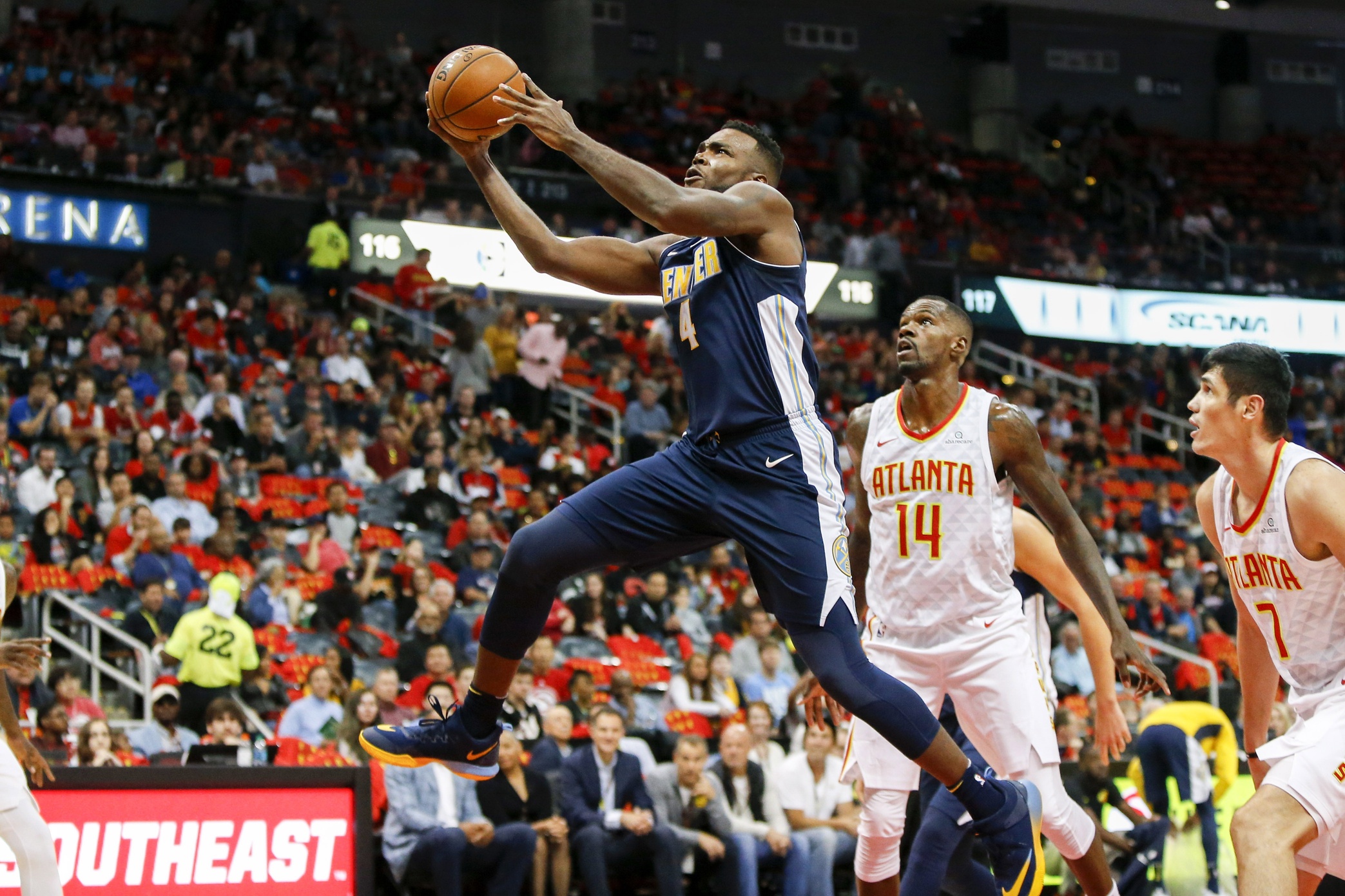 Paul Millsap — the Denver Nuggets' starting power forward and newly minted $30 million man — went down against the Los Angeles Lakers with a left wrist ligament injury that will keep him out an extended period of time. Millsap's injury is a known fact, but what is unknown is how Millsap — and the Nuggets — wish to proceed with the rehabilitation and recovery process.
According to Shams Charania of Yahoo Sports, Millsap's ligament injury in his left wrist will require surgery that will result in Millsap being sidelined for around 2-to-3 months, but the Nuggets have plans to exhaust all possibilities to make sure they find the best route possible to getting Millsap back onto the hardwood before having him go under the scalpel.
"I think they have been continuing to talk to different doctors — whether that be at home in Atlanta, or local doctors — deciding on the best course of action," Malone said, when asked about the specifics of Millsap's recovery process. "I do not think anything has been solidified with that decision yet."
Obviously, something is off in terms of how — and when — Millsap will begin his recovery from ligament damage in his left wrist. With that said, let's take Millsap's injury — and everything that surrounds it — in a chronological order.
First, Millsap had sustained his injury in Los Angeles on Nov. 19th against the Lakers in the second quarter, and eventually headed back to the locker room for further analysis. The Nuggets' organization was worried that Millsap had fractured his wrist, so he received an X-ray in Los Angeles, but there was no update given of the results of the X-ray after the game. Nuggets head coach Michael Malone explained that the team was "still waiting for the results" in his postgame interview.
Normally, it takes around an hour for an NBA team to get the results of an X-ray back, but the Nuggets did not release the results of Millsap's X-ray until nearly 18 hours later, on Nov. 20th. The X-rays were negative, but there was still a sense of nervousness surrounding Millsap, and the degree of his injury that he had sustained to his wrist, based on the delayed release of the X-ray results and the fact that Millsap was going to be out against the Kings the following night.
The next morning, on Nov. 21st, that nervousness ended up being well-placed. The news broke that Millsap had flown back to Denver after the first game of a three-game road trip to allow the Nuggets' medical staff get a better look at his left wrist, which raised the level of concern significantly. Later in the same day, it came to light that Millsap sustained ligament damage in his left wrist and that surgery was needed. That news was released by Charania.
That — at the time — seemed to be where the story ended, but the Nuggets themselves released a separate injury update the following morning on Nov. 22nd, specifying that "additional evaluation and consultation is ongoing to determine the best course of medical care."
Fast forward to the morning of Nov. 24th — the morning before the Nuggets take on the Memphis Grizzlies, and five days since Millsap had first injured his left wrist — and there is still no update as to what the Nuggets and Millsap intend to do. One thing appears to be certain; regardless of the treatment Millsap receives, he will be out for an extended period of time.
"It is not like Paul is only going to miss a couple games," Malone said. "Paul is going to be out for a long time, unfortunately."
Now, the biggest issue that Malone is facing his getting his team prepared to be without four-time All-Star Millsap, who will be out for an unknown amount of time.
"The beat goes on. We have to keep on preparing," Malone said. "No matter what the course of action is, he will be out of an extended period of time, and we will have to find ways to win while he is out."
Millsap is averaging 15.3 points, 6.2 rebounds, and three assists on the season so far for the Nuggets while shooting 44.6 percent from the field and 34.5 percent from three-point distance in 29.7 minutes per game. According to Charania's report of a 2-to-3 month recovery time, Millsap could be out until until roughly the All-Star break in February.