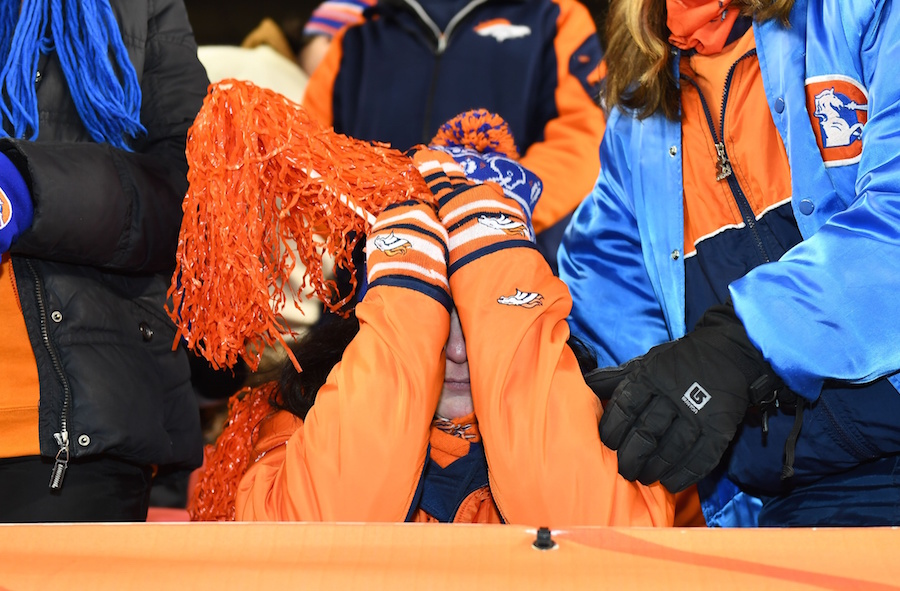 According to NFL.com's Michael Silver, emotions from yesterday's loss to the New England Patriots spilled off the field and into the locker room, as there was an angry confrontation between the No Fly Zone and the Broncos offensive line.
Apparently, upon entering the locker room and before the media was allowed in, the team circled up around head coach Gary Kubiak, who then asked if anybody had something they wanted to say. Left tackle Russel Okung stepped up to speak, and cornerback Aqib Talib "strongly objected."
The "objection" escalated into a "shouting match," and Kubiak had to break it up before it went any further.
It's not surprising, though. This Broncos defense gave everything on Sunday, holding Tom Brady and the Patriots offense to just 16 point, a feat few are capable of accomplishing, and the Broncos offense responded with arguably their worst outing of the season, producing just three points.
It's hard to blame the defense, even Okung understands that.
"I definitely understand their frustration," Okung told NFL.com. "They played well enough to win, and they held that team to 16 points, which a lot of teams don't do. We're an emotional team; that's what makes us so good. To me, that's part of who we are.

"When our defense is out there, they're an emotional group, and they hold themselves to a high standard. As an offense, we need to do the same. So, I think (their frustration) is warranted. We've got to be better."
When asked about Okung's comments, safety T.J. Ward essentially agreed, saying, "We are an emotional group. That's why we play as well as we do. What happened wasn't even anything major — just a little frustration. We're all trying to win."
What must be frustrating to the Broncos defense, particularly the No Fly Zone, is that they've been through this before; Denver dealt with these same issues last season and managed to end up in the Super Bowl.
This year, the issue isn't that the defense is no longer capable of carrying they weight. They are. In fact, the defense is likely better than they were last season. The issue is that the Broncos offense is more inept than ever.
"Any time we hold Brady to 16 points, we expect to win," Chris Harris said. "Even last year, we never held him to 16. And he didn't complete any passes in the first quarter. We have to do better."
Kayvon Webster re-iterated the point.
"I can't believe that s—. We held Brady to 16 and still lose? Has that ever happened?

"We've got a big-time defense. We always make plays. But if we can't get in position to make 'em, how are we gonna win? I mean, our options were limited today. It was crazy. We can't get five three-and-outs in a row (on offense). We just can't do that."
For the most part, the offense was willing to take the blame, but not everyone was happy with the way the defense handled their frustrations. One player even went so far as to tell Silver that the defense needed to do more, saying, "If those guys are so upset, they should be looking at themselves … do more. Work harder. Do extra. Find a way to make those plays. 'Cause trust me, nobody on offense is happy about all this."
And the defense would be happy to do more, if they could, but the No Fly Zone is finding it hard to make plays, the type of game-changing plays that swung the season last year, when no offense dares to test them.
"We did dominate them," Ward said, "but when they don't have to pass, No Fly kinda gets eradicated, so we've got to try to make plays in other areas … strip the ball, whatever. But it's tough when they don't have to pass the ball.

"You've got to be in a position to make plays, but teams don't even have to throw the ball on us. If they're not in a position to throw, it's hard to get an interception. And even when they run, their running backs have two hands on the ball, so it's hard to make plays (against) the run."
The Broncos still have a chance at the playoffs. It involves them winning out, beating both the Kansas City Chiefs and Oakland Raiders, but there's a chance.
With the way this team is playing, though, and with the schism that is clearly developing between the offense and defense, those chances look slim.