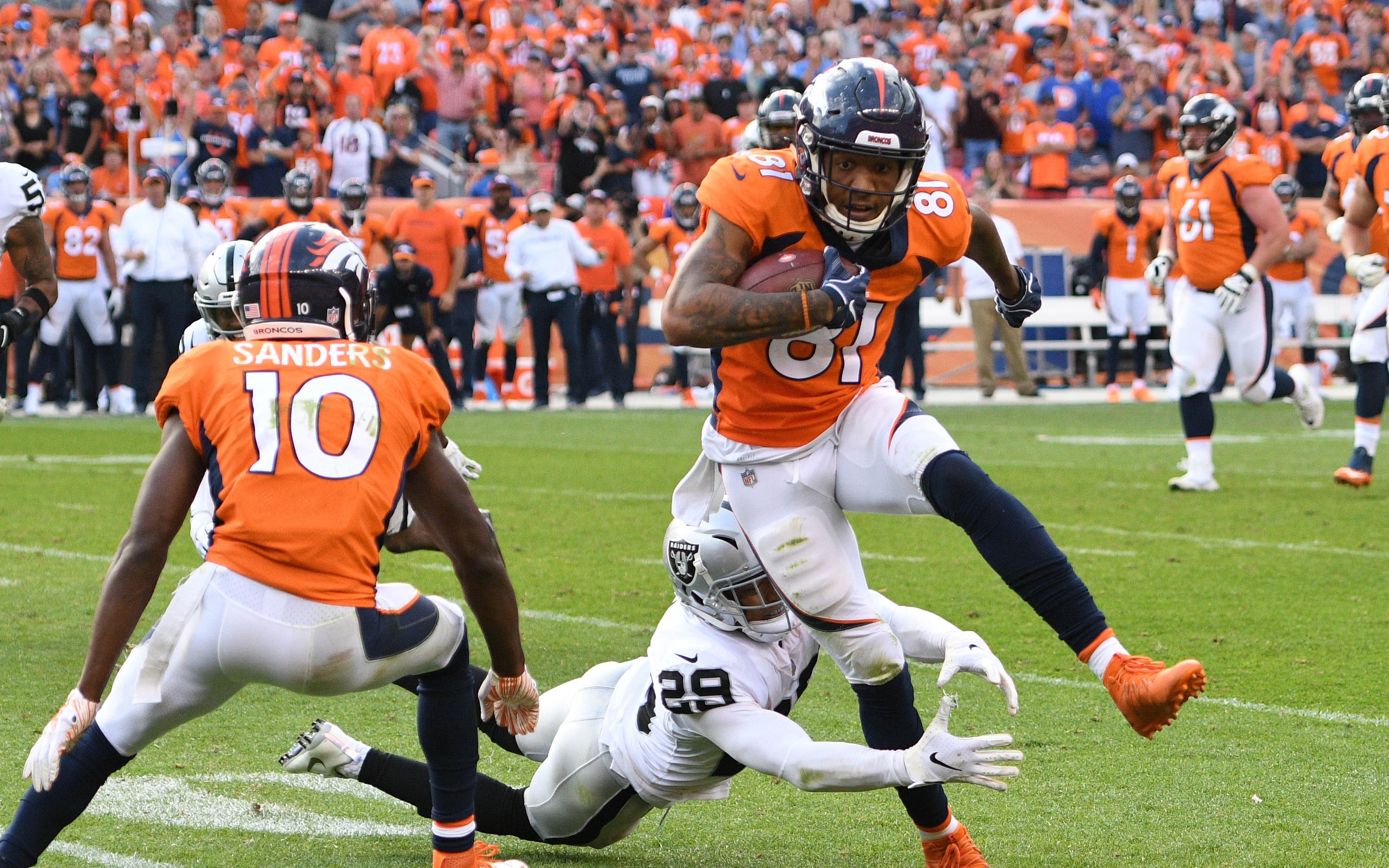 2018 was one tough season to be a Broncos fan, but thanks to a young offensive nucleus, 2019 is already looking up.
For the Broncos to flip the script, though, not only will the stellar 2018 draft class have to take another step forward – the 2019 class will have to make an immediate impact on the team, and several other players will need to have breakout years as well.
Let's take a look at three players that are most likely to have those breakout seasons for Denver.
1. Tim Patrick:
Wide receiver Tim Patrick started to emerge as a viable receiving option towards the end of last season after Emmanuel Sanders' injury. In Sanders' absence, Patrick started four games for the Broncos, adding to his season total of 23 catches for 315 touchdowns and a game-winning score against the Oakland Raiders in Week 2.
Down the stretch for the Broncos – especially following running back Phillip Lindsay's wrist injury – there were multiple games where Patrick was the best player on the offensive side of the ball.
With Sanders a year older and coming off an injury, and DaeSean Hamilton lacking the size of a traditional outside receiver, don't be surprised if the former Ute is a major part of the Broncos' offense in 2019. If both Patrick and 2018 second-rounder Courtland Sutton make the leap at receiver, rookie quarterback Drew Lock should have a talented young receiving core surrounding him once it's time for him to take over.
2. Josey Jewell:
After six seasons in Denver, linebacker Brandon Marshall will be playing elsewhere in 2019, opening a void at linebacker, and adding plenty of pressure to Josey Jewell's second season in the league. The pressure on Jewell only became more pronounced, when stud Michigan linebacker Devin Bush fell to the tenth pick only for the Broncos to trade back and select tight end Noah Fant.
After the draft, it was reported that although the front office approved of Bush, head coach Vic Fangio preferred the Broncos going elsewhere with the pick, which ultimately was why the team went with Fant. While this move certainly says something about Bush, it also says quite a lot about the current crop of Broncos linebackers.
Fangio's defensive scheme is incredibly reliant on linebackers, and for him to pass one up as talented as Bush means he must like what he's seen from both Todd Davis and Josey Jewell.
While at the University of Iowa, Jewell was an instinctive monster on the defensive side of the ball and a leader for the Hawkeye defense. This carried into his rookie season, where he recorded 40 tackles, 22 of which were stops according to Pro Football Focus. Pairing Jewell's exceptional instincts with Fangio's scheme and coaching should lead to Jewell having the largest breakout season of any Bronco, even despite his athletic limitations.
3. Royce Freeman:
"What about Phillip Lindsay?" I hear you say.
Yes, there is no doubt that Phillip Lindsay is one of the most talented young running backs in the league, and quite possibly the best player on the entire Broncos' offense, but he isn't a bell cow, Royce Freeman could be.
Lindsay is an incredible matchup nightmare and should be a focal point of the Broncos' offense, but there's a good chance that in 2019, Freeman gets more carries than the local runner.
Following Denver's 2018 draft, Freeman was highly touted and viewed by many to be the late-round breakout running back, like Kareem Hunt and Alvin Kamara before him. Instead, that honor went to Freeman's teammate, but that doesn't diminish his own talent.
Fantasy players would be wise to keep an eye on the former Duck. With an improved offensive line, especially when it comes to run blocking, and a continued emphasis on the ground game, Freeman could go over 1,000 yards with a handful of short-yardage situation touchdown runs to boot.