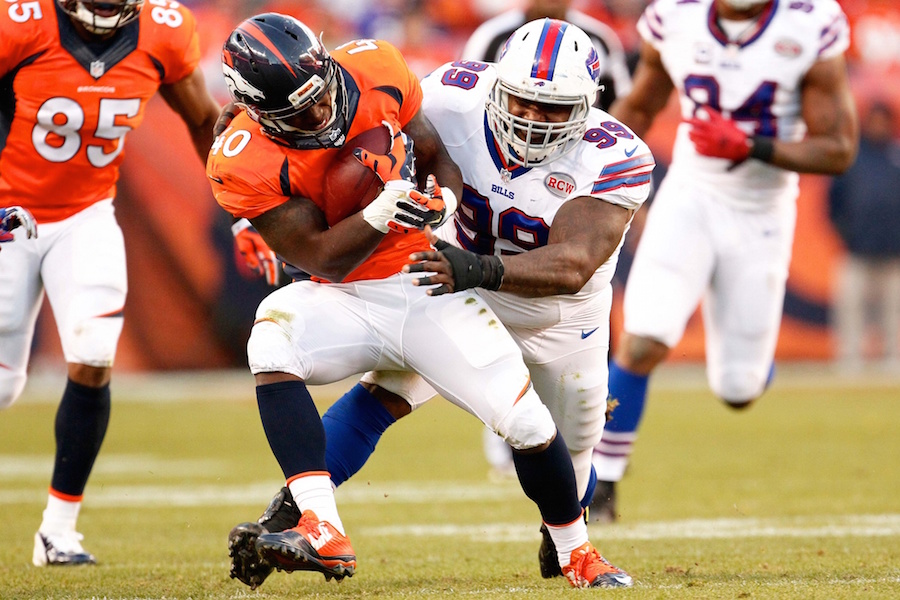 The Denver Broncos have finished up their 2017 draft, and there is a solid stream of talent headed to Denver. The Broncos were able to pick up a number of players that they feel can help get them back into Super Bowl contention. Of course, this new influx of talent will come at the detriment of some of the current players.
With talented younger players arriving, the Broncos will have an opportunity to cut veteran salaries. It has already started. On Saturday, the Broncos traded down, dealing running back Kapri Bibbs to San Francisco to attain another pick next season. So, which other players could be in jeopardy of losing a spot on the Broncos roster? Here are a few players that are now at risk of not being on the team when the Broncos square off against the Los Angeles Chargers, in Week 1.
The Broncos selected Latimer with their second-round pick in 2014, hoping that he could become a viable target in the Broncos passing game. It has never materialized. His best season came last year, when he caught just eight passes for 76 yards. Latimer has proven to be a solid kickoff returner, in 2016 he had eight returns for 200 yards. Yet, he has never become a true threat within the Denver offense, and the Broncos clearly feel that they need an upgrade at wide receiver. With their third-round selection of Louisiana Tech wideout Carlos Henderson and fifth-round pick Isaiah McKenzie from Georgia, Latimer's career in Denver could be in serious trouble.
When asked if Latimer, along with other receivers, should be on watch after this draft, general manager John Elway said, "Every job is always open. Between OTAs and training camp, it's a competition. Everyone is fighting for their jobs. It's the NFL."
Raymond's inclusion on this list may not come as much of a surprise, as he was signed as an undrafted free agent last year. He was released during final roster cuts, but signed to the practice squad prior to the season. In December, the Broncos promoted Raymond to the active roster and he gave the special teams a bit of a boost. Raymond returned six kickoffs for an average of nearly 23 yards, and had 11 punt returns for a 10-yard average. However, it is apparent that John Elway wants to upgrade the Broncos special teams return game.
Following the draft Elway stated, "Well, I think that was one thing that we wanted to do going into this draft. We concentrated on guys that could play their position very well, but also be contributors on special teams, and then we wanted to find some returners. That was also an important thing to us. We were able to cover all of those bases when it comes down to the players that we got."
The Broncos also selected three players with punt and/or kick return experience. That can't be good news for Raymond.
Thompson always seems to be the forgotten man in the Broncos backfield, but he keeps finding a way to make the team. That might end this year. With C.J. Anderson returning from his knee injury, and Devontae Booker coming back for his sophomore season, the stack was already stacked against Thompson. Now, the Broncos have drafted another running back that could prove to be a little different. In the sixth round the Broncos took Coastal Carolina runner De'Angelo Henderson. He is a speedy back that runs stronger than his 5-foot-7, 200 pounds might suggest. Henderson is a decisive runner that has the quickness to accelerate through a small crease in the defense. That gives him a unique opportunity to make this team.
It seems like every season, we look for Virgil Green to become a contributor to the Broncos offense beyond his blocking skills. You have to wonder if it will ever happen. Green has always been a solid blocker, but he has never developed as a pass catcher. In six seasons, he has just 57 receptions, and three touchdowns. Now, Denver has picked up they guy that could be the tight end of the future. In the fifth round, Denver selected Michigan tight end Jake Butt. That may not sound like a big move, but Butt had first-round potential, until he suffered a knee injury in his final collegiate game. At 6-foot-5 and 246 pounds, he has the ability to get open down the field, and he will attack the football once it is in the air. The Broncos are hoping that he can get back on the field this fall, and he will need to become a better blocker, but Jake Butt has the talent to be an NFL starter.
Elway adressed what the addition of Butt would mean to the roster, saying, "It means he's going to have to compete. All of those tight ends, again, as Vance has reiterated several times, it's about the competition. You know what, everyone who's going to make the team, they make the team. No one else makes it for them. They've got to go make the team themselves, so that's why it's up to them. Knowing Jeff and knowing those tight ends, they're going to come out and compete and do the best they can. Hopefully it's a situation where everybody gets better because of that."
With A.J. Derby, Jeff Heuerman, and now Butt on the roster, Green will have to put together an impressive preseason to give himself a chance to be on this team.
It isn't that the Broncos have an abundance of offensive tackles, therefore Stephenson is still a favorite to make this roster. But with the Broncos signing Menelik Watson in free agency, and then drafting Garett Bolles in the first round of this draft, Stephenson might be scrambling for a position. The problem for Stephenson is two-fold. First, he was consistently rated one of the worst offensive tackles in all of football last year. Second, he is due to cost the Broncos $5 million dollars in cap space this year. If Stephenson is unable to win a starting spot, do the Broncos want that much money sitting on the bench? With Ty Sambrailo hoping to bounce back and earn playing time, Stephenson could find himself being the odd man out.