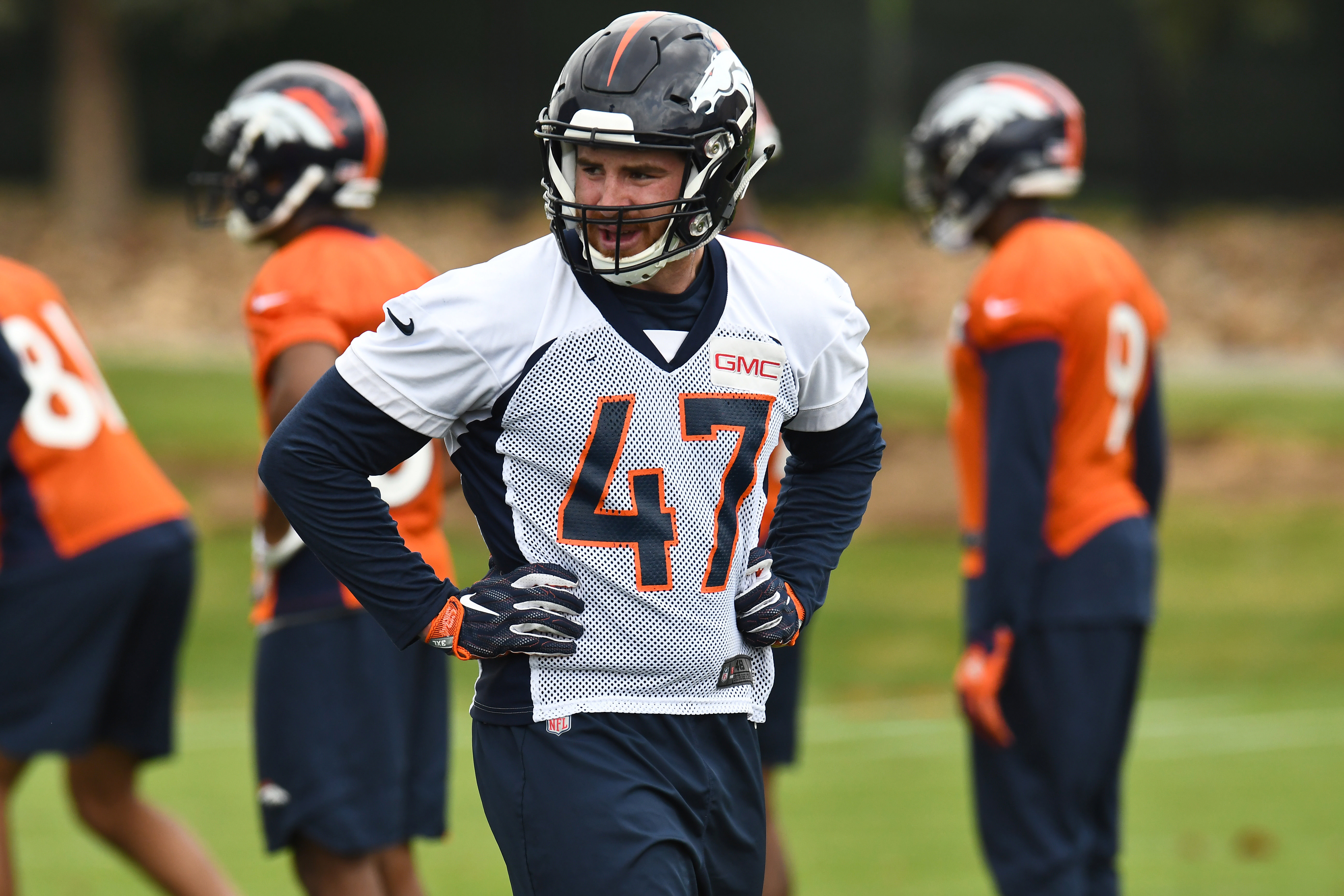 On Monday, Denver Broncos head coach Vance Joseph explained that this week's organized team activities (OTA) would feature "equal reps" for all players attending and healthy enough to participate.
For the first time in the last couple of seasons, that won't mean much to Paxton Lynch, the Broncos' wayward, former first-round pick who has no chance to crack the starting lineup. That's Case Keenum's job now, and Lynch, who finds himself closer to washing out of the league than starting in it, will be in the mix for the backup role.
Joseph's "equal reps" mean two different things for the Broncos. The first — and likely most important one — is that with fewer reps, the team's starters find themselves with fewer opportunities for an unlucky injury to strike. In recent years, the Broncos have lost rookies and veterans alike to freak accidents and the infamous "turf monster", and reducing the chances of that happening again is wise.
It also means that third-stringers, rookies and depth free agents will have an unusual opportunity to shine. Normally relegated to the fringes, these players will have a clear shot at impressing the coaching staff and giving themselves more opportunities to do so as training camp draws near.
Coming off of a 5-11 season that saw star cornerback Aqib Talib traded and leading rusher C.J. Anderson released in the offseason, the Broncos have plenty of room for improvement — and a few players stand to benefit from the opportunity that equal reps provide.
Among the rookies, top picks Bradley Chubb and Courtland Sutton have expectations to meet from the get-go. But a few of their draft-class teammates have an opportunity to prove that they're ready to exceed theirs.
ROOKIES
RB Royce Freeman: Before he's even taken a snap in a Broncos' uniform, it's entirely possible that Freeman already has the inside track to replace Anderson as Denver's primary ball-carrier. While this spring's third-round selection still has to leap over incumbents Devontae Booker and De'Angelo Henderson on the depth chart, the stout and productive Freeman has fewer question marks surrounding him than any other back on the roster.
WR DaeSean Hamilton: The Broncos' fourth-round pick already looks the part of an NFL slot receiver, and he's a better fit in that role than the big-bodied Sutton. Hamilton only has Carlos Henderson — last year's third-round pick — to surpass in order to earn nearly immediate playing time… and Henderson doesn't have much more experience then Hamilton after missing the entire 2017 season with injury.
LB Josey Jewell: The Broncos' fourth-round pick was the first three-time captain in Iowa football history, and brings game-smarts to bear immediately. A tackling machine with the Hawkeyes who's effective against the pass and in coverage, Jewell made waves on day one by leaping up to intercept a Lynch pass over the middle. The only knock on Jewell was his speed, but a better, quicker decision made on the field can easily neutralize one- or two-tenths of a second in speed differential. That Jewell will see the field should surprise no one; stealing snaps away from starter Todd Davis would. Don't rule it out.
OL Sam Jones: The Colorado native and sixth-round pick played both guard and tackle at Arizona State, and while he appears small for tackle at the NFL level, the Broncos will throw everything but the kitchen sink at the right side of the offensive line after years of ineptitude. New addition and presumptive starter Jared Veldheer is sitting this OTA out after recovering from yet another injury last December, and with the opportunity to play at guard and tackle during these practices, Jones could rocket up the depth chart.
RB Phillip Lindsay: An undrafted college free-agent with warp speed, Lindsay's durability and productivity at the University of Colorado fits in well with the Broncos' more-seasoned draft class. As Buffs fans know, Lindsay can run inside and out, catch passes in space, and could very well run away with the kickoff returner's job in short order.
VETERANS
TE Jake Butt: Now in his second season, and seemingly healthy after a knee injury suffered in his final college game kept him out of his entire rookie season, Butt is expected to claim the starting job. He doesn't have a lot of competition in front of him, either. If the former Mackey Award winner can stay healthy and show that he can both block and make a difference in the receiving game, he'll be a major cog in the Broncos' offense.
S Su'a Cravens: After an odd falling out in Washington, the enormously talented Cravens is still only 22 years old and possesses nearly limitless potential. A possible backup at both safety positions at minimum, it's not hard to envision Cravens cutting into veteran Darian Stewart's snaps in the short-term… and perhaps replacing him entirely in the future.
LB Shane Ray: After three wrist surgeries that decimated his 2017 season, the former first-round pick is now playing for his next contract. Trailing only Von Miller in sacks as a Bronco since he entered the league, a hungry and healthy Ray could return to form and then some. Joseph warned that Ray might make much more money than his roughly $9 million option would have paid him — and the better he plays for the Broncos, the more likely it becomes that the 2018 season will be the last time fans ever see him in orange and blue.
QB Chad Kelly: Joseph called Kelly his favorite quarterback in last year's draft. After sitting out last season with an injury, Kelly reportedly used that time to acclimate to the NFL game. If he's a quicker study than Paxton Lynch, then the nephew of Hall-of-Famer Jim Kelly has the tools to leave Lynch choking on his dust. It's no mirage; if Lynch wasn't a former first-rounder, with the seemingly unlimited patience that provides, the truth of the matter is that many Broncos observers would likely consider him the favorite for the coveted role of Keenum's backup.
This is just the beginning of the Broncos' march back toward respectability, but if some of these players seize the opportunities in front of them, the team may be able to quicken its pace.