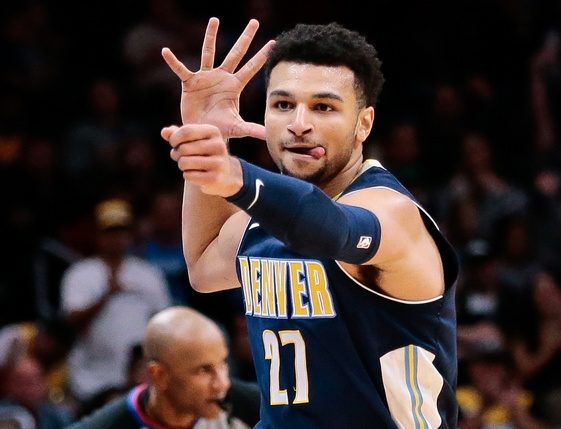 The Denver Nuggets secured their victory over the New Orleans Pelicans in dominant fashion with a final score of 146-114 at the end of regulation.
Read that sentence one more time — slowly.
Yes, that says one hundred and forty-six points; In one game without an overtime period.
Just 24 hours after the Houston Rockets put up 142 points against the Phoenix Suns, the Nuggets decided to put on an offensive clinic of their own that was so profound it allowed Denver to shoot down the Pelicans and score a freakish 146 points in a game that was nationally televised on ESPN.
The fact that the Nuggets were able to amass an obscene 146 points is incredible but taking a deeper dive into the statistics from the Nuggets' win on Friday night resulted in peoples' jaws hitting the ground so hard that the Earth shook.
Denver was able to shoot a scalding-hot 62.9 percent on all 89 shots while also hitting 18-of-35 from beyond the three-point line. Just look at that shot chart:
Against the Portland Trail Blazers, Denver was only able to score a total of 82 points in the entire game. The Nuggets scored 82 points — on 43 shots — in just two quarters against the Pelicans. Denver shot 74.4 percent from the field and 58.8 percent from three as a team in the second half of while racking up 22 assists and just six turnovers for good measure. What an insane second-half of basketball.
The Nuggets had just 21 fast-break points out of their 146 total points. That means Denver was able to score a whopping 125 points in the half court alone, which is the best half-court offensive performance of the season by any team — in any game — according to Ben Falk's cleaningtheglass.com.
It was absolutely staggering to witness this Nuggets' team put up 146 points in just 48 minutes. That equates out to be 1.41 points per possession, which is a dumbfounding-level of efficiency as a team.
"They couldn't guard us," Malone said after the win over the Pelicans.
Many players contributed to the Nuggets' offensive onslaught but the scoring was spearheaded by 20-year-old, starting point guard, Jamal Murray, who did not seem surprised in the slightest that Denver was able to put up such astounding offensive numbers.
"That is our energy. We came out firing. We were getting stops. We were running. Everyone was touching it," Murray explained. "Everyone was happy — which is my job as a point guard — and we just had a lot of fun putting up a lot of numbers."
Murray never lacks confidence but, while his bravado remained high, it was his comfort level within the Nuggets' offensive system that climaxed against the Pelicans. Murray ended up accumulating 31 points — one point shy of his career high — on just 18 shots to go with four assists while also not turning the ball over at any point in his 34 minutes of court time.
"When we are moving the ball like that and everyone is touching it — we are cutting, and moving, and finding the open guy, and making shots — we can do that every night," Jamal Murray said after the game. "We are really tough to guard."
It was not just Murray who was unfazed by the Nuggets' crazy offensive production. Gary Harris also understands how impeccable the Denver offense could be once they become fully comfortable playing with one another. Harris called the win over the Pelicans, "a total team effort."
That same sentiment was also echoed by Nuggets' head coach Michael Malone when he said, "This is who we are. This is why we have won games."
It is incredible to see a team as young as the Nuggets — after putting up such an insane amount of points — just let the incredible nature of their accomplishment roll off of them like it was just another game. Just to remind everyone; the Nuggets scored 146 points in one game, which is the most this season by any team.
One thing is for sure; the offense seems to be having fun again and that can be sensed the second you watch the Nuggets play.
You can tell Malone is happy.
"Great offense. Great ball movement; everybody shared in it," Malone said. "It was another great home win for us on national TV."
Jokic is excited.
"I am just glad that we won the game," Jokic said. "I think we played a really phenomenal game. We scored almost 150 points."
Even Murray is having a good time.
"I was out there just having fun," Murray said. "The whole team was making shots and playing our way."
It truly seems like the joy of playing Nuggets' basketball is returning to the Mile High City.