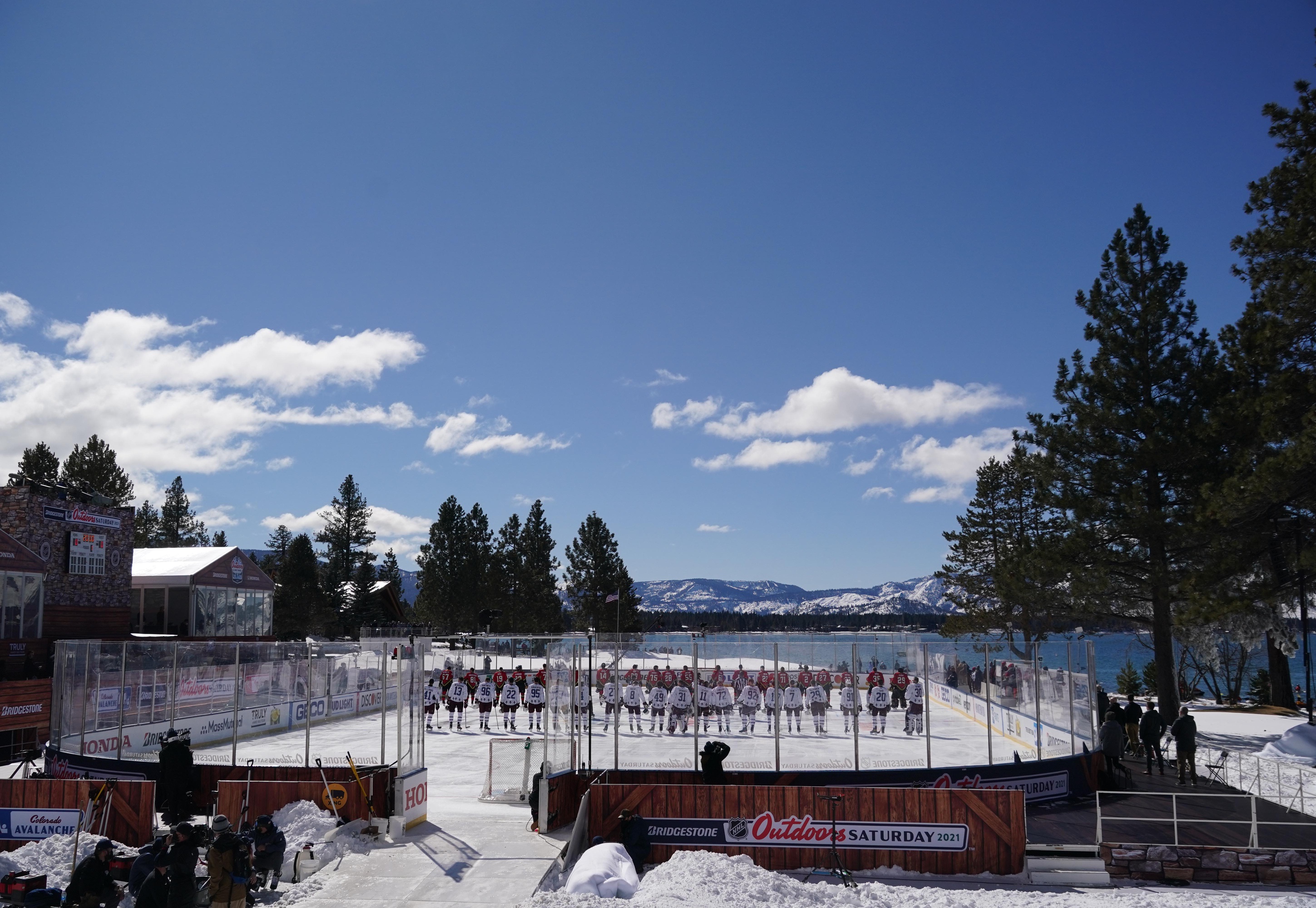 The NHL's 2021 event-equivalent of the Winter Classic, and perhaps the All-Star Game, took place outdoors this past weekend at the Edgewood Tahoe Resort in Stateline, Nevada, where the Colorado Avalanche topped the Vegas Golden Knights 3-2 on Saturday and the Boston Bruins slaughtered the injury-stricken Philadelphia Flyers 7-3 on Sunday.
If you didn't tune in, you certainly missed out.
Not only were the sights exceptional, both during the day and even at night, but there was quite the flair for the dramatic that only made whole extravaganza that much more enjoyable.
Here are a few things I learned this weekend.
"This is hockey, OK? It's not rocket surgery."
If this outdoor match—or any Winter or Heritage Classic contest you've seen—gives you serious Mystery, Alaskavibes, that's by design and there's a legitimate connection. NHL vice president of facilities operations and former head ice guru Dan Craig was called upon to save the ice for that joyous hockey flick, and he's worked on every outdoor game since.
The connections to the film went further, from the faux-log accoutrements adorning everything the light touched to the film reunion hosted by the league.
https://www.facebook.com/NHL/videos/802084420403908/
"The sun will come out tomorrow."
Unfortunately, even with Craig advising Derek King's work on the 18th green, the impact of an unrelenting sun on high-altitude ice seemed to have gone overlooked. With an original start time of 1:12 p.m. MT, things were off to a bright start, both on the rink for the Avs—who went up 1-0—and above it. But by the end of the first period, officials and players alike were stumbling and sinking into the quickly softening quagmire of what was at one time ice.
Despite being an inconvenience to everyone involved, and more than a few fans I'm sure, the league went into crisis mode and came up with a solution. Not only would Sunday's match be moved back to 5:30 p.m. MT, the current game would be put on hold until 10 p.m. MT in order to heal the ice and give players enough time to rest and prepare to finish strong.
Commissioner Gary Bettman announced the changes while showing a more humorous side to what was likely a tense situation when he admitted "sunshine has always been our enemy," and "the cloud cover is everywhere but where the sun is…"
"Sunshine has always been our enemy."

– Gary Bettman, year of our lord 2021

— Ryan Boulding (@rboulding) February 20, 2021
*Cue the Jack Bauer, 24 clock countdown music.*
This is where the drama came in. Would the game finish on Saturday? Would it carry over to Sunday? Would Colorado be able to maintain its grip on the outcome? What will the scenery look like in the dark? Are there even enough lights?
All of these questions were answered. Yes. No. Barely. Fantastic. Also yes.
The Avalanche weathered a storm to come out on top on Saturday—in Nevada. The NHL called in reinforcements for lighting, which blacked out nearly everything but the rink and led to some spectacular imagery—which was definitely reminiscent of my old youth games outdoors in the mountains.
I don't have ratings numbers, but I suspect that the weekend did better than expected given there were no fans and an eight-hour stoppage between periods. Also, the Flyers facing the Bruins while the sun was setting over California and across the lake was another image that won't be easily forgotten.
Risks were taken and they paid off. Free from the constraints of having to cater to fans paying hard-earned money for suspect viewpoints but "the experience" of seeing hockey outdoors, the NHL could adapt and adjust and everything worked out alright. I didn't even care about Sunday's game and ended up watching it in its entirety.
This is the PG rated version of the phrase any of us would have uttered when facing a full-speed Nathan MacKinnon heading at us in a man-on-man scenario, and it's what veteran blue liner Alex Pietrangelo managed to say right before attempting to defend the oncoming superstar.
Alex Pietrangelo as Nathan MacKinnon was coming down the ice:

"Oh boy." #NHLOutdoors pic.twitter.com/337XNC8wUm

— NHLonNBCSports (@NHLonNBCSports) February 21, 2021
Mic'd up players, especially free from that abhorrent fake crowd noise, are always a treat and this was no exception.
MacKinnon flew down the ice, handled the puck, and ripped a quick shot that nicked Pietrangelo's stick and hit the far post before finding twine. It was an outstanding showcase of his skill and also reminded everyone that some hockey players trying to defend that kind of thing are just like us, human and fallible and not necessarily pleased about being in that situation.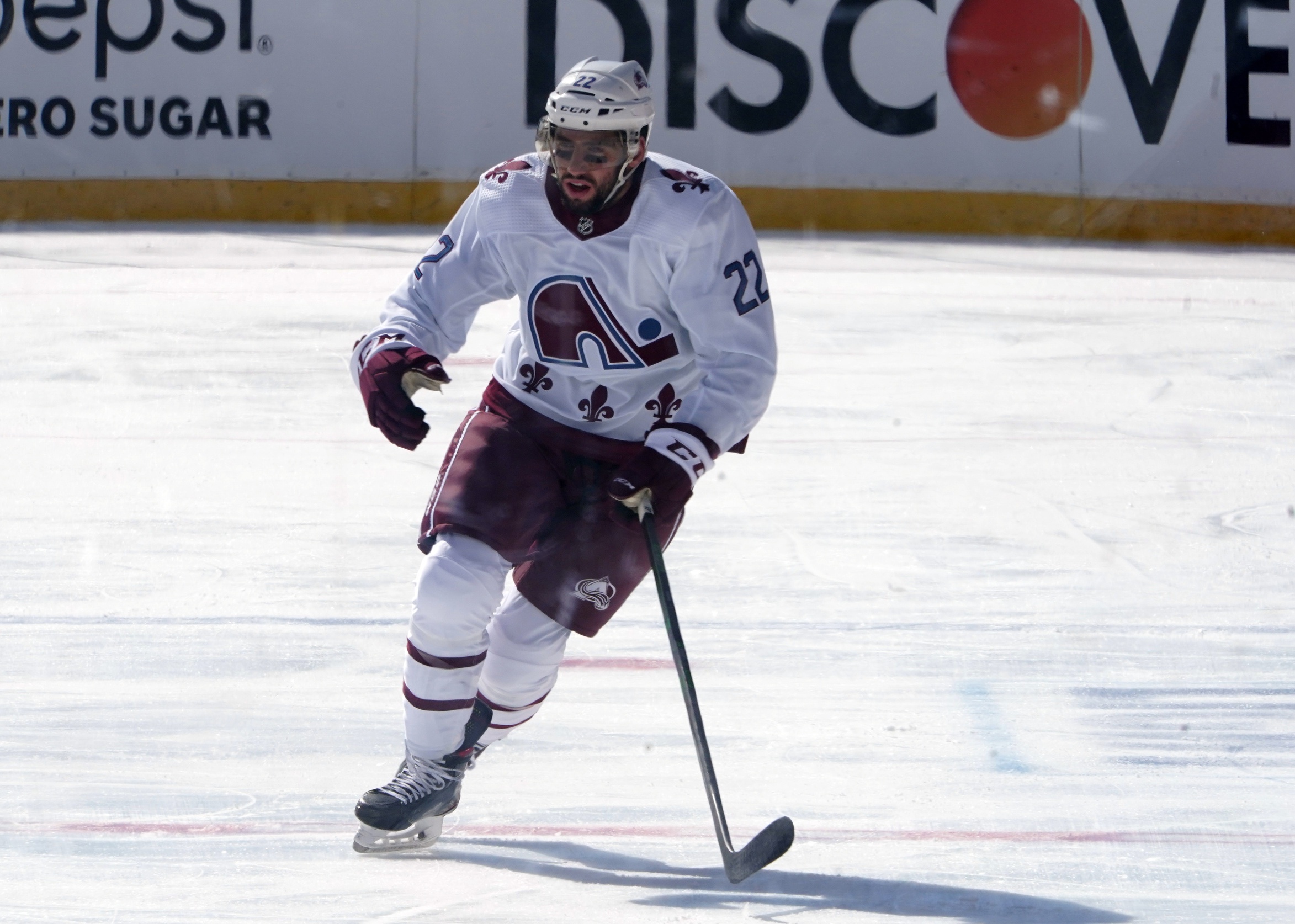 As much as the blue helmets and blue gloves and blue pants with a primarily blue jersey have been an Eiffel 65-like shock to the system, and not in a good way, the burgundy gloves and pants with the white reverse retro Quebec Nordiques throwback jersey are an outstanding pairing. They're perhaps one of the best kits in the league, along with that gorgeous Arizona Coyotes purple Kachina sweater.
It's a shame there won't be more burgundy in the near future, as the Blue Man Group look conjures up the image of a mortally wounded Smurf on a nightly basis.
Still, it is nice to see some creative risks taken in the NHL. Inject more of those neon green and black Dallas Stars uniforms straight into my veins.