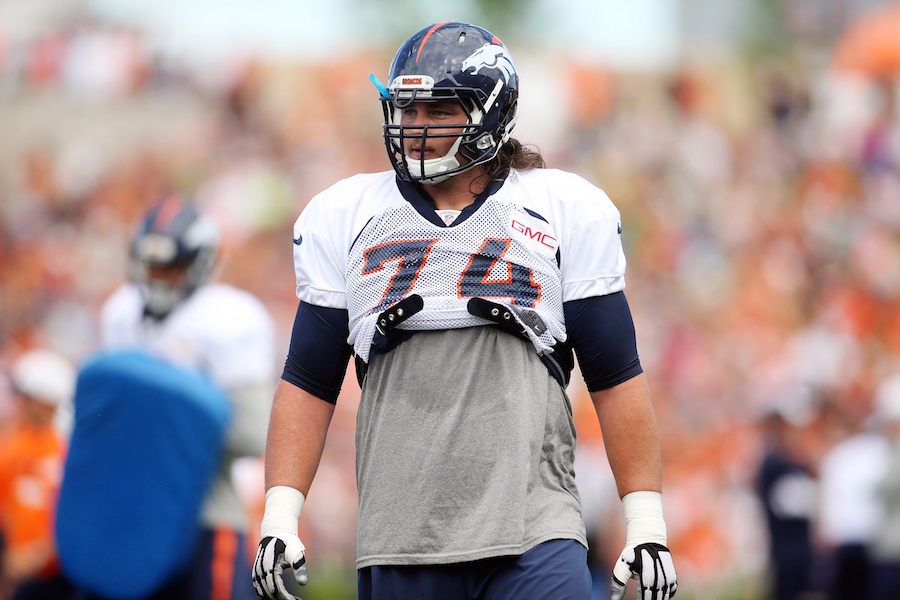 Read this story on CSURams.com
With NFL teams reporting for camp all across the country this week, Colorado State will have 13 Next Level Rams on NFL rosters.
Tackle Erik Pears is the veteran of the group, beginning his 12th professional season and second with the San Francisco 49ers. The Denver, Colo., native started every game at right tackle in 2015 and is projected to start once again. Other returning starters include tight end Crockett Gillmore (Baltimore Ravens), center Weston Richburg (New York Giants) and left guard Ty Sambrailo (Denver Broncos).
Gillmore and Richburg were both selected in the 2014 NFL Draft. In two seasons, Gillmore has played in 27 games, hauling in 45 receptions and six touchdowns. He missed a portion of the 2015 season due to injury, but started all 10 games he played in and enters camp as the Ravens' top tight end. After starting at guard during his rookie season in 2014, Richburg moved to his natural position of center in 2015, and immediately became one of the best in the league. He allowed just one knockdown and 12 combined pressures in 2015, the second-highest pass protection grade in the NFL in 2015. Pro Football Focus and other publications have called him one of the top centers in the league and a future Pro Bowler.
Another offensive lineman, Ty Sambrailo, started three games at left tackle in 2015 for the Denver Broncos, but missed the remainder of his rookie campaign due to a shoulder surgery. Joining Sambrailo on the Super Bowl champion Broncos roster are linebacker Shaquil Barrett and running back Kapri Bibbs. After going undrafted in 2014 and spending that season on the practice squad, Barrett made the Broncos' 53-man roster last August after leading the Broncos in sacks during the preseason. During the regular season, he made a significant contribution to the Broncos' defense, posting 50 tackles, 5.5 sacks, four forced fumbles and two fumble recoveries. Bibbs has spent the past two seasons on the Broncos' practice squad and is looking to follow in Barrett's footsteps this fall. He played in one game in 2015, a Week-6 win at Cleveland. Quarterback Garrett Grayson (New Orleans Saints) enters his second season in the NFL in a battle with Luke McCown for the chance to back up future Hall of Famer Drew Brees.
In addition to the seven returnees, CSU has six players in NFL camps who played for the Rams this past fall, highlighted by Draft picks Rashard Higgins (Cleveland Browns) and Cory James (Oakland Raiders). Higgins, a 2014 All-American who led the nation for receiving yards and touchdowns as a sophomore, fell to the fourth round on Draft day, but he's quickly showing why he set eight CSU school records during his three-year collegiate career. He had a strong rookie camp and is expected to see time on the field this fall. James was drafted in the fifth round by the Raiders, and will open camp on the third string at middle linebacker.
Sam Carlson (Tennessee Titans), Kivon Cartwright (Tampa Bay Buccaneers) and DeAndre Elliott (Seattle Seahawks) signed free-agent deals with their respective teams in May and hope to put up strong performances over the next month and break camp. Joe Hansley hopes to do the same with the Raiders. He was invited to a rookie mini-camp but impressed the organization so much that he was retained and signed a free-agent deal. He's currently listed as Oakland's backup punt returner.
#NextLevelRams