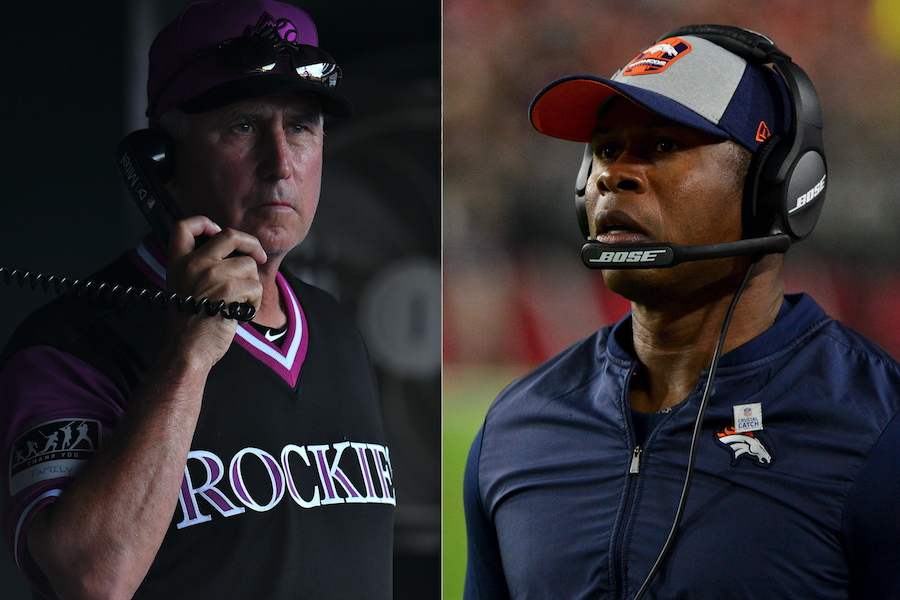 Bud Black. Now there's a coach.
Come to think of it, he's a leader of men. He gets Major League Baseball.
Obviously. Obviously. Obviously, guys.
You want to know what a difference a coach can make? Consider this: Bud Black has been named as an NL Manager of the Year finalist for two straight years now. For two straight years, the Colorado Rockies have made to the postseason. In their 26-season existence, the Rockies have been to the playoffs five times. Once under Don Baylor, once under Clint Hurdle, once Jim Tracy, and twice now under Black.
To say that the Rockies were a playoff team solely because of Black would be irresponsible. Jeff Bridich (and in part, Dan O'Dowd, through the Rockies' farm system) put together a roster worthy of playoff baseball. Still, over the years, the Rockies have had teams that probably could have gone to the postseason; five out of 26 isn't enough.
And by the way, Bud Black isn't perfect. No coach is. In every season, with every coach, there are coaching decisions that fans and media question. Take, for example, when Black opted to remove Charlie Blackmon from the line up in an attempt to play small ball and score the go-ahead run against Chicago in the play-in game this year. It didn't work, but hey, great coaches take risks from time to time. It's a feel thing. It's a confidence thing. It's a knowing that your players are going to follow, even-if-decisions-don't-go-as-planned kind of thing.
The Rockies were the best team in the National League when it came to winning one-run games. Yes, players have to make plays and get hits, but that's a number that speaks volumes about the manager, who puts his players in position to win.
Ask any player in the Rockies clubhouse, and to a man, they'll sing Black's praises. That has to make a difference, doesn't it?
Think for a moment about some of Bridich's biggest signings, too. Greg Holland. Wade Davis. Even Brian Shaw (although he didn't have a good season). Would any of those players chosen Colorado if Black wasn't the manager?
Will Black win the award when it's all said and done? He did handle Brian Snitker's Braves pretty well this season. On the flip side, it doesn't help that his team was beaten by Craig Counsell's Brewers in the playoffs. The fact that Black competed – and has for two years now – in the dreaded NL West, however, speaks volumes about what he's done for the Rockies organization.
But does any of that really matter? Being considered for two straight seasons says a lot about how Black and Rockies are perceived. There's value to that, too.
Coaching matters, even in the pros. It's made a difference for the Rockies. It's made a difference for the Avalanche (Jared Bednar proved he was an excellent young coach once given the time to do so). And it's even made a difference for the Nuggets; Michael Malone hasn't been perfect, but he certainly believed in, and helped to develop, Gary Harris, Jamal Murray and Nikola Jokic – all considered to be the cornerstones of the franchise.
Across the highway, coaching is making a difference, alright. It's costing the Broncos games; it's moving them up next year's draft order.
Bud Black represents what a great coach can do for just about any organization. The neighbors should take note.