 Far be it from us to throw stones when a media outlet has a minor typo or misprint. (We readily admit that you'll find at least one every month in Mile High Sports Magazine and probably daily on milehighsports.com.) But when there's one that's as funny as our friends down at KRDO in Colorado Springs put out, we just have to share.
A savvy viewer caught a screen grab of a lower-third graphic from interview footage of Broncos tight end Jake Butt that is just downright hilarious.
The rookie out of Michigan certainly has a sense of humor about his name – his Twitter handle for a long time was @JBooty_88 (he's since changed it to @JakeButtTE). He's heard every joke in the book about his last name, but the folks at KRDO didn't goof up his name.
They mixed up his name and his position, and the results are comedy gold: Jake Butt, Tight Butt.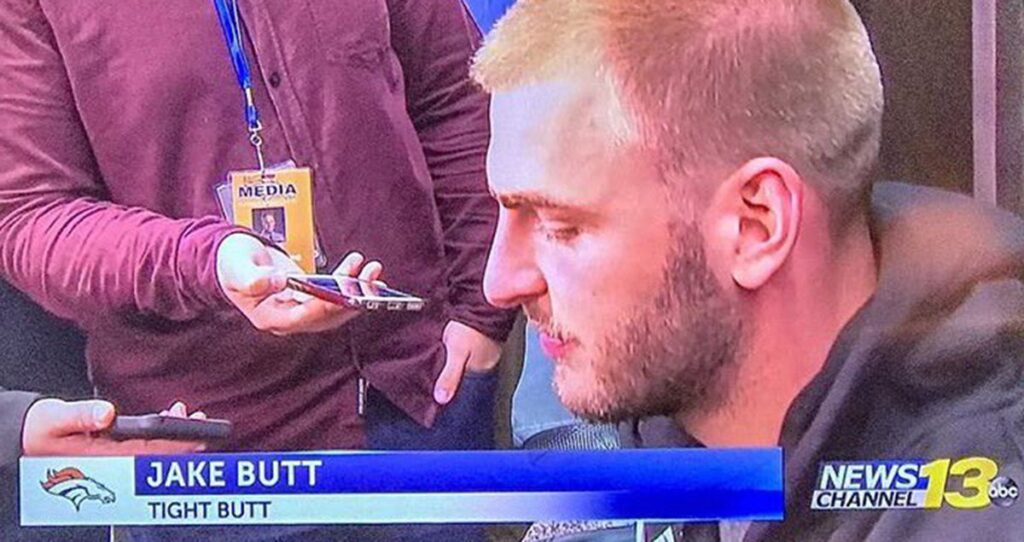 Our team of – pardon the pun – crack reporters hasn't gotten up the nerve yet to ask the rookie if his rear end actually lives up to the billing (and team reporting guidelines prohibit any intensive investigation into the matter), so you'll just have to watch him play and decide for yourself.
Butt has spent training camp, the preseason and the first part of the regular season on the non-football injury list, but should begin practicing with the team next week. He could return to action as early as Week 7 against the Chargers. The Broncos will have 21 days from his first practice to decide whether to add Butt to the 53-man roster or leave him on the NFI list.