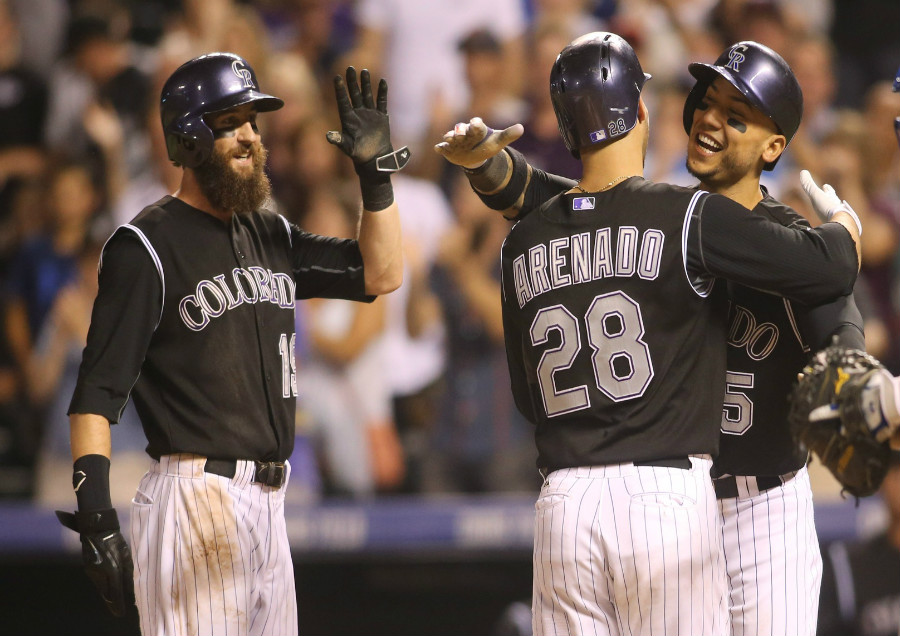 Well, it's that time of year. The Colorado Rockies are just hours away from embarking on their 2016 baseball season, and that means hope is in the air — theoretically, at least.
But before we enjoy opening day festivities, we have a few important questions to ask:
1. Is Nolan Arenado an MVP caliber player?
Nolan Arenado has shown progressively over the years that he is one of the game's elite third basemen. Last year, Arenado had a career year, hitting .287 with a career high 42 home runs and 130 RBIs. Oh, and he's only 24!
Arenado set the bar pretty high for himself, but as he continues to age and become more seasoned, you'd have to imagine that there's still room for improvement. With three Gold Glove awards to his name and stellar stats offensively, Arenado is making a name for himself in the big leagues.
Don't be surprised if he's in the discussion for NL MVP at some point this season.
2. Is this the last year for Walt Weiss?
Walt Weiss has been the manager of the Colorado Rockies for three years now, posting a record of 408-478 at the helm, a winning percentage of .428. This is also the third and final year of his contract. With no word of an extension, the message for Weiss has been made clear: Put up or shut up.
While no one is expecting the Rockies to make the playoffs, they have to show some level of improvement. Heck, at this point, just a little bit of hope down at Coors Field would go a long way, even if it wasn't translating to wins. If Weiss can't manage to keep the team competitive and show improvement from years' past, he could be out of a job before long.
Carlos Gonzalez is one of the best hitters in Major League baseball, and has been a staple in the middle of the Rockies lineup for some time now. Since Carlos has been in Colorado, though, the Rockies haven't done much of anything, leading to the question: Should CarGo go?
Gonzalez is an elite player whose talents would be better served elsewhere. He's in the prime of his career and owed a boatload of money. While the Rockies won't admit that they're in the midst of a full rebuild, they'd be ignorant to imagine that they have a legitimate shot at the postseason, especially with the way the NL West is shaking up.
At this point, CarGo is a luxury expense the Rockies just can't afford.
Colorado needs to get younger and cheaper. Whether they want to admit it or not, it's time for a rebuild. This is no longer Tulo's Rockies or Cargo's Rockies; it's Arenado's. If you can clear CarGo's salary and get a few pitching prospects in return, Colorado can begin building for the future.