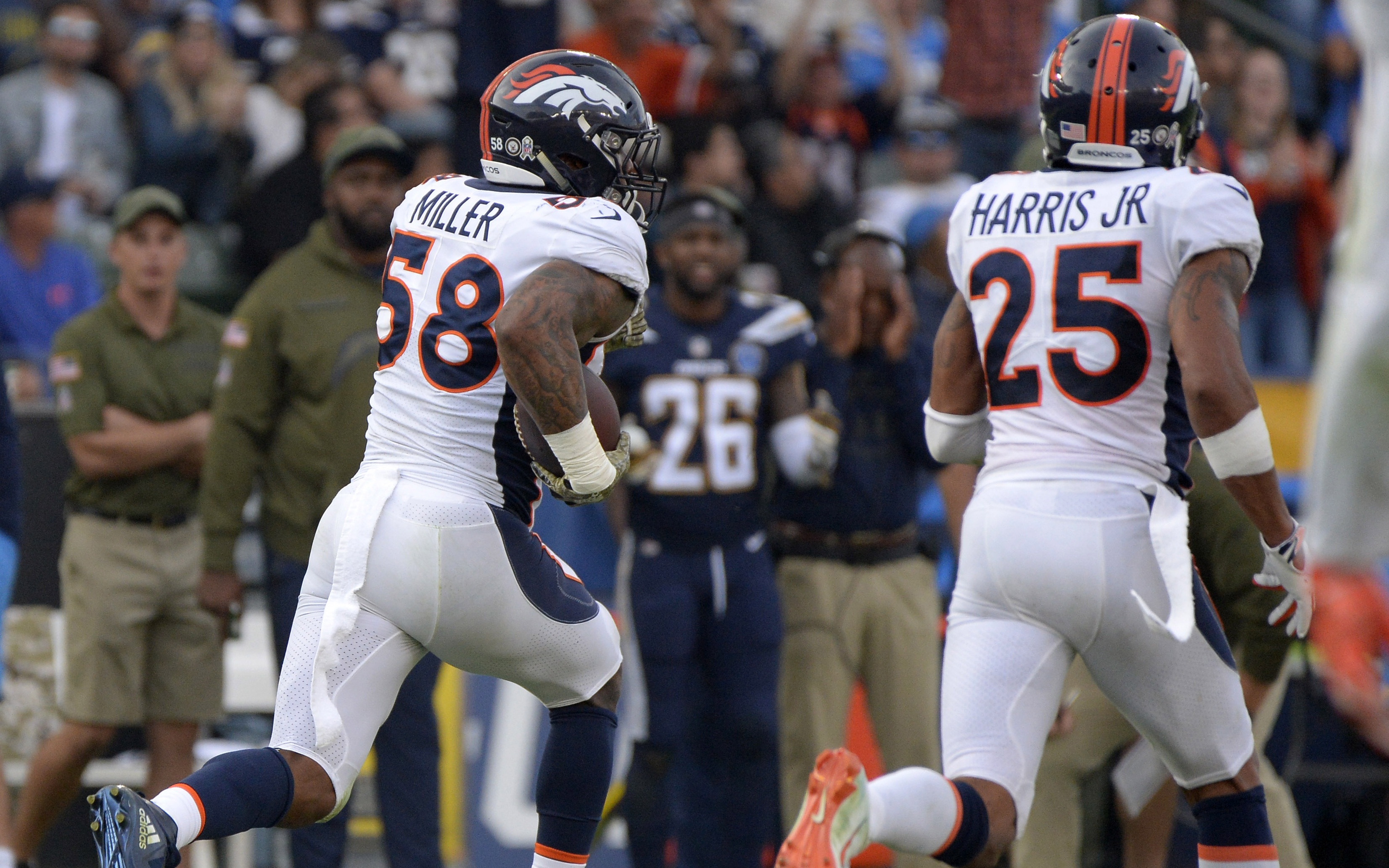 Following the inductions of both Pat Bowlen and Champ Bailey the Broncos have gained some much-needed and well-deserved representation in the Hall of Fame.
That being said, the Broncos are still criminally under-represented in Canton considering how great they've been for so long, with just seven players who were primarily Broncos enshrined.
Today, the Hall of Fame released their list of 122 modern-era nominees for the Hall of Fame, which included six Broncos. That being said, only Steve Atwater, John Lynch and Rod Smith stand a chance among those nominated.
Are there any other players that are currently on the roster who could help rectify Denver's lack of recognition in Canton, and if so who are they?
Miller is the lone player on this list that is already a shoe-in for the Hall of Fame. Through eight seasons, Miller has recorded 98 sacks, a franchise record, was the leader of one of the greatest defenses in NFL history, is a seven-time Pro Bowler and All-Pro, and is one of just nine defensive players to be named Super Bowl MVP.
Year in and year out Miller is among the league's very best defensive players and he should only become more unstoppable with Vic Fangio coaching him up and Bradley Chubb on the opposite side of the line.
Even if he were to retire now, merely halfway through his career, it would be shocking if he wasn't enshrined. Now, the goal for Miller isn't just to make the Hall of Fame, but to capture that career sacks record and solidify his legacy as one of the greatest ever at his position.
Chris Harris Jr.
Chris Harris Jr. would have to do some work to ensure he'd make it into the hall, but at the very least he'll get some consideration.
The problem for Harris is that his play and career achievements have always been underrated and overlooked due to his status as an undrafted free agent. Over the course of his career, Harris has been named to four Pro Bowls and three different All-Pro teams and has consistently been one of the league's best cornerbacks.
He's tallied 19 interceptions, five forced fumbles, 83 passes deflected and 462 tackles, but his most impressive accomplishments are more analytical.
Like allowing an average passer rating of just 71 over the course of his career, and allowing receivers to catch less than 60 percent of their targets with him in coverage, but most impressive was not allowing a single receiver to catch a touchdown on him in 2014, a feat he almost replicated in both 2018 and 2013 when he allowed just one score. In fact, when targetting Harris in coverage, quarterbacks are more likely to throw an interception than a touchdown (16 allowed in career).
To avoid being the most recent Broncos defender snubbed from the hall, Harris will have to continue his elite level of play for at least a few more seasons. Hopefully those seasons come in Denver.
Bradley Chubb
It's way too early for Chubb's name to start being mentioned in conjunction with the Hall of Fame, but out of players on the roster right now, he is among those with the best chance of being enshrined given his talent and current career trajectory.
When he was entering the league, Chubb was compared to a combination of Khalil Mack and Von Miller as he not only has Miller's get-off, first step and bend, but he also has Mack's power and sheer brute strength.
Now that he gets to learn from a future Hall of Famer and the greatest pass-rushing coach in the history of the league with Miller and Vic Fangio, the odds of him realizing that potential are much better. And of course, you can't write about Bradley Chubb without mentioning the astonishing 12 sacks he recorded just a season ago, the second-most ever by a rookie.
Yes, the odds of predicting whether or not a second-year player will be forever enshrined in Canton are long at best, but with Chubb's talent, it might not end up being the worst bet.
Honorable mention: Joe Flacco.