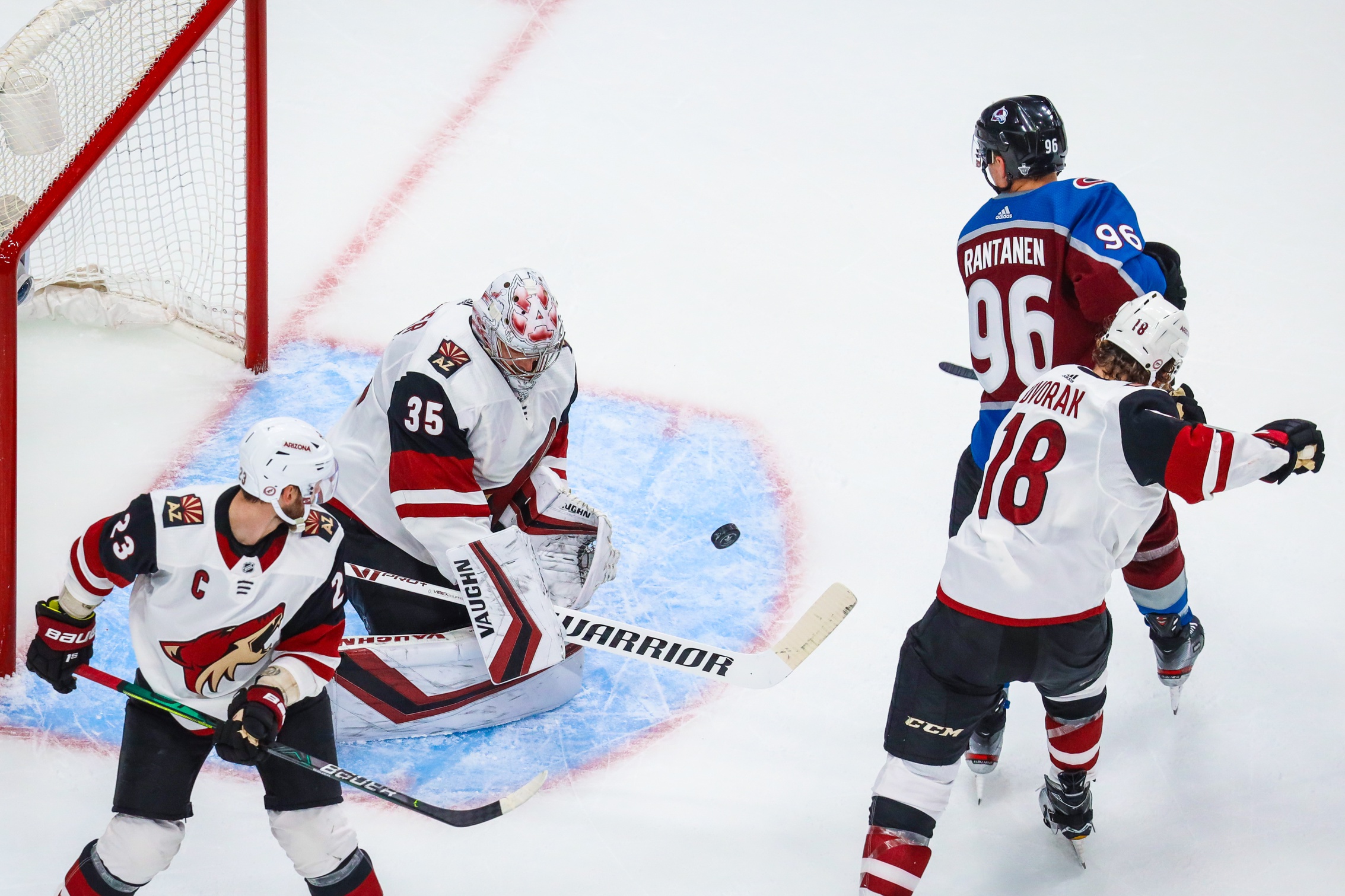 For 53 minutes, the Avalanche did everything they could to solve Arizona Coyotes goaltender Darcy Kuemper.
But after getting their second power-play opportunity of the evening with just under seven minutes left in the third period, the Avs broke a scoreless tie–then added two more goals for good measure Wednesday at Rogers Place in Edmonton. The three goals in 1:23 erased what looked like a game primed for overtime hockey to help Colorado walk away with a 3-0 shutout victory over the Coyotes in Game 1 of the Western Conference quarter-finals.
Nazem Kadri opened the floodgates for the Avalanche, who outshot the Coyotes 40-14. Forward J.T. Compher and Mikko Rantanen were the other scorers.
"It's nothing that we didn't expect to be coming our way coming into this series," Avs coach Jared Bednar said. "Arizona is a real tight-checking team. It's not easy to get to the net on them and when you do, you run into Kuemper. That's what we expected. We wanted to make sure we were making it tough on Kuemper."
Philipp Grubauer made 14 saves between the pipes for the "home team" to give the Avalanche its first series-opening victory since the first round of the 2014 Stanley Cup Playoffs.
"Every game is important," Grubauer said. "But if you can grab the first one and then the second one then they're already down 2-0 so the focus is on the next one. You got to make sure to watch some video to learn what things we can do differently. And then it's time to grab Game 2."
The performance from Kadri was exactly what the Avalanche needed from the former Maple Leaf centerman. The 29-year-old was acquired last summer with hopes of giving Colorado much-needed depth scoring. And he delivered.
Kadri finished the game with a team-leading seven shots and the game-winning goal in his first playoff appearance with the Avalanche.
"He was our best forward tonight from start to finish," Bednar said of Kadri. "Really good patience with the puck, good decisions, helping us get in and out of our own zone. He had our most dangerous looks at the net. It's really important for our team because they key-in on the (Nathan) MacKinnon line."
The next two games will take place on back-to-back days. The Avalanche will be the home team for Game 2 at Noon MST on Friday before playing Game 3 the following day.