It's Raiders week. This is supposed to be the biggest week of the year in Broncos Country. Fans and players should be salivating at the opportunity to stick it to those idiotic Raiders fans wearing Halloween costumes all year long. We're supposed to live these seven days with more fanaticism than any other moment of our lives
And yet we aren't. This week, for as much as we try to revive the rivalry, is just another week.
And why wouldn't it be?
It has been over a decade since the Raiders have had a winning season, let a one a playoff appearance. A decade! Why in the world would Broncos fans be motivated to "get up" for this one? Why would the team feel extra motivation against an organization that has lost 10 or more games in 10 of the last 12 seasons?
Hell, even the evil Sith Lord himself, Al Davis, has passed on, and his son's bowl cut isn't exactly … intimidating.
The Raiders rivalry, as we've always known it, is dead. But it's about to be reborn.
For the greater part of the last two decades, the Oakland Raiders have been a joke of a franchise; they've stumbled at every corner. No. 1 pick? Get JaMarcus Russell. Fire the best coach you've had since Art Shell? He beats you in the Super Bowl the following season.
The Raiders have created their own mess, and finally, they are fixing it.
Thanks to some sound decision making and an overhaul in team culture, these three players will revive the Broncos-Raiders rivalry for the next 10 years.
Derek Carr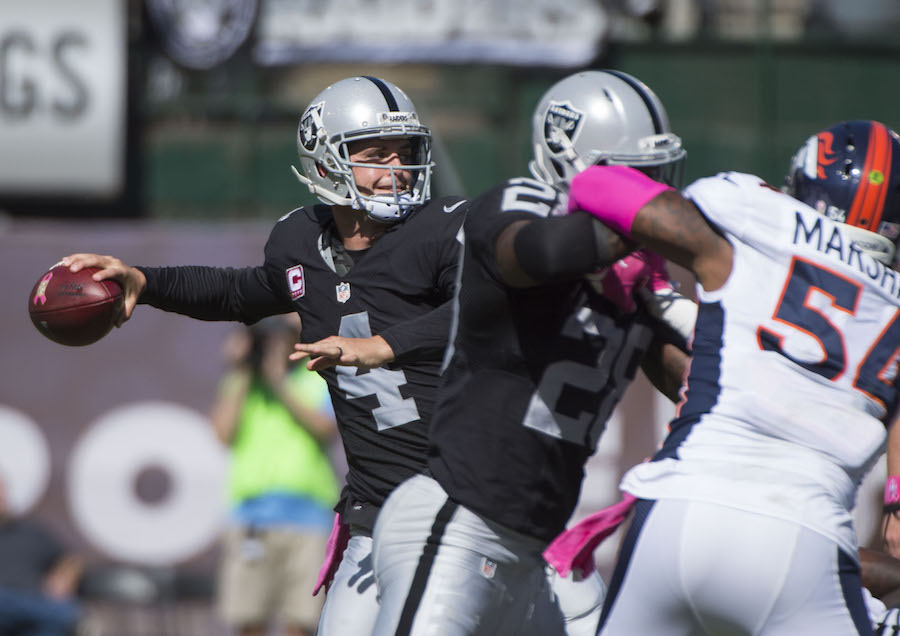 It all starts with the quarterback, and it finally looks as if the Raiders have found theirs.
Carr was impressive during his rookie season, but he's been a completely different beast this year. Whereas the Raiders, understandably, limited his playbook last season, contributing to his less-than-impressive 5.5 yards per attempt, they've taken the reins off completely in 2015; his yards per attempt have jumped all the way up to 7.5, and he is currently tied for fourth in the NFL in touchdowns (26).
But it's the physical attributes that really stand out; Carr can simply do things that not many people have ever been able to do.
How many QBs in NFL can make this throw? Maybe 5? Maybe less? Elite arm talent #Raiders #RaiderNation #DerekCarr pic.twitter.com/kapOaOrkus

— Michael Canaan (@mjcanaan) December 9, 2015
With Peyton Manning on his way out, and both Phillip Rivers and Alex Smith entering their second decade in the league, the future of the AFC West will reside in the hands of guys like Derek Carr and Brock Osweiler.
It'll be fun to watch.