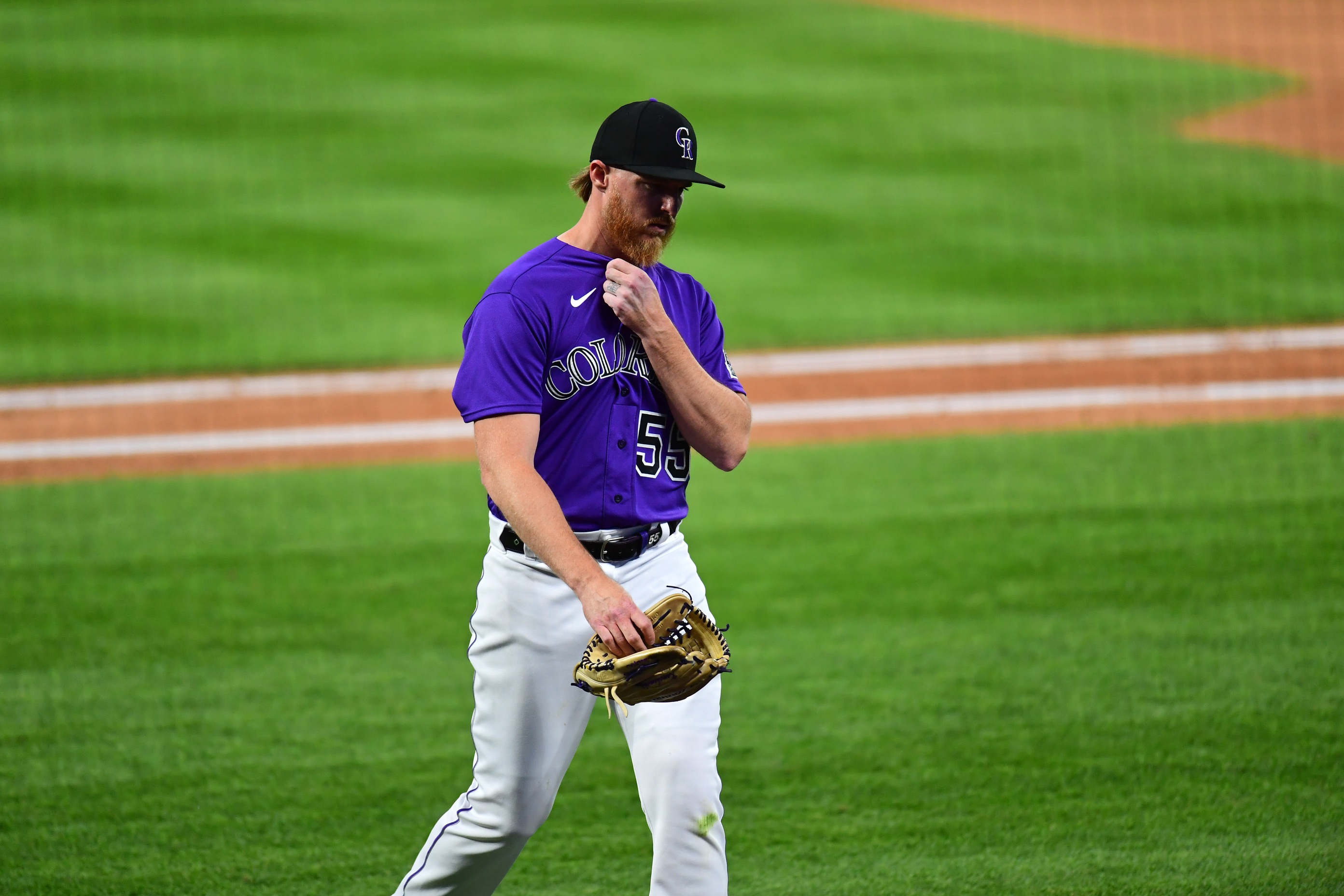 When the Colorado Rockies get good pitching, they're hard to beat. For instance, when the team reached the postseason in 2017, it finished fourth in all of baseball in rWAR for both starting and relief pitchers, and fourth in overall pitcher WAR. The following year—another playoff season—saw more of the same; Rockies starters placed fifth in MLB in rWAR. The relievers fell off a little bit, but still placed in the top half of the league. The pitching staff as a whole was baseball's fifth best.
When things went south in 2019, Rockies hurlers ranked 23rd in the league in rWAR. The starting rotation, for the first time since 2015, was a bottom-ten unit in baseball. Things didn't go well on the mound, and the team's 71-91 record really showed it.
Among the strange things that happened in 2020 was the imbalance between the starting rotation and relief corps. Colorado's starters ranked third in baseball in rWAR, but the bullpen didn't hold up its end of the deal; Rockies relievers were a dismal 4.5 wins below replacement, the third-worst mark in baseball. Their dreadful performance might have been the difference between a playoff year—fluky as it might have been—and the 26-34 snoozefest that actually transpired.
That said, it will be the performance of the rotation that is really worth keeping an eye on going forward; the unit, one of baseball's worst at striking batters out, probably has some regression coming its way. But there's an argument to be made that it could hold up if one pitcher in particular rediscovers his groove.
There are three Rockies pitchers in particular worth keeping an eye on in 2021. They could bridge the gap between what has been a great core and an awful supporting cast of players, and that development would be key to any run Colorado makes in a sure-to-be pivotal season.
Jon Gray
Pitch-to-contact Gray was low-key one of the worst developments of 2020. The 2013 first rounder entered the year having struck out more than a batter per inning during parts of five seasons in the majors. But he went on to tally just 22 strikeouts in 39 mostly ineffective innings. His 12.6 percent strikeout rate was the lowest in baseball among starting pitchers with at least 30 innings.
Unfortunately for Colorado, three other pitchers—Ryan Castellani, Antonio Senzatela, and Kyle Freeland—placed in the bottom eight of 126 such major league hurlers, so it may not have been a problem specific to Gray. But Senzatela and Freeland, in particular, have shown the ability to be successful in spite of low strikeout numbers because of their ability to consistently throw strikes. Gray is not that type of pitcher, so unless he suddenly becomes a command guy, posting one of the lowest strikeout rates in the league is not going to do him any favors going forward.
Gray was bugged by a shoulder issue that may have contributed to a 2 mph loss in fastball velocity. If he's healthy and ready to go in 2021, it's fair to expect him to look more like the pitcher he was in 2019 and not the disaster we saw in 2020. But if he's truly being tinkered with, it could be another long season—one that may end up resulting in Gray finding himself in the bullpen or, worse, on another team. Gray is a free agent after 2021 so it's a vitally important time for him to find some sort of consistency, something that has evaded him throughout his entire career.
Kyle Freeland
Freeland's 2020 season resulted in the Rockies' front office emitting relief sighs that could be heard all over the the Rocky Mountain Region. After a disastrous 2019 campaign in which he posted a 6.73 ERA, Freeland bounced back with a 4.33 ERA thanks in part to the lowest walk rate of his career.
It helped, too, that Freeland reworked his delivery, ditching the exaggerated hitch that helped him keep hitters off balance during a Cy Young-caliber 2018 season but completely lose his consistency and repeatability the following year. Freeland didn't miss many bats, striking out just 5.9 batters per nine innings, and was much hittable overall than he was two years prior. But he gave up home runs at a much lower rate and induce a lot more ground balls than in 2019.
Here's the thing: the peripherals don't paint a promising picture going forward. Freeland was below average at limiting hard contact, and he's not always going to have an elite defense behind him—particularly if the Rockies lose either Nolan Arenado or Trevor Story, or both, at some point during or after the 2021 season. But an NL-worst strand rate of just 62.1 percent might have been the thing that did him in the most in 2019, and his career average—closer to 80 percent—suggests he may not ever be quite that bad again. It's just the question of whether he can actually, truly be good that is more relevant and pressing.
Tyler Kinley
If you just look at his 5.32 ERA, there was nothing spectacular in 2020 about Kinley, whom the Rockies plucked off of waivers last December. But there was more to Kinley's performance, and it could lead one to believe that he's going to be pretty good going forward.
Kinley struck out nearly 10 batters per nine innings and allowed just 13 hits in 23 2/3 innings. His upper-90s fastball and filthy slider are not easy for batters to pick up, let alone do much with. The key to Kinley's results is whether he can throw strikes, or at least induce them with ugly swings on his breaking pitches. During one particularly ugly stretch from Aug. 9-26, Kinley walked seven batters in six innings, allowing nine earned runs in the process. Some of the latter has to due with the Rockies being historically prone to allowing inherited runners to score, but free passes really hurt him as well.
But then there were a couple of stretches like the one Kinley had from Sep. 9 through the end of the season, during which time he struck out 11 batters, walked only two, and gave up just two hits in 9 2/3 innings spanning eight appearances. Kinley, when he commands his fastball well and starts his slider in a spot where hitters are likely to chase it, has the ability to be a shutdown reliever. Whereas many of the Rockies' other relievers—including Daniel Bard, who had an otherwise good season—consistently allowed loud contact, hitters put the ball in play at 95 or more mph just 29.1 percent of the time against Kinley, who ranked in the top 20 among all MLB relievers in that category.
Keeping walks at a minimum will be important, but if Kinley can continue to improve upon his command, he could turn out to be a real diamond in the rough. That's the way the Rockies are going to need to rebuild their bullpen after the failed experiment that saw them spend more than $100 million on Wade Davis, Jake McGee, and Bryan Shaw—a trio that combined to post -2.3 rWAR in three seasons.