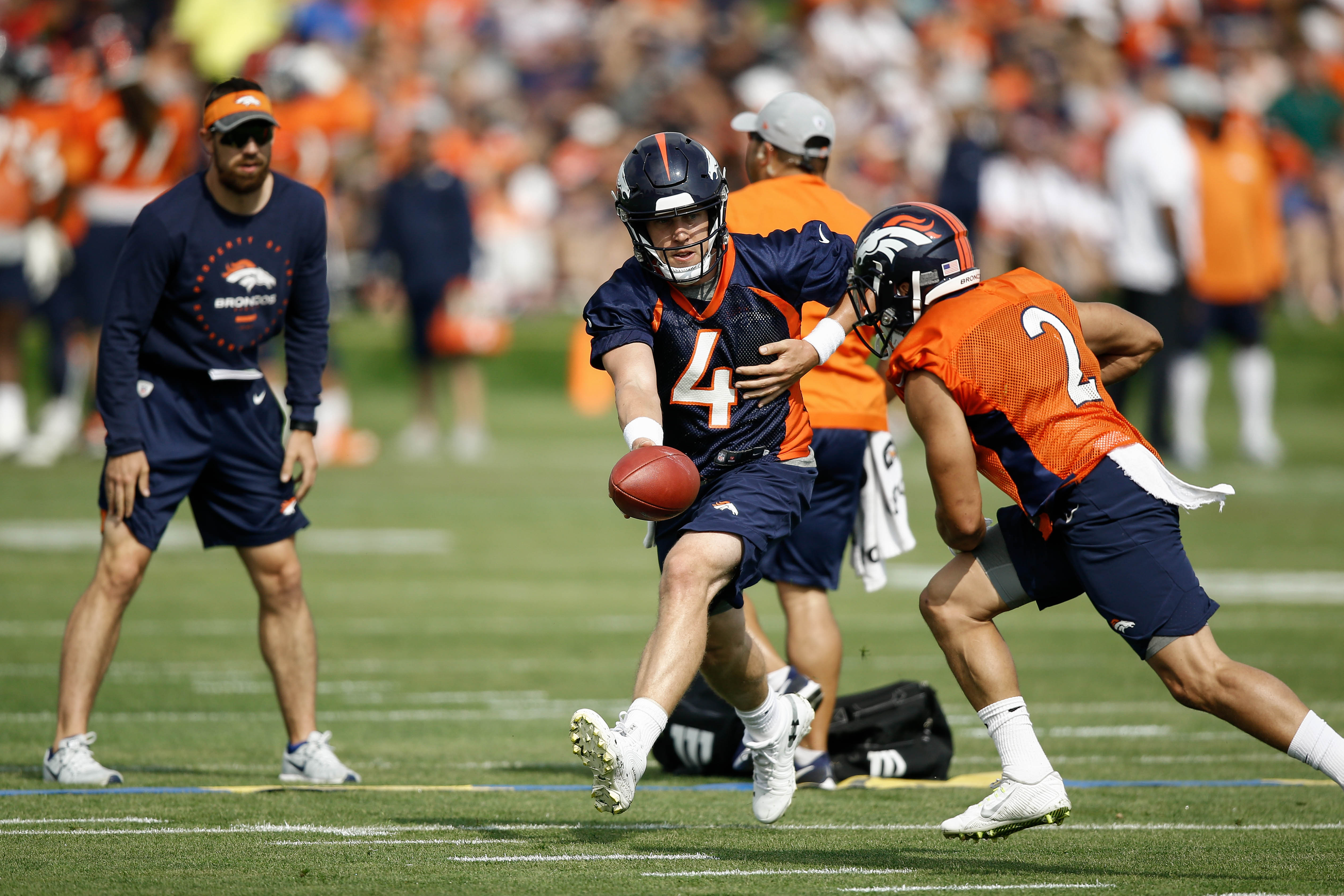 The Denver Broncos are three days into their training camp and there have been some important takeaways. With Case Keenum looking like a strong and capable quarterback, multiple receivers standing out, and Phillip Lindsay surprising early, here are three takeaways over the first three days of training camp.
Case Keenum is shining bright
Keenum has done everything right through three days of training camp.
He has shown off his strong and powerful arm, finesse passing in shorter routes, and had thrown the ball well from the pocket and on the move while also showing high-level leadership capabilities. As a delicious cherry on top, Keenum has also avoided throwing an interception throughout the first three days of camp.
In terms of on-field production, it is hard to be happier with Keenum's performance. He has shown that he can take the Broncos offense to the next level and that excitement has grown throughout the rest of the roster, including Emmanuel Sanders.
"I know what he can be if he tapped into his greatness and right now he's tapping into it," Emmanuel Sanders said after Sunday's practice.
Even more emphatic was Domata Peko's comments about Keenum. He went as far to compare his new starting quarterback to not just anyone, but one of the leagues all-time great quarterbacks in Brett Favre.
I was just telling my other teammate yesterday, 'I like that no. 4. He looks like that gunslinger Brett [Favre]'," Peko told 247Sports.
At this point, it is safe to say that Keenum is impressing in his first training camp with the Broncos.
Broncos receiving depth looks to be much improved
One of the biggest issues that the Broncos offense faced last year was the lack of firepower they had outside of Demaryius Thomas and Emmanuel Sanders, but that seems to be changing in a big way.
Two of the Broncos draft picks — two wide receivers — seem to be paying dividends early. Both Courtland Sutton and DaeSean Hamilton have produced well throughout the start of training camp and Sutton has even been getting some reps with the first-team offense from time to time.
Both Sanders and Thomas know that they need other weapons around them to produce at a high level. They need a strong third wide out and another receiver to rotate in from the sidelines and the combination of Sutton and Hamilton have the ability to fill that gap. Because of that, Sanders and Thomas have been spending time with both Sutton and Hamilton attempting to coach them up and get them up to speed on a quicker timeline.
"Me and D.T. told them yesterday, 'Hey, we're going to need you guys to step up,'" Sanders told DenverBroncos.com. "You never know what's going to happen throughout the season. There's going to be times [on] third down and five, we're going to need Courtland to come up with those big-time catches. We're going to need DaeSean to come up with a big-time catch. We need those guys. And they understand that."
Phillip Lindsay is showing that he will get a chance to carve out playing time
After amassing nearly 5,000 yards from scrimmage over four years at the University of Colorado, Phillip Lindsay has taken his talents to the Broncos training camp as an undrafted free agent and is impressing on a daily basis.
After just three days, it is seeming insane that Lindsay somehow was undrafted and Brandon Marshall is singing his praises loudly.
Just listen to Brandon Marshall rave about @I_CU_boy
"He's gonna be out third-down back!"#BroncosCamp pic.twitter.com/3nplJp9aIv

— Vic Lombardi (@VicLombardi) July 28, 2018
"People go undrafted all of the time," Marshall said when asked about Lindsay. "How does Chris [Harris Jr.] go undrafted? The guy has all of the moves. I noticed that in OTAs. He's quick. I think he's going to be our third-down back. No offense to the other guys. Devontae Booker is a good route runner as well, but I think they'll want to mix both of them in."
It is hard to argue with Marshall. Lindsay has a 50-yard reception for a touchdown already and has been giving the Broncos decision makers a lot to think about when deciding on who makes their depth chart. Lindsay always maintained that he just needed a chance and he has made the best of his opportunity with the Broncos thus far.
"I've seen film, especially in OTAs," Marshall said. "We're definitely going to have some things planned for Phillip. Guys like that in the league, you just can't cover them. They're just assets to the offense. You have to have a back like that and we definitely have one."