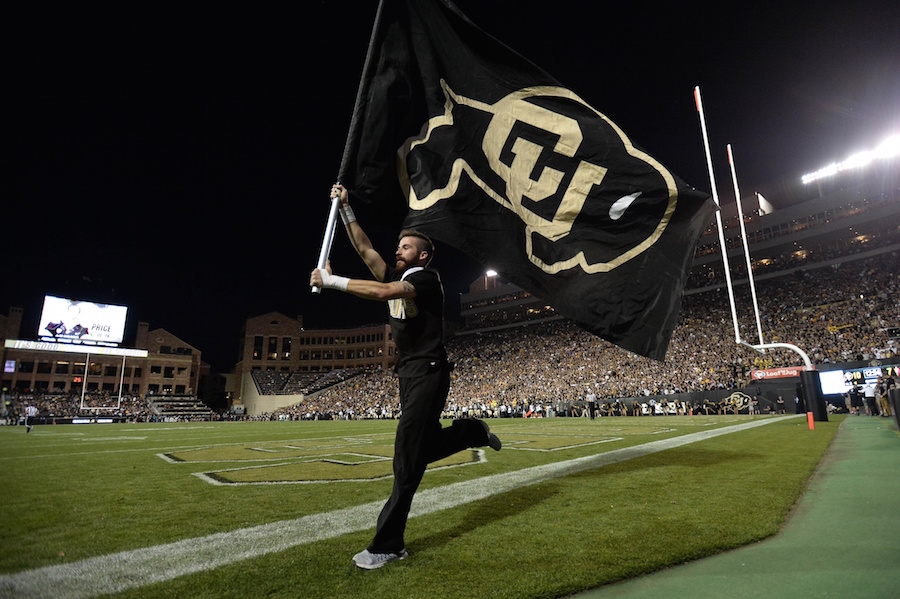 "Started from the bottom."
Most people in the Hip Hop world hear those four words and know exactly what comes next. More importantly, so do the Colorado Buffaloes.
"Now we're here."
Started from the bottom.

Now they're here.@runralphierun. #Pac12FCG bound. pic.twitter.com/nTF7tEkTPd

— Pac-12 Network (@Pac12Network) November 27, 2016
The Colorado Buffaloes are not supposed to be here. The Buffs were selected to finish last in the Pac-12 South, just as they did last year with only one conference win. But after Saturday night's 27-22 victory over the Utah Utes, the No. 8 Buffs (10-2, 8-1 in the Pac 12) are not only the Pac-12 South Champions but find themselves in a game that's of major importance, as it has Rose Bowl and College Football Playoff implications.
Here are my three keys to a Colorado victory over Washington on Friday:
Stop Jake Browning and his wide receivers
Washington's quarterback and Heisman hopeful is coming off of a big game against his in-state rivals, the Washington State Cougars, in which he had 292 passing yards and three touchdowns on an efficient 21 of 29 passing.
This put an exclamation point on what really has been a phenomenal year. Browning made the All-Pac-12 Conference First Team and was named the Pac-12 Player of the Year, as he finished with 40 touchdowns and 3,162 yards through the air while completing 65 percent of his passes.
The Colorado defense is tied nationally with Michigan and Ohio State in passing yards per attempt allowed, which will need to be on full display Friday as the Huskies have two wide receivers, John Ross (All-Pac-12 First Team) and Dante Pettis, who set a conference record with a combined 30 touchdown receptions.
The Buffs defensive backs, lead by Chidobe Awuzie and Tedric Thompson, will be tasked with the assignment of slowing down the Huskies passing attack.
Liufau Needs a Big Game
The heartbeat of this Buffaloes team is four-year-starter and senior quarterback Sefo Liufau. The Buffs go as he goes. The two games that the Buffaloes lost this season were at Michigan (where Liufau left the game early) and at USC (when Liufau didn't play at all).
Liufau has 2,150 yards passing with 11 touchdowns and an efficiency rating of 140.8, which is on par with Ohio State's J.T Barrett and Houston's Greg Ward Jr.
Liufau is one of the most dynamic quarterbacks in the country, as he runs the ball just as well as he passes it. He looks to take that balance and put together a great game against a stingy Washington defense that has been stout against the run but hasn't applied much pressure on the quarterback.
If Liufau can buy some time, Devin Ross, Bryce Bobo and Shay Fields can get open despite this being as good of a defensive unit as the Buffaloes have seen, with Sidney Jones Jr. (All-Pac-12 First Team), Kevin King and Budda Baker (All-Pac-12 First Team) in the secondary.
Expect Liufau and his receiving corps to have a good game.
Win The Running Game Battle
This is going to be a hard-fought game on both sides.
For Washington, as good as Jake Browning and his receiving corps have been, the running game is just as impressive. The Huskies have the luxury of having a two-headed monster combo of Lavon Coleman and Myles Gaskin in the backfield. In the last game against Wazzu, it was Coleman that got it going. He had 82 yards and two touchdowns. On the season he has 735 yards and six touchdowns, and the shocking part is that he's the backup.
Their starter, sophomore Myles Gaskin is in the midst of a sensational season. He made the All-Pac-12 First Team after having 1,180 yards and 10 touchdowns on the season.
On Colorado's side of things, as much as Sefo Liufau likes to pass the ball, running the ball has been the offense's lifeline.
Against Utah, Liufau ran the ball 21 times while gaining 59 yards, as Phillip Lindsay wasn't used as much, only recording 55 yards on 12 carries. Expect that to change for Lindsay, who has been the workhorse for the Buffaloes all year.
The junior running back (All-Pac-12 Second Team) is having a stellar year as he has 211 carries for 1,136 yards on the season while getting into the end-zone for a Pac-12 leading 15 touchdowns. Expect the Buffaloes to feed the 'Tasmanian Devil' early and often.