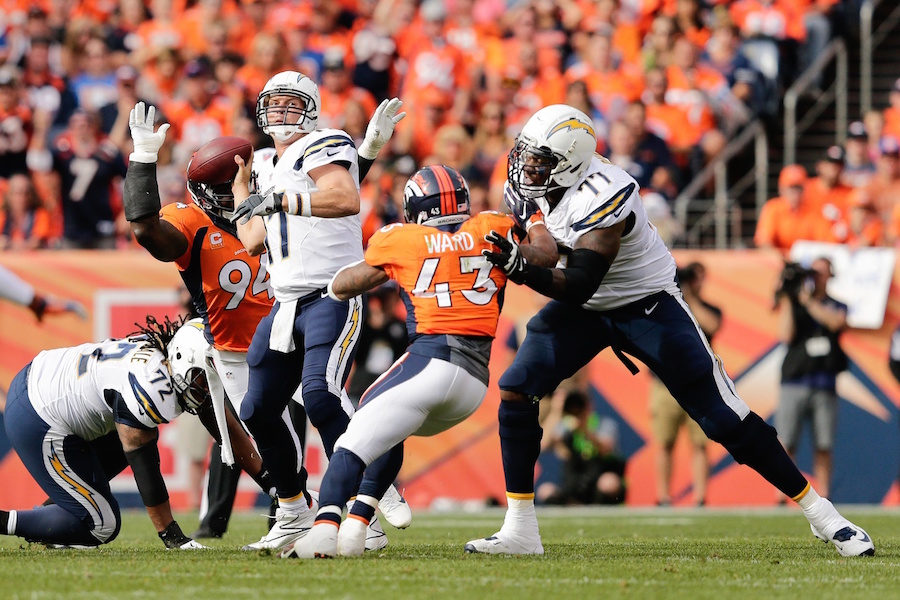 The beginning of free agency is always exciting, with big name players making high-profile moves to other teams. In truth though, free agency never comes to a complete stop. Clubs are always kicking the tires on players who could potentially help them out down the road. Just because a player isn't scooped up at the start of free agency, doesn't mean that they can't latch on somewhere down the line and be a contributor for a ball club.
The Denver Broncos did their part in signing free-agents, adding quality and quantity along both the offensive and defensive lines in the form of Ronald Leary (OL), Menelik Watson (OL), Zach Kerr (DL) and Domata Peko (DL). While the team doesn't appear to be making any more big-name moves, the free-agent pool isn't without quality players still in it. As it stands now, these three unsigned free agents could come in and help Denver right away.
The starting inside linebackers projected for Denver this year figure to be Brandon Marshall and Todd Davis with Corey Nelson and Zaire Anderson as the top backups. Marshall is borderline Pro Bowler, but depth is a concern as none of the other linebackers from last year made much of an impact. Once Marshall was lost for the season, the group didn't compensate well in his stead.
In Sio Moore, there is potential to add a three-down 'backer who can defend the run as well as the pass, as seen in his stint in Arizona filling in for an injured Deone Bucannon. With Davis limited to just first and second downs and the duo of Anderson and Nelson being primarily special teamers, picking up Moore would create a Nelson/Davis platoon while strengthening an already formidable defense.
The tight end spot has massive potential for Denver. Virgil Green is still a great blocking tight end with some receiving upside, and both A.J. Derby and Jeff Heuerman flashed some ability last season. The problem lies in that they either performed inconsistently or they were bitten by the injury bug. The team has a prospect for the future in Jake Butt, but may have to wait until at least the start of the season to allow his knee injury to fully recover.
Even with less-than pedestrian play at quarterback in Cleveland, Barnidge was able to snatch 55 balls for 612 yards last season. He's only a year removed from having a 1,000-yard season, so the Broncos were smart to do their due diligence in getting in contact with his representation once he was released. Barnidge has the ability to be a quarterback's best friend, giving him a sure-handed check down target and reliable end zone option.
By sheer numbers, Denver should have improved its edge protectors from last season. In draft pick, Garet Bolles, and free-agent pickup Menelik Watson to go with Ty Sambrailo and Donald Stephenson, the team at least has options if an injury or lack of productions throws a wrench in their plans.
Bolles still figures to have a rookie learning curve to overcome and Watson is no stranger to injuries. Factor in the struggles of Sambrailo and Stephenson last year, and having another experienced tackle is something Denver might think about. Dunlap is huge (6-foot-9 and 330 pounds) and has the mentality to fit the new offensive line, along with being familiar with Mike McCoy's system. If Dunlap is over his own injury, the former Charger is a solid starter or great insurance policy on the line.
While the Broncos appear happy with their current roster, they, as any team, are one mishap away from picking up the phone. Denver looks to have bolstered its roster in the draft and free-agency, but in Moore, Barnidge and Dunlap the potential exists to hit on potential low-risk, high-reward signings that could push them back to the top of the AFC West.