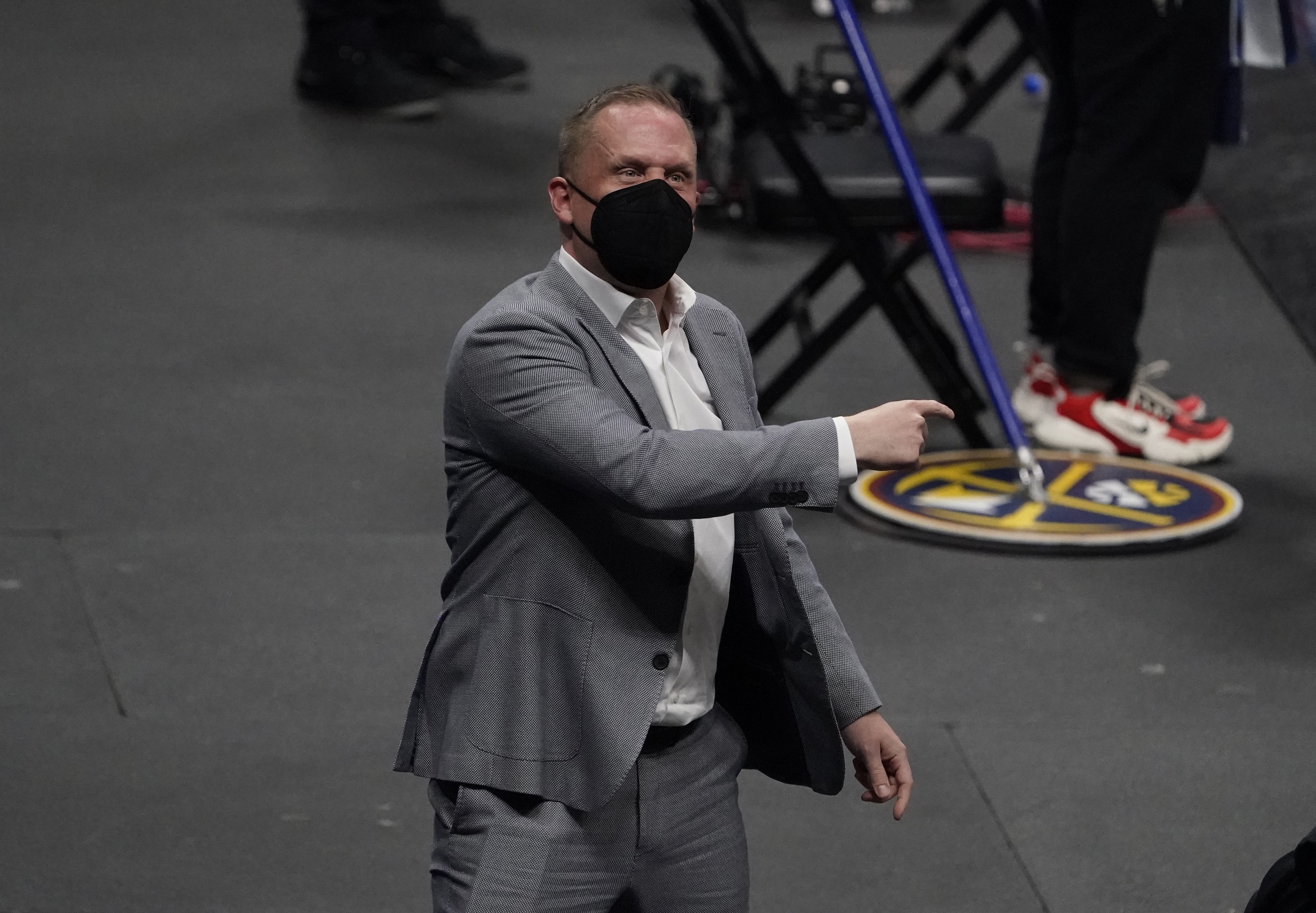 If the Denver Nuggets go on to win an NBA championship this year or next, they will have won it on March 25, 2021.
This is the day the Nuggets arguably took one of the biggest leaps in franchise history. And no game was even played.
On Thursday morning, as the trade deadline of 1 p.m. loomed in Denver, the Nuggets first dipped their toe in the water and then proceeded to cannonball ball their way to one of the NBA's biggest trade deadline splashes. By first trading for monstrous, former Nugget JaVale McGee, and then adding to the day by hauling in Orlando's Aaron Gordon, Nuggets president of basketball operations Tim Connelly won trade day, and in the process put the rest of the West on alert:
The Nuggets are in it to win it.
For the Cavs' McGee, the Nuggets unloaded Isaiah Hartenstein, a failed experiment at backup center, and two future second-round picks; Cleveland gets a 2027 unprotected second-round pick and a 2023 second-round pick protected through No. 46, as was reported by Adrian Wojnarowski.
For Gordon, Denver ridded itself of Gary Harris, an expensive, oft-injured, shooting guard who's lost his ability to shoot; rookie R.J. Hampton, who'd shown promise for sure, but was unlikely to figure heavily into any postseason rotation for the Nuggets this spring; and Denver's protected 2025 first-round pick.
While McGee is a known and desperately needed commodity – a valuable, physical rim protector who's matured greatly since his time in Denver – Gordon is a bit more of a mystery. His talent and upside are tremendous. Gordon's frustrations in Orlando had all but boiled over, so his "best" game hasn't been on full display of late. What's known, and more importantly, is that Gordon is an extremely capable defender who can defend both the big and strong and the quick and nimble. His size and strength, paired with tremendous athletic ability, will provide Mike Malone with a new defensive toy that can be utilized all over the court, and one that will allow Malone to better position his current players (namely Michael Porter Jr. and Will Barton) on the defensive side. Offensively, Gordon is a proficient 3-point shooter that can play on both the block and the parameter. In theory, his offensive game should fit very well with Denver's current personnel and pass-and-cut offense.
In reality, however, the Xs and Os of these trades are not really the point. Yes, both trades make the Nuggets instantly better in theory. Yes, both players will be immediate upgrades at their position. Yes, the basketball world perked up when Denver, of all places, got better.
And that is the point.
The Denver Nuggets got better.
By doing so, the message was not only sent to the rest of the NBA, but also to an increasingly impatient fan base. The Nuggets have become good because Connelly and his staff have drafted very well over the years. They have not been good, however, when it comes to improving the team in other ways – free agency or trades.
Until now.
Until now, there was growing concern in Denver that the Nuggets were going to do what the Nuggets have always done – sit back, make half-hearted attempts at improving the team outside of the draft and rely heavily on a concept that's grown very old in these parts: "Just wait 'til next year."
By making two critical moves – one of which was arguably the marquee transaction before the deadline – Connelly quieted his naysayers and pushed all his chips into the center of the table. In the NBA, championship windows don't stay open for long, and it appears that finally clicked for Connelly.
The quiet murmur, a question that was being asked louder with more frequency of late – If not now, when? – was finally answered.
When?
Now.
The Nuggets winning and NBA championship in 2021 is now, realistically, in play. Whether they do or not isn't what's important. What is, however, are the actions of Connelly and the franchise he works for.
For the first time in a long time, the Nuggets did what we've been wanting them to do: They went all in.
The Nuggets are in it to win it, and that's all anyone can ask.