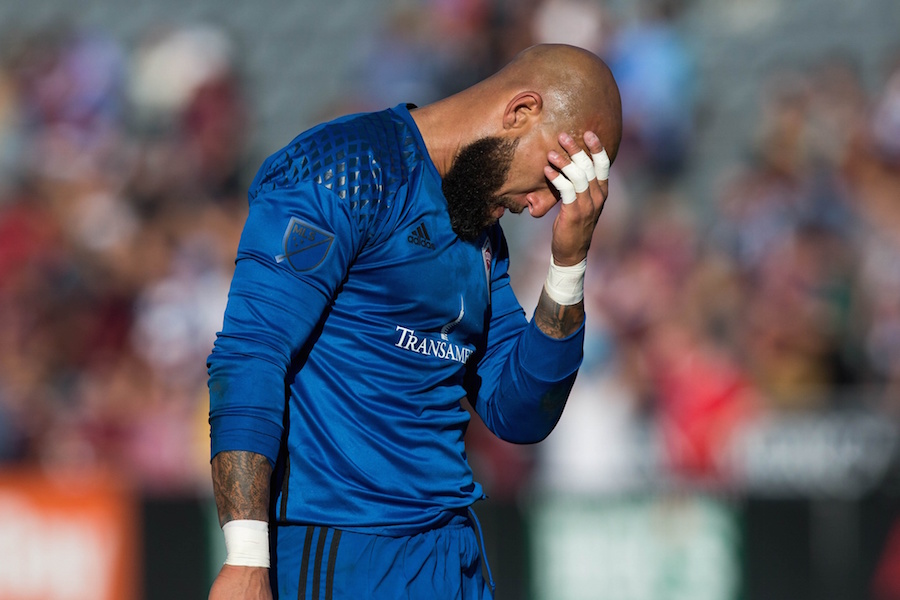 The Colorado Rapids announced Monday that goalkeeper Tim Howard has been diagnosed with a fracture of the right adductor longus located in the upper groin. Howard is scheduled to undergo surgery on Thursday, Nov. 17 and is expected to be sidelined for four months. The procedure will be performed by USMNT Team Physician, Dr. Michael B. Gerhardt in Los Angeles, CA.
Howard's injury occurred in the first half of the CONCACAF World Cup Qualifier between the United States and Mexico last Friday in Columbus. The U.S. fell to Mexico 2-1 in the contest. Howard surrendered one goal before leaving the game with injury.
In his first season with Colorado, Howard registered a 6-3-8 record as a starter and was selected to the MLS Team of the Week on three occasions (Weeks 25, 27 and 28).
The Rapids' Co-MVP and finalist for the 2016 Allstate MLS Goalkeeper of the Year, Howard made two saves in the penalty shootout of the Western Conference Semifinal against LA Galaxy, helping the Rapids advance to the Conference Championship against Seattle Sounders FC.
He will be replaced by Zac MacMath, who started 16 games in 2016 prior to Howard's arrival from Premier League club Everton and one game since. MacMath posted a 9-3-5 record in the 2016 regular season, including six clean sheets. His 13 goals against and 0.76  goals against average are still the best in MLS among goalkeepers with at least 11 starts.
Colorado travels to Seattle for the first leg of the Western Conference Championship on Tuesday, Nov. 22. The second leg will be in Commerce City on Nov. 27.